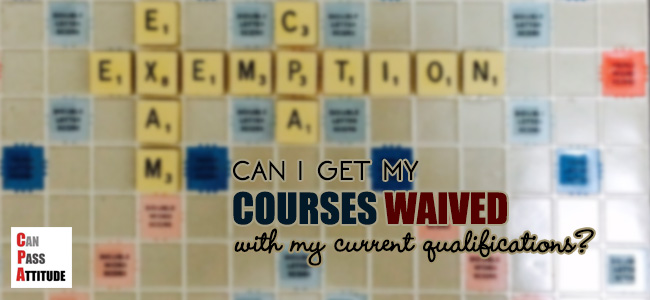 Many financial professionals have multiple qualifications. A common question is: can I use my existing qualification to get waivers and exemptions for the CPA exam?
CPA Exam Requirement Exemptions Overview
Most State Boards have stopped giving exemptions to professional qualifications. This includes ACCA and CAs in countries such as India and Pakistan.
The exception is the accounting bodies that have signed reciprocal agreements with the US counterparts. Members of these accounting bodies go through a much-shortened version of the exam, known as the IQEX, which is the same as the Regulation section of the Uniform CPA exam.
These accounting bodies are:
Legacy of CICA (Canada)*
IMCP (Mexico)
ICAI (Ireland)
ICAA (Australia)
HKICPA (Hong Kong)
NZICA (New Zealand)
If you are a member, please proceed to my IQEX page for further details.
Otherwise, follow the standard procedure.
Partial Exemptions on Educational Requirements
Many accounting certifications have an academic component to it. In the eyes of the state boards, however, they are professional qualifications rather than an education. In a few cases, you *may* still get accounting credits recognized. Here are some examples.
ACCA

It is known that California State Board *may* accept some ACCA coursework as part of the educational requirements. Because the ACCA syllabus has changed over the years, you may or may not have your ACCA courses counted depending on when you took the ACCA exam. The only way to find out is to get a credential evaluation report.
In any case, it is unlikely that the ACCA coursework can be seen as equivalent to a 4-year bachelor degree. In other words, if you have a 3-year bachelor degree, you may still need to work on another degree to get qualified.
I also heard that Alaska may accept ACCA as extra accounting credit hours but I am not able to verify this with the state board. Please contact the state board directly and provide your personal information.
Indian Chartered Accountancy

A few state boards (e.g. Colorado, Michigan, New Hampshire, Maine, Montana) used to give credits to Indian CA certificates as fulfilling part of the educational requirements. As far as I know, all state boards have stopped the recognition.
A reader told me that Virginia gives credit to CA certificate. Understandably, the state board cannot give me a blanket answer, but you may contact the VA state board accordingly. Please note that the Virginia state board strictly requires social security number to get the license.
CMA
Since 2010, CMA has stopped granting exemptions to CPA licensee. IMA, the administrator of CMA certification, does have a certain agreement with ACCA.
CFA
Similar to CMA, I have not identified any exemptions given for CFA coursework.
Exemptions on Working Experience Requirements
Technically speaking, these are not waivers or exemptions, but if you are looking for ways to avoid the required working experience then here are a few states for your consideration.
Guam is not two-tier but the state board offers an "active" and "inactive" license. You don't need to accumulate experience to obtain the inactive license.
Massachusetts also has a "non-reporting" license. You also don't need experience for this license if you have a graduate degree.

My Thoughts
The CPA designation has the highest standard in educational requirements and they are proud of it. Therefore, it is the best if you can live up to this standard by fulfilling the standard requirement. In order to do that, a good understanding of the rules is essential. Here are some articles for your further reading:
Do You Need Help to Figure This Out?
Drop me a note in the comment section or sign up for my free mini-course specifically written for you as an international candidate: