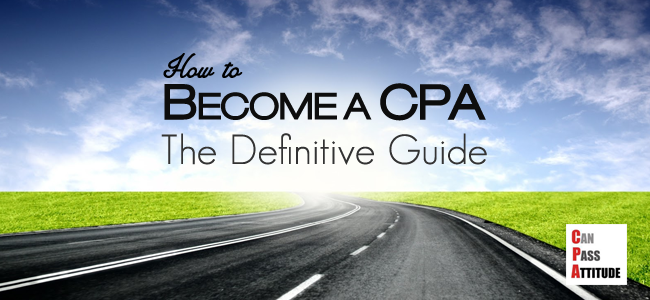 Glad to see you taking the first step to become a Certified Public Accountant!
Accountancy is one of the most secure, stable jobs in any economic cycles – an important consideration as we get serious in planning our future.
10 Steps on How to Become a CPA in USA
Before we jump into the technical registration process and the how, what and when of the exam, let's figure out the "why" — what benefits can you get after becoming a CPA?
1. Identify Benefits of a US CPA License
You could be an accounting major in the US and getting the CPA license accelerate your future career.
You could also be a seasoned accountant from another country and the qualification can open doors in the US and other parts of the world.
Or you could be a senior finance professional who got stuck just below the controller level, and getting the CPA title helps promote to a position you deserve…
Whoever you may be, you need a strong reason to start your CPA journey, because the road ahead could be tough… and long:
2. Compare CPA with Other Accounting Qualifications
Is the US CPA license best for your long-term career? Would the alternatives give you the same benefits with less time, money and effort?
Alternatives include CPA equivalent in your local country (such as ACCA and Chartered Accountants), or other global accounting and finance qualifications such as CMA, CFA and CIA.
Similarly, you may consider whether to pursue CPA or Master's degree, either in accounting, MBA or in related fields:
3. Analyze Your Ability: Can You Make It?
No one can tell you the answer, but check out these statistics and get a realistic expectation:
4. Perform Benefit Cost Analysis
There are short term and long term benefits (and costs) of getting the CPA license. Exam fees and review course materials are two immediate expenses that cost you US$3,000. There could be additional costs such as traveling, evaluation report, annual license and CPE courses:
In terms of benefits, we mentioned it first thing in point 1. One practical, tangible gain is salary increase and promotion. Here are relevant links for your info:
5. Meet Educational Prerequisite
The requirements on how to become a CPA are determined by the Board of Accountancy in each of the 50 states and 5 jurisdictions.
The state boards' rules are slightly different. But almost all states and jurisdiction require at least a 4-year Bachelor degree with minimum accounting and business courses, as well as 150 credit hours — equivalent to a Master's Degree – as a prerequisite for the exam.
If you live and work in the US, register in your resident state. For international candidates, you may select a state based on how you can fulfill the educational requirements:
6. Register for Exam Parts
If you fulfill the education requirement of a state board, you are eligible to sit for the CPA exam. The exam itself is the same nationwide (It's officially called the "Uniform CPA Examination").
This computer-based examination is administered by the AICPA, the accounting professional organization in the US. The exam covers intermediate/advanced accounting and related fields, including business, law, and taxation. It consists of 4 parts, and you can take them one at a time and in any sequence:
Auditing and Attestation (AUD) – 4 hours
Business Environment and Concepts (BEC) – 3 hours*
Financial Accounting and Reporting (FAR) – 4 hours
Regulation (REG) – 3 hours*
It does not matter which part you take first. I suggest that you take the part you feel more comfortable with. If confident enough, you can even take two (or more) parts within the same testing window:
* Starting on April 1, 2017, all parts will be 4 hours long. Check out the 2017 CPA exam changes here.
7. Locate the Closest Test Center and Schedule the Exam
Upon successful registration, you will receive a document known as Notice to Schedule (NTS). It includes a launch code for you to schedule the exam parts at the prometric website.
Prometric is a company that runs computerized test centers for CPA and many other professional exams. The CPA exam is available every weekday during the following testing window:
January to February
April to May
July to August
October to November
Candidates are allowed to register in one state and physically take the exam in another state. Since 2011, candidates can also take the CPA exam in Japan, Brazil and 4 Middle East countries as long as they are citizens or long term residents in those (or adjacent) countries. Indians are allowed to take the exam at the Middle East centers:
8. Prepare for the Exam
There is a CPA Examination Tutorial and Sample Test on the AICPA website. The tutorial and questions reveal important information about what is covered, how to use the various tools, and resources provided in the examination.
To improve your chance of success, I highly recommend a CPA review course. Major providers boast a passing rate of high 80% among first time candidates — meaning almost 9 out of 10 students pass on their first try:
9. Take the Ethics Exam
After passing the Uniform CPA exam, some (but not all) state boards require passing of an ethics exam. This is a self-study open book test that is much easier than the Uniform CPA exam.
10. Gain Relevant Work Experience
Most states require you to have 1 – 2 years of working experience to obtain the CPA license. If you have no problem getting an accounting related job after passing the exam, this should be an easy step for you to achieve your full practicing license.
However, if you do not plan to work in a public accounting firm, or don't plan to work in the US, please beware:
A few states only recognize public accounting experience
For most states, your working experience has to be supervised and/or verified by a practicing CPA (i.e. an active CPA license holder instead of a certificate holder). Make sure that your boss has the relevant qualification
Further reading on experience requirements:
The "Technical" Guide on How to Become a CPA
This video focuses on the actual application process:
I hope this article has at least pointed you to the right direction.
Thanks for taking the time to read to the end. I wish you the best of luck on your CPA journey!
Best,
Stephanie
May I Help You Plan, Study and Pass the CPA Exam?
I know the process sounds awfully complicated, but once you take the first step in your CPA journey, it's completely doable. I am more than happy to help you along the way!
If you find this article helpful, please consider signing up to my mini-course which is completely free. I have two versions designed for candidates with different background:
Action is the key to success. Join us now and see you there!