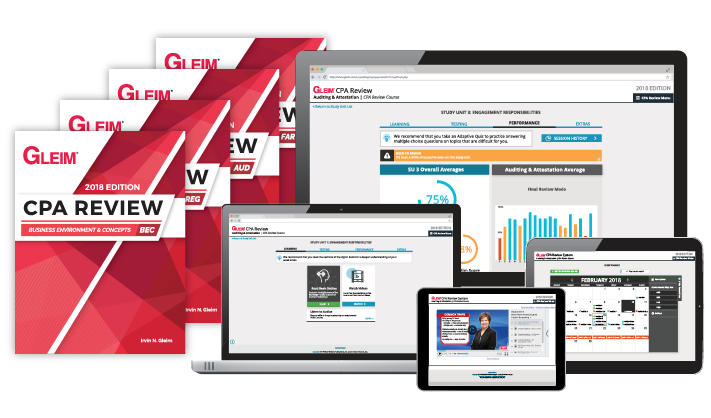 Looking for the best Gleim CPA Review discount? The team at Gleim CPA Review has shared an exclusive discount for our readers.
Gleim CPA Review Discount – Updated for January 2019
The Gleim CPA Review discount auto-applies in your cart — no promo code is required. You must checkout online using the links above in order to activate the discount.

How to Apply the Gleim CPA Review Discount on Individual Sections
The Gleim website is a bit difficult to navigate when it comes to finding the individual sections of the course. In my screenshot below, you can see that all you need to do is click on the text that says "Or purchase by section below".
Is Gleim CPA Review the Best CPA Course for You?
Gleim CPA has a long history and has helped millions of people pass their exams. Candidates love Gleim CPA Review because of the test bank; it's simply a powerhouse for drilling questions and learning concepts. I've personally viewed and used the course, and I believe it does an excellent job at making sure you're understanding the material. For this reason, I'll always be a Gleim CPA Review fan. If you're looking for the following components in your CPA review course, you may be a fan of Gleim CPA Review as well:
Access Until You Pass
10,000+ MCQs AND simulations
Assistance from real-life accounting experts
Detailed and comprehensive video lectures from real professors
Save 15-50% on Gleim CPA Review Now!
Whether you're in search of Gleim CPA test bank discounts, Gleim individual CPA section discounts (Gleim AUD discount; Gleim BEC discount; Gleim FAR discount; Gleim REG discount), or Gleim CPA course discounts, you'll find them all here.
We have more information about this course in our thorough evaluation of Gleim CPA review. And, if you're curious to see if Gleim might be the best option for you, check out our comparison of the best CPA courses. If you've used Gleim to pass the CPA Exam, leave a comment below to let us know if it helped you. We always love to hear from you!
Finally, feel free to reach out if you need any assistance from our team! Or follow us on Quora!