Becker CPA Review is the most well-known guided review course in the accounting industry. In fact, over 1 million CPA candidates have used Becker review. Furthermore, the Big 4 CPA firms all have relationships with Becker CPA. And Becker CPA Exam Review is our #1 rated course, too.
Still, is Becker the best CPA review? And most importantly, is Becker enough to pass the CPA Exam? Well, I'm here to share my personal experiences with Becker's CPA review, including the Becker Final Review course. (I passed the CPA Exam on my first try!) And with this info, you can decide if Becker CPA prep is right for you. I also have exclusive discounts to reduce the Becker CPA Review cost.
Number of MCQs: 7,400+ (& another 1,100+ in the Pro package bonus bank) | Number of TBSs: 475 | Access Length: Unlimited/Until You Pass | Cost: Options range from $2,499 to $5,999 before our exclusive discounts.
Why You Should Pick Becker CPA Review:
The Becker courses are clearly mapped to the AICPA Blueprints.
Becker utilizes Adapt2U Technology, an adaptive learning platform enhanced with the integration of Sana Labs, an award-winning AI technology.
The Becker CPA courses have more video lecture hours than ever before.
Becker equips you to triumph over task-based simulations, the CPA Exam's most difficult question type, with the course's exclusive SkillBuilder videos. In fact, each simulation is accompanied by a video walkthrough that shows you how to solve it.
Just as importantly, the Becker CPA pass rate is high. Specifically, 94% of Becker users who are "Exam Day Ready" pass the CPA Exam.
And finally, Becker CPA Review has more Elijah Watt Sells Award past winners than any other review provider.
But still, is a Becker CPA course enough to pass the CPA Exam? Read on to learn more about the Becker pass rate and how to become a Becker accounting master.
Disclosure
Disclosure: The I Pass Team may earn a small amount of compensation if you purchase CPA review courses from our links. However, our team uses these revenues to maintain the site and produce awesome free content just for you!
Becker CPA Review Savings
With my exclusive offer for I Pass readers, you can save hundreds of dollars on your Becker CPA Review course.
Background of Becker CPA
Becker CPA was one of the first CPA review courses ever. Accountant and entrepreneur Newton Becker developed Becker CPA Review in 1957 as a training course for Price Waterhouse. Then, in 1960, he launched Becker CPA Review as an independent company. The company quickly grew and maintained its solid reputation in the industry to the extent that it became part of DeVry in 1996. Now, Becker is the largest provider of U.S. CPA Exam prep in the world.
Therefore, Becker's history is not only long, but it is also successful. For example, Becker has global partners in about 65 countries. Actually, they also serve all of the Big 4 global accounting firms and have strong relationships with 100 of the top accounting firms in the United States. What's more, Becker usually produces the most Elijah Watt Sells Award winners each year, as from 2007-2021, over 90% of all Watt Sells Award winners prepared with Becker. Consequently, Becker truly has a stellar reputation in the industry.
Overview of Becker CPA Review
In order to provide a fair and objective review of all major CPA review courses, I provide a thorough and impartial evaluation of the Becker CPA program in addition to my personal view based on firsthand experience. (Yes, I used Becker to pass my own CPA exams!) But like every other CPA review course, Becker may not be the best course for everyone. Yet, everyone can find the best CPA review course for them. So, if you need help with this process, feel free to contact me.
CPA Review Becker Course Features
Each Becker CPA Review package presents an integrated and guided review course containing adaptive technology, video lectures, proprietary textbooks, practice questions, mock exams, a final review, a study planner, different levels of customer support, various course formats, a mobile app, a learning game, flashcards, and more all in one online platform. And that's a long list! Although the Becker price is a little higher than some other CPA review courses, you also get lots of tools to help you pass the CPA Exam faster.
1. Adaptive Technology
Becker's proprietary adaptive technology is called Adapt2U Technology, and it is powered by Sana Lab's AI technology. The Swedish Sana Labs is one of the leading AI companies for education in the world. Plus, they have won awards for their adaptive learning technology constructed by their interdisciplinary team of experienced engineers and scientists.
Becker is proud to have invested a great deal of time and effort into their partnership with a world-class developer such as Sana Labs. Furthermore, Becker explains that the Sana Labs AI technology within the course tracks every student interaction to generate a unique review experience for each student according to their individual weaknesses and learning needs.
Becker's AI technology tracks every student interaction to generate a unique review experience according to their individual weaknesses and learning needs.
Becker's courses are adaptive
Beckers CPA courses are adaptive. That is, as you take practice tests, the AI technology actually learns your strengths and weaknesses.
To begin with, the adaptive course creates a customized study path for each student. For instance, you can choose to either begin with a comprehensive lecture-based review or move right into application by answering the practice MCQs and task-based simulations (TBSs).
Review Session
Once you finish a unit, the course allows you to work through a personalized review session that accommodates your learning needs. For instance, you could work on targeted practice questions to deepen your understanding of the unit's key concepts.
You can decide how many questions you would like to answer in each CPA Becker review session. The course will serve you a mixture of MCQs and TBSs that the AI technology has selected for you in light of your performance within the course.
As you answer each question, the course tracks whether your proficiency has increased or decreased. And with this information, Becker's CPA course continues to assemble the optimal mix of practice questions for the review session.
Each question within the review session indicates the CPA Exam skill level at which it is testing you. The question also comes with an explanation as to why the course provided that question to you.
However, don't be discouraged if you feel that the Becker questions are hard. After all, when you compare the Becker vs CPA Exam questions, many users find that the Becker CPA practice exam MCQs are tough.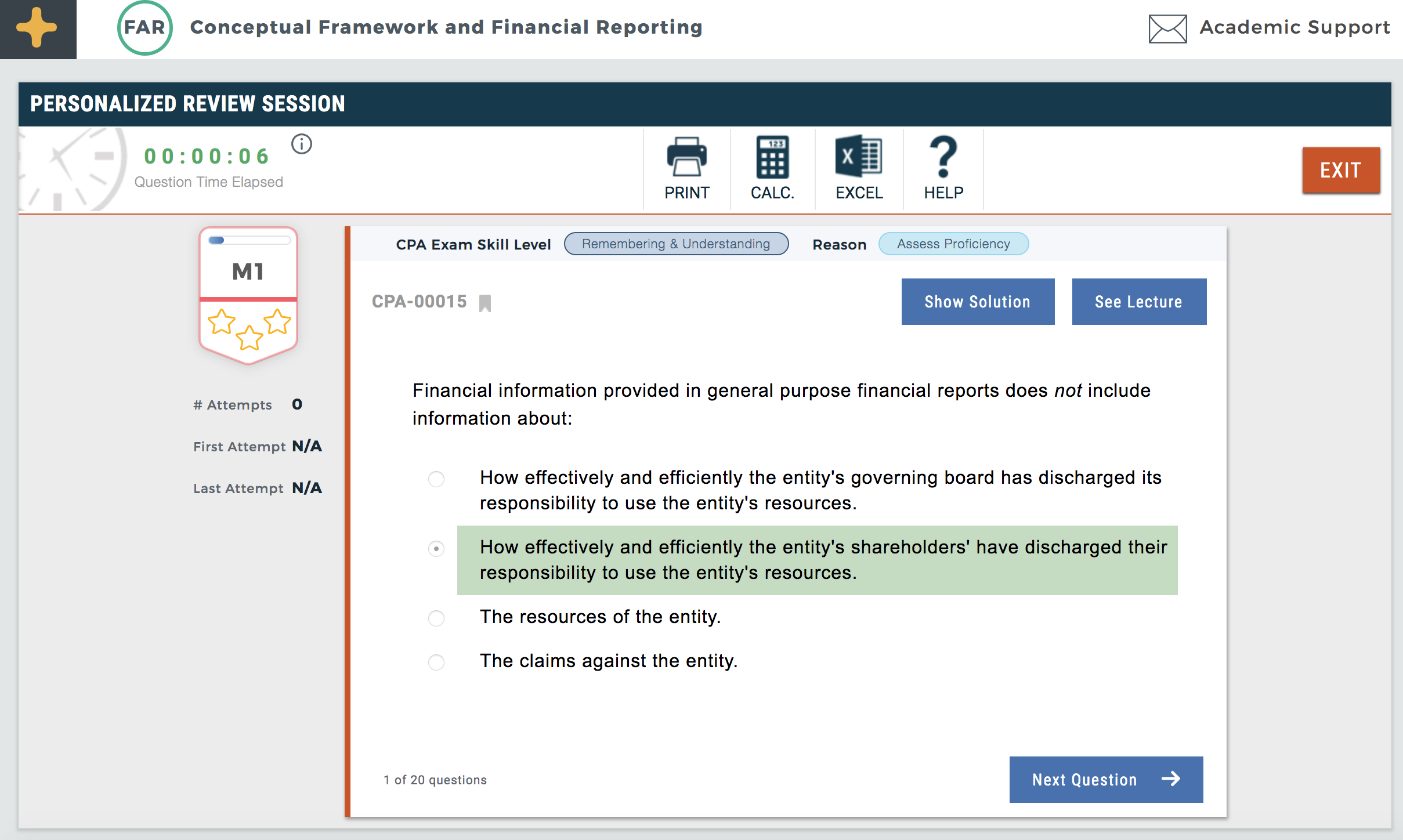 Before you answer each question in the review session, you can choose to watch the lectures discussing the topics tested by the CPA sample questions. This method ensures you're mastering the information.
Then, once you've answered all of the questions in the review session, you can go through a detailed list of the questions that appeared within that module. From this list, you can choose to return to particular questions. Next, you can read the in-depth explanations about why the correct answer was right and the incorrect answers were wrong. If you want, you can also work through additional review sessions to become even more proficient with the exam topics.
Proficiency Tracking
The CPA Becker review session also tracks your proficiency with the unit. The proficiency tracker reports the module number or unit number along with your level of proficiency. This way, you can directly determine what content areas you need to study more.
2. Audio and Video Lectures
The Becker CPA prep courses also include both video and audio lectures. Specifically, the Pro course has about 190 hours of bite-sized video lessons.
The lecture material is of the highest quality. For example, Becker CPA constructs the lectures in such a way that candidates can truly comprehend the subject matter rather than settle for rote memorization. Moreover, the lectures strictly cover the format and questions of the real CPA Exam. And such intentional focus on the CPA Exam questions is rare among CPA review providers.
Likewise, the pacing of the lectures is also convenient for quick and painless learning. The lectures in each module can be 10-60 minutes in length, but the course divides them into 2-5 minutes sections. As a result, you can focus on one topic at a time.
Finally, the instructors that lead these lectures are CPAs, PhDs, and accounting, law, or business professionals with real-world experience. Becker trains them to use engaging and informative teaching techniques. As a matter of fact, thousands of accounting firms, corporations, universities, and government agencies trust Becker's lectures.
3. SkillBuilder Videos from Becker Review
SkillBuilder videos are exclusive to Becker. They really help to set the course apart from others on the market. (They used to be called SkillMaster videos, but Becker recently revised their terminology.)
Becker's exclusive SkillBuilder videos delve deeply into the process of completing TBSs (task-based simulations), the CPA Exam's most difficult questions.
Specifically, these videos feature an instructor using custom animation and touchscreen technology to guide candidates through the steps of answering practice TBSs. The instructors provide step-by-step tips and strategies so you can apply key exam concepts to each TBS. In fact, Becker has SkillBuilder videos for every single TBS in their course because they are so important to master for the CPA Exam.
Essentially, the SkillBuilder videos serve as personal tutoring sessions for each of Becker's 475 TBS questions.
Essentially, the SkillBuilder videos serve as personal tutoring sessions for each of Becker's 475 TBS questions. Therefore, these videos give Becker students a big advantage over the CPA Exam TBSs. If you learn the tactics to solve these CPA Exam example questions, you'll be better prepared on exam day.
4. Becker CPA Review Books and Content Updates
When you purchase a Becker course, you receive printed textbooks and/or e-books, depending on the package you select. Becker lets you choose when you want the printed textbooks delivered according to their content update schedule. What's more, digital textbooks are annotated to guide you through the most important information you must know to pass the exam.
All of the Becker CPA books are fairly comprehensive and well-written. Because Becker has been in the industry for so long, they've been able to assemble a team of very skilled and experienced writers. Plus, they know the ins and outs of the CPA Exam Blueprints and can distill that exam content into material candidates understand.
Becker updates their lectures and textbooks twice a year on June 11 and December 11 to cover the new content that becomes testable each July 1 and January 1. They stop covering old concepts as soon as the CPA Exam stops testing on these concepts. By following this schedule, Becker doesn't interfere with your studying. And Becker's CPA schedule ensures you are only studying the topics most likely to be tested according to the most current CPA Exam syllabus. So for example, the Becker updates for 2023 have already happened, and the Becker courses are now current for 2023.
Becker also supplies lecture outlines at the unit level. These outlines summarize the main concepts for each module within the unit.
5. Simulated Exams
Each full Becker CPA course also comes with 8 full simulated exams. The 8 simulated exams break down into 2 exams for each of the 4 CPA Exam sections.
But how does the CPA Exam compare to the Becker exams? These simulated exams replicate the format and functionality of the exam down to the smallest detail. For instance, when you enter a simulated exam, you'll see the CPA Exam interface and your exam will start with information for that exam section. The prompts that lead you through the simulated exam also look exactly like they do on exam day.
All of the questions within the simulated exams are new to you; they have not been recycled from other practice exams.
Finally, all of the questions within the simulated exams are new to you. To clarify, they are not questions you would have seen on the other practice tests within the course.
Mini-Exams
All Becker CPA reviews now come with mini-exams, too. Basically, you can take these short simulated exams in half the time as a full-length one. I like this option because you don't always have the time to sit down and take an entire test. These mini-exams are another example of how CPA review with Becker is a little easier.
Becker CPA Mock Exam vs Actual
So, just how similar are the Becker questions to the CPA Exam? When you compare Becker vs the actual CPA exam, you'll probably find that the Becker questions are harder overall than the ones on the exam. Plus, many candidates have lower scores on their Becker CPA mocks exams and still pass the CPA Exam. That's called the "Becker bump" – keep reading to learn more about Becker vs actual CPA Exam results.
6. Unlimited Practice Tests
All of the Becker courses also come with unlimited practice tests. These tests differ from the simulated exams because practice tests randomly pull from all of the questions within the Becker test bank. These tests allow you to get even more practice before you take the simulated exams.
Becker has added the Adapt2U technology into unlimited practice tests so they can be more personalized to really focus on areas of weakness. This targeted, personalized feature can help candidates save time and effort when practicing for the exam.
The practice tests supply a mini CPA Exam experience by featuring 2 testlets. By working through these testlets, you can develop your familiarity with the look and feel of the exam while reinforcing your retention of the exam content. And really, the availably of unlimited practice tests could be one of the reasons why the Becker CPA Exam pass rates are so strong.
Becker CPA practice exam vs actual
When you're taking a Becker CPA practice exam, just remember that the Becker questions are a little harder than the ones you'll see on exam day. So in this way, Becker almost overprepares CPA candidates.
7. Practice Questions in the Becker Test Bank
The number of practice questions Becker supplies varies according to the course package you purchase.
Specifically, the Advantage course includes 7,400+ MCQs and 475 TBSs, while the Pro course comes with a bonus bank with another 1,100+ MCQs.
Additionally, Becker constantly compares the quality of their questions against the most recent version of the CPA Exam to ensure that their questions remain up-to-date and effective for helping candidates pass.
This is another reason why Becker pass rates for CPA candidates are high.
Still, could you pass the CPA Exam by only doing Becker MCQs? Although the practice questions are great, why limit yourself to just one learning tool when a Becker course gives you so many ways to study?
8. Becker CPA Final Review
Becker's final review is a cram course that you complete closer to your exam date. Most candidates start their final review 1-2 weeks prior to their actual exam date.
Becker is one of only a small handful of CPA review companies to provide candidates with a fully comprehensive final review. So, what does this mean?
Becker's Final Review covers more than 115 topics with 39 hours of new lectures; 1,000 new MCQs; and 108 new TBSs.
In Becker's final review, you'll find condensed material with brand-new lectures that Becker has pared down to only include the most crucial content. Additionally, you'll also receive never-before-seen multiple-choice questions and simulations that allow you to get even more prepared. And in case you've memorized some questions, having brand new ones served at this stage is immensely helpful. Becker's Final Review covers more than 115 topics with 39 hours of new lectures; 1,000 new MCQs; and 108 new TBSs.
Plus, Becker students can even purchase the Final Review per exam part. For example, let's say you're really struggling with the FAR concepts. In that case, you can opt to just buy the Becker Final Review for FAR.
Is the Becker Final Review worth it?
In contrast to CPA review providers that don't include this level of final review, Becker gives you everything you need in the end to wrap up your studies in an efficient way. An effective CPA final review stage could be the difference between passing or failing the CPA Exam, so this is a truly important feature. In fact, this final review could contribute to the high Becker CPA pass rate statistics.
9. Becker Online CPA Review Study Planner
The Becker study planner helps you create the most efficient study schedule according to which exam section you are taking and when. Start by adding your exam information. Next, the study planner will tell you which study units to complete and the order in which to finish them. This personalized Becker CPA Review schedule will help you stay on track.

10. Unlimited Academic Support, Access to Success Coaches, and Academic Tutoring Sessions
Becker CPA Review allows all candidates to receive as much academic support from experienced professors as they need. Specifically, you can receive professor mentoring by posting your exam-related questions to a forum and getting a response back within 48 hours or less. You can also search through archived discussions to get immediate access to similar candidate questions and their answers.
However, candidates who purchase the Premium or Pro course packages will also receive access to success coaches. These coaches will recommend that candidates set specific goals for their CPA Exam journey and help candidates formulate plans to meet these goals. The success coaches will also suggest which Becker course can best meet a candidate's learning needs.
Finally, candidates who go with the Pro course package can also take advantage of the 5 tutoring sessions that Becker offers, and the new Becker Concierge package even includes an amazing 50 CPA tutoring sessions. These 1-on-1 tutoring sessions afford Becker students the opportunity to receive personalized help from CPA-certified instructors. During each 1-hour session, you can ask the instructor specific questions about the CPA Exam content with which you are struggling.
11. LiveOnline and Live Classroom Scheduling Options
If you'd like to watch live lectures from the comfort of your own home or wherever you prefer to study, you'll appreciate Becker's LiveOnline classes. With these classes, you can join a live webinar, listen to the lecturer, and ask a question in real time. Therefore, these classes let social learners get the additional support and instruction they need to succeed on the CPA Exam.
Becker live classes
Becker is the only CPA course provider that has a live classroom teaching experience.
Did you know that you can take Becker CPA review classes in person? Becker is also the only CPA review provider to continue to offer live classes in a classroom setting, with more than 80 classes worldwide. Within the classroom learning environment, you'll enjoy a structured schedule, regular teaching, and dedicated attention from Becker's expert instructors.
The LiveOnline classes are available to Premium and Pro course students, and the Becker CPA live classes come with the Pro course. You can find the schedules for these resources on Becker's website.
12. Becker CPA Flashcards
Becker includes 1,350+ digital flashcards in all three of their course packages. As these flashcards contain questions and brief answers, you can use them to solidify your understanding of the most important exam concepts.
When you access the flashcards within the online course, you can use the search function to locate cards about certain topics. If you want to drill yourself, you can tell the course to present the flashcards in random order or in order of lecture and topics. What's more, the digital CPA review flashcards also display statics about your progress with them.
If you purchase the Pro course, you can also receive printed flashcards. Otherwise, you can add the printed flashcards to your course for $179.
13. Becker Review Native App and Accounting for Empires Learning Game
The Becker mobile app lets you view lectures, use flashcards, and answer practice questions on your phone or tablet. If you simply download the content to the app on your mobile device, you can access the course offline.
Becker Review CPA learning game
You can also use your phone or tablet to play the Becker Accounting for Empires, a unique learning game. This app is an interactive mobile gaming experience that lets you answer CPA Exam questions to build your empire. You can choose the topics and the number of questions so you can work on content areas where you need the most help. Then, you can get credit in your Becker course for the MCQs you answer correctly in the game. In this way, you can really enjoy your studies while increasing your skills.
You can play individually or with a group of other CPA candidates. And when you play with others, you can create alliances, conduct espionage, and challenge other players so you can boost your resources. Finally, because Accounting for Empires is available on Android™ and iOS® phones and tablets, you can play anytime, anywhere.
14. Flexible Financing: Flexpay
Becker also offers a unique way to pay for your course with its flexible financing option called Flexpay.
With Becker financing, you open a new credit card that you can use to pay for your course over time. This no-interest financing option charges your credit card based on the monthly option you choose.
Becker payment plan
You can pick either a 6-, 12-, or 24-month installment plan for eligible Becker purchases over $500. And because you're using a new credit card, this option won't affect your credit score.
A $49, $69, or $99 non-refundable processing fee applies, but all applicants are pre-approved and Becker does not charge interest. With this financing, the cost of the Advantage course can be as low as $99.95 a month, the Premium course can come to just $249.91 a month, and the Pro course can cost you only $183.25 a month (after your Becker discount).
15. Becker Promise
The Becker Promise is a pass guarantee of sorts. Specifically, Becker explains that the Becker Promise is a tuition waiver program for people who finish the review course but don't pass the CPA Exam. If you find yourself in this situation and meet the specific Promise requirements, Becker will let you repeat the course at no additional cost. But because the most complete Becker course features access until you pass, the Becker Promise only seems relevant to the smaller Becker study option.
Plus, with the high Becker CPA pass rates, you hopefully won't even need to worry about this.
16. Personal Support with the New Becker CPA Concierge Package
Becker recently announced the launch of the Concierge package. Becker developed this package for anyone in need of a little more assistance during their CPA journey. For instance, CPA candidates receive individualized coaching and support from Becker instructors. With the exception of a few extras like a pass guarantee, specialized Success Coaches, and up to 50 weekly hour-long one-on-one tutoring sessions, Becker Concierge essentially includes everything in the Pro plan plus more. In addition, Becker provides you with access to a License Navigator who explains the license application procedure in accordance with the State Board of Accountancy in your state or jurisdiction. So as you can see, the Becker Concierge package basically includes everything you need to pass the CPA Exam.
17. CPE Subscription with Pro Becker CPA Course Review
Becker wants to be your CPA partner throughout your career. Therefore, they offer a 1-year continuing professional education (CPE) package to students who use the Pro course package to obtain the CPA license. With this subscription, you won't have to worry about finding and paying a provider for your first year of CPE, which is required to maintain your CPA license.
Becker CPA Course Options
Recently, Becker started offering three full CPA review course options plus the Concierge package with the following features:
Becker CPA Exam Review Packages
| | | | | |
| --- | --- | --- | --- | --- |
| Course Name | Advantage | Premium | Pro | Concierge |
| Course Access | 24 months | Unlimited | Unlimited | Unlimited |
| Becker CPA Price | $2,499 | $3,099 | $3,799 | $5,999 |
Main course features
Audio lectures
Video lectures
190 hours
190 hours
190 hours
190 hours
Multiple-choice questions
7,400+
7,400+ (+ bonus bank with 1,100+ MCQs)
7,400+ (+ bonus bank with 1,100+ MCQs)
7,400+ (+ bonus bank with 1,100+ MCQs)
Task-based simulations
475
475
475
475
Adapt2U Technology powered by Sana Labs
400+ SkillBuilder videos
4-part review course
Printed textbook + annotated digital textbook

(digital only)

1,250 digital flashcards
1,350 printed flashcards

Content updated regularly to match CPA Exam Blueprints
8 simulated exams that mirror the CPA Exam
12 simulated mini-exams