Becker CPA Review is the most well-known guided review course in the accounting industry. Becker CPA has relationships with Big 4 CPA firms, and as a result, a high percentage of Big 4 hires also receive Becker CPA Review for free as part of their employment package.
However, it's important to note that you may be able to take the CPA Exam while still taking classes, and there is no good reason to delay sitting for the Exam. Additionally, you may be anticipating a Big 4 job, but the reality may be different than your expectation. For these reasons, you may, as a Big 4 hopeful, want to sit for the CPA Exam before you start working. After all, who wants to work 60+ hours a week, give up your weekends for work on a frequent basis, and then go home and study for the CPA Exam? I wouldn't volunteer to do that, well, ever.
Also, you may not be a Big 4 candidate, but you may be considering Becker because your friends or colleagues used the course successfully. That's great, and it's a valid reason to choose Becker over some of the other popular options.
So, let's take a look at the reasons why you might want to choose Becker CPA Review materials.
Save $495 on Becker CPA Review Now!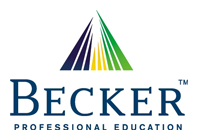 Becker CPA Review Course Overview
In order to provide a fair and objective review of all major CPA review courses, I provide a thorough and impartial evaluation of the program in addition to my personal view based on firsthand experience (Yes, I used Becker to pass my own CPA exams!). But like every other CPA review courses, Becker may not be the best course for everyone. Yet, everyone can find the best CPA review course for them. So, if you need help selecting with this process, feel free to contact me.

The Best Parts of Becker CPA Review
1. A Solid Reputation with CPA Review Products
Becker is one of the oldest and most established brands in the CPA Exam prep market. In fact, Becker has purchased a few competitors to become what it is today, and it now has endorsements from the Big 4 and partnerships with thousands of big companies and CPA firms.
The Becker brand also covers other accounting certifications, such as the ACCA and CMA certifications.
So, the Becker brand is pretty prestigious, and that prestige carries a lot of weight. However, the course is more than just a name. Becker CPA Review includes some solid features, too.
2. Clear Lecture Notes

As a former Becker student, I have to say that Becker's notes are pretty good. They are comprehensive, and the layout is user-friendly. Becker CPA Review uses different fonts and formats to highlight important areas. Additionally, Becker's course is one of the best at providing plenty of space to write your own notes.
This is a typical testimonial from Becker CPA's website:
Becker's approach to review is concise and focused. It doesn't overload you with extraneous or esoteric material. It teaches you to rely on your own understanding to get to the right answer." – Tyler S. Wright
3. Helpful CPA Practice Questions
Personally, I think the practice questions align a bit too well with the lecture notes. And by that I mean, there are few surprises/tricky questions in the Becker test bank. Therefore, I would like to see more out-of-the-blue questions that can train candidates to think on their feet.
But otherwise, Becker's practice multiple-choice questions are decently similar to the actual exam questions. Becker also has well-written answer explanations. These explanations help reinforce the concepts so you're well-prepared. What's more, Becker CPA Review recently added some video explanations as well. These videos involve instructors walking you step-by-step through the question and answer process. Consequently, these explanations can really help candidates who need to visualize the entire process. However, this feature isn't available for all the questions, so you'll have to answer a large percentage of the questions on your own. But that's a good thing, as you'll need to know how to answer the actual exam questions on your own. Because, of course, when you go to the testing center, you won't have a Becker professor there to help you along the way (that would be nice though)!
4. A Sleek and Easy-to-Use Online Interface
Becker CPA has one of the nicest interfaces on the market. The course is easy to navigate and clearly identifies the next steps candidates must take. The platform also contains a great interactive study planner to help you plot all your studies and make sure you are giving yourself enough time to successfully pass your exams.
Additionally, the Becker CPA Review course also includes insightful reporting so you can see your progress as you move through the program. Adaptive analytics let you know where you need to focus your attention so you experience minimal surprises on exam day.
5. A Final Review for Maximum Preparation
A final review is something you complete closer to your exam date. Most candidates start their final review 1-2 weeks prior to their actual exam date.
Becker is only 1 of 2 CPA review companies to provide candidates with a fully comprehensive final review. So, what does this mean?
In Becker's final review, you'll get brand new lectures that have been pared down to only include the most crucial content. Additionally, you'll also receive never-before-seen multiple-choice questions and simulations that allow you to get even more prepared (and in case you've memorized some questions, having brand new ones served at this stage is immensely helpful).
In contrast to CPA review providers that don't include this level of final review, Becker gives you everything you need in the end to wrap up your studies in an efficient way. An effective final review stage could be the difference between passing or failing the CPA Exam, so this is a truly important feature.
The Worst Parts of Becker CPA Review
1. It's the most expensive CPA review course.
The full Becker course retails for around $3,300. And if you want the Becker Bundle, which includes flashcards and a final review, that will cost you almost $4,000. There are Becker CPA discounts that you can find, but even with discounts, this price range is outside of many CPA candidates' budgets.
In contrast, there are other CPA review courses that cost about $2,000 (or a little less, with a valid discount).
The Becker CPA Review cost is likely one of the biggest hurdles for most CPA candidates to get over when deciding on this course.
2. The video lectures aren't engaging.
The lecturer in the videos is supposed to guide you through the notes, but what he/she does most is read the printed notes and tell you to "circle this" and/or "highlight that." Personally, I don't pay $3,393 for this elementary school type of instruction. And, research from the University of Mississippi demonstrates the ineffectiveness of this method.
However, other CPA review courses include engaging instruction with a white-board approach. But, the type of lecture style that you find works best for you may surprise you. If you are on the fence about the best lecture style for you, I'm here to help.
3. The test bank size is average.
You might be saying, "Who cares about the size of the test bank?" But if you're a tactile learner like me, you know that you need practice, and lots of it, before you can feel confident checking a topic off your list. If a test bank is only average in size, what happens after you go through all the questions? If you need to go through them again because you still have weak areas, you run the (high) risk of memorizing the questions.
Because comprehension is key to passing the CPA Exam, comprehension is key, memorizing the questions won't provide you with any benefit.
Additionally, when you use a review course that includes just an average or small test bank, you'll sometimes find just ONE question about some of the topics. And even worse, some topics may have no simulations or a simulation that only briefly touches on the topic (this happens when a simulation covers multiple topics or tasks).
Therefore, you'll probably need to supplement with a bigger test bank, even after you kick out $3,000+.
But, if you are in this camp, you can find the best CPA test bank for supplementing on my site.
So, for fun, let's check out how Becker's test bank question counts stack up against some of the best CPA review courses.
As you can see, if you learn best through practicing MCQs and simulations, Becker may not be the best course for you.
4. There is no access until you pass guarantee.
Becker is one of the only CPA review courses on the market that does not offer some type of access until you pass policy. With the other review provider access policies, you can continue to take the course for as long as you need. That means that even if it takes you 4 years to pass the CPA Exam, you still won't spend another penny. That is unless you choose Becker. With Becker, your access is limited to either 18 or 24 months. Your access expires on whichever comes first:
18 months from your first login
24 months from your date of purchase
Now, Becker does offer something called the Becker Promise. With this Becker guarantee, you'll need to meet a lot of fine-print criteria, like correctly completing 90% of all the Becker MCQs. If you meet the Becker Promise criterion, you won't have to pay another tuition fee. But, heads up: you will still need to pay a $195 material fee PER PART.
And if you don't meet the Becker Promise criterion, you can still get access to the course, but you'll have to pay 50% of the total.
Regardless, if you don't pass the CPA Exam and exit the Becker 18-24 month window, you'll be on the hook for another ~$800-$2,000. Whereas, if you purchase a course with access until you pass, you'll never have to pay another dollar once you've made the initial investment.
Becker CPA Course Options
I like how Becker Review keeps its offering pretty simple. There aren't an overwhelming number of options. Instead, you'll just need to choose between these 2 courses:
Becker Bundle

Becker's premium offering
$3,987 before getting any Becker CPA discounts

Becker 4-Part Review

Becker's standard offering
$3,393 before applying Becker CPA coupons
Let's take a look at what each course includes so you can choose the best one for your needs and budget.
Becker CPA Course Comparison
To summarize, the Becker Bundle basically includes everything Becker offers. And the Becker 4-part CPA Exam Review Course is the pared down version and doesn't have some of the nicer Becker features, like flashcards or a Becker Final Review. Check out this breakdown of the differences between the Becker Bundle and the 4-part option.
| | | |
| --- | --- | --- |
| | Becker Bundle (includes 4 parts) | Becker 4-Part CPA Exam Review |
| Video Lectures | Yes: 100+ hours | Yes: 100+ hours |
| Access Until You Pass | No: Expires within 18-24 months, depending on the date of your first login | No: Same access length as the Becker Bundle |
| Flashcards | Yes: 1,400 digital flashcards | No: flashcards are not included, but you can purchase them separately |
| Final Review | Yes: Becker Final Review is included | No: you'll need to pay extra to get the Becker Final Review |
Both the Becker Bundle and the Becker 4-Part CPA Exam Course include Becker CPA Review books, Adapt2U technology, a study planner, mock exams, the Accounting for Empires learning game, and the Becker Promise.
Becker CPA Live Courses
There was a period of time when it was extremely popular to meet at a hotel or conference room with 100+ of your closest friends to learn from a live Becker instructor.
But, this method of learning has kind of going the way of the dodo, as most candidates now prefer to self-study.
However, if you would like to attend a live class, Becker does still have some CPA classes available. However, Becker is probably going to transition to just offering Becker Live Online classes, which are basically like webinars in which a professor walks you through the notes and goes over a few examples.
My Becker CPA Conclusion
So, is Becker CPA Review worth it? Well, here's my perspective: I can understand that you may feel more comfortable going with a top brand in the CPA review industry. They do have good notes and decent practice questions. So, if you have the budget and the brand of your course is important to you, then Becker is probably a good fit.
But, if Becker CPA Review doesn't sound worth it to you, then check out these Becker CPA competitors.
Becker CPA Review Discount
You can find all the Becker CPA Review discounts on my comprehensive CPA discounts page or use the button below to go straight to the best Becker CPA discount available.
Save $495 on Becker CPA Review Now!