Surgent CPA Review (formerly known as Surgent Kolar CPA Review) was founded by John "Jack" Surgent and Liz Kolar in 2013.

For this month only…
SAVE with the coupon code below
Get the Surgent CPA Code!
Surgent CPA Review Course Offering
Surgent CPA Review is an integrated and guided review course that presents video lectures, proprietary textbooks, study notes, practice questions, and practice exams in one online platform.
You can take the self-study course in the comfort of your home (or office), at any time of the year, and at your own pace. Access is unlimited, and a free trial is available.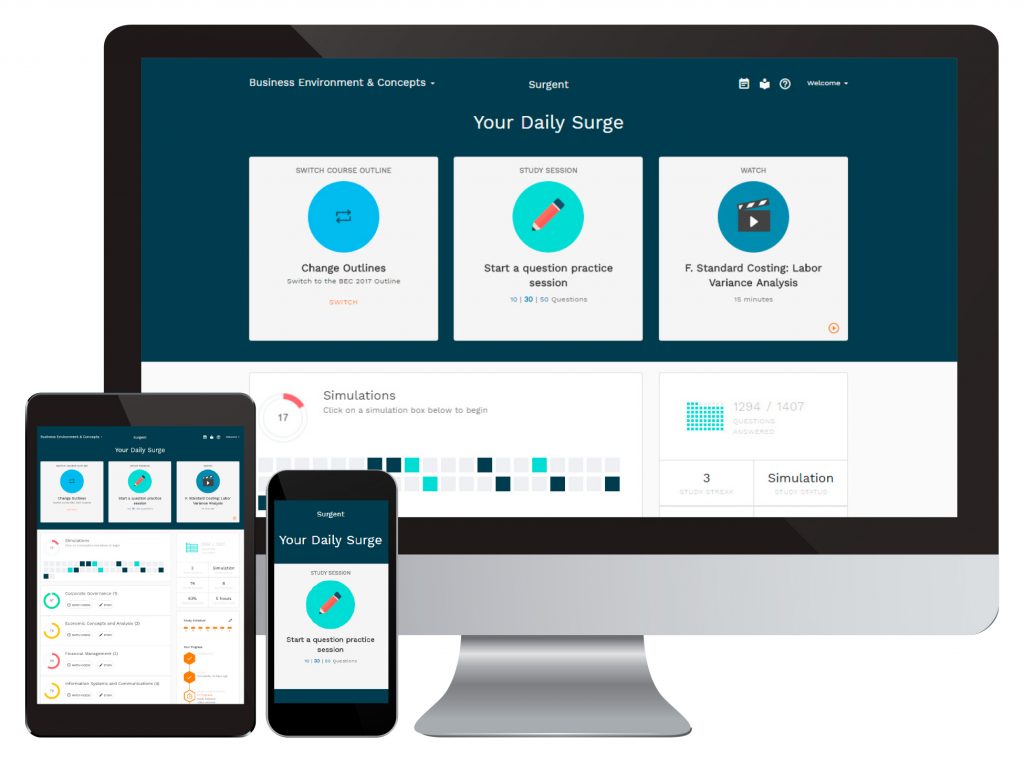 1. Video Lectures
The lectures are viewed online, either on a desktop or on portable devices including iPads, tablets, and Android devices. There are 350 videos available.
If you read my book, you know I am a big fan of "active learning". Traditional CPA review courses have long lectures that drag on for 3-4 hours. I personally don't think this type of passive learning is effective.
I am glad to know that Surgent CPA's lectures are often 10-20 minutes, and the total number of lecture hours is fewer than most courses. This way, you can spend more time on active learning through practice questions.
2. Study Notes
Surgent develops their study notes, together with the video lectures, in house.
3. Practice Questions
There are over 7,500 multiple choice questions and 400 task-based simulations to help you get familiar with how the actual exam works. These questions are presented in an adaptive learning software to help you focus on weaker areas.
4. Other Features
The online Study Planner calculates the required study time by entering the date of the exam and days of the week you plan to study.
Students can contact Surgent by phone and email. The turn-around time is typically 24 hours or less.
The course comes with a handy flashcard app.
12 sessions with a CPA Exam success coach (3 30-minute sessions per section), which have a $600 value.
Surgent CPA Background
Jack is CEO of Surgent McCoy CPE, a major provider of tax and financial-planning seminars to CPAs in the U.S. He also manages a CPA firm specializing in taxation and financial planning for high-net-worth individuals and closely held businesses.
Liz has been teaching CPA review in the U.S. for more than 20 years. She has experience in public accounting at Coopers & Lybrand and teaching full-time in several universities.
My Thoughts on Surgent CPA Review's Strengths and Weaknesses
Pros
1. Award-Winning Lecturers
Liz is not only an experienced teacher but a great one. She has won awards such as PICPA (Pennsylvania Institute of CPAs) Outstanding Educator of the Year.
Jack has personally presented over 1,800 live seminars in the past 25 years and has been named Outstanding Discussion Leader by various professional organizations.
Liz and Jack not only teach the materials but also go over 100 multiple choice questions and simulations in the lessons, which I find very helpful.
2. Adaptive Learning Software
The software creates a "reference report" that shows a list of recommended reading based on questions you have done wrong (i.e. your weaker areas). Students can rely on this report for more targeted review vs the traditional method where students are expected to read the book from cover to cover.
3. Pass Guarantee and Free Trial

If a student fails the CPA Exam after studying with Surgent, Surgent will refund the tuition to the course or provide continued access to the program until the student passes (please refer to the terms of conditions for details).
I also like the free trial, because it shows the team is confident in their product. Some other providers have longer trial periods (14 days vs Surgent's 3 days) but in my opinion, 3 days is enough time to make a decision.
4. 89.7% Pass Rate
We are not able to confirm this pass rate, so do not expect to receive pass rates as high as this, as everyone's scores and pass rates will vary.
Cons
1. A new brand that needs more time to build its reputation

I have taken a good look at Surgent's powerful adaptive learning technology, videos and the many features they offer. I like it a lot, but my CPA review course evaluation relies heavily on the experience of my readers.
Surgent CPA is relatively new, and, understandably, I am still collecting feedback from readers. So far, I have received a few rave reviews on Surgent's products, and that's why I've decided to put them in my top 5 recommended list. Time will tell if Surgent can rank among the other established providers.
2. The course doesn't supply as much value as Wiley or offer lecturers that are as engaging as Roger's

Surgent doesn't duplicate some of the things we love Wiley CPAexcel for, like the huge test bank and the myriad of features. And the lecturers aren't as exciting or engaging as Roger CPA's. But if adaptive technology is a must-have feature for you, you may be perfectly happy with this course!
My Surgent CPA Review Recommendation
If you don't mind the relatively new brand, Surgent has all the goodies — a great lecturer, adaptive learning, online tracking, a free trial, and a pass guarantee — in one nice package.
Surgent CPA Review Discount
Save $$$ for a limited time with an exclusive offer only available to I Pass the CPA Exam readers!