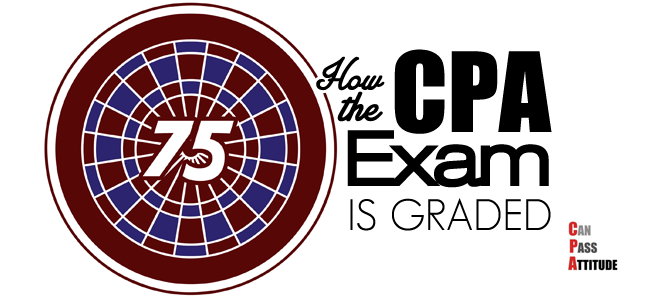 Candidates are intrigued by how the CPA Exam grading is done. Here is my understanding of the CPA exam scoring mechanism:
Here is the text version for those who prefer to read:
A Score of 75 Doesn't Mean 75% Correct
First of all, you should know that the score you get is not equal to the percentage of correct answers in the exam. For example, if you get a 75, it does NOT mean that you get 75% correct.
Your score is calculated based on a percentile, and the examiners utilize a fancy system to calculate all these. Here is a summary of how it works in layman terms:
CPA Exam Grading in Layman Terms
In the typical CPA exam, there is a certain number of "pre-test" questions. These questions look exactly the same as others (i.e. candidates can never know) but they are not graded for that specific exam.
Based on the percentage of correctness for each question, these pre-test questions are assigned a point value to it: the more difficult it is, the higher point value it gets. The easier questions will fall into the "medium-level" testlets, and harder ones into the "difficult" testlets.
The multiple choice questions are adaptive. Candidates will be given the medium-level or difficult testlet depending on how they do in the previous testlet.
As the difficult questions have higher point value, even if candidates get more wrong answers in the difficult testlets, they may still be better off than those who "got stuck" in the medium-level testlet.
CPA Exam Grading on Essays
Believe it or not, essays are now graded by computer instead of human. The software looks for elements a human would score on, such as organization, development, and usage of language.
If the gold standard is what a trained human scorer would score, you gather a relatively large sample—around 1,000 to 1,200 responses scored by people—then you use a program to build a mathematical model that will take elements of those papers and predict human scores and validate that model using data from real candidates and show the software is scoring the way the humans would score it,"

— John Mattar, the AICPA Examinations Team's director–Psychometrics & Research
If your BEC score is very close to the passing mark (e.g. 74, 75 and 76), then a human grader will take a look at your essay.
Please refer to this detailed explanation written by the AICPA team and published in Journal of Accountancy.
What It Means to You
Although there is not a "curve" and that the examiners do not subjectively manipulate the test and passing rate, the grading system has an inherent curve built into it.
It also means that if you feel like getting half the questions wrong, and it may as well be the case, you may still pass because the difficult questions get more weight.
For Your Further Reading
Are You Walking Alone in Your CPA Journey?
I am here to help! Check out my frequently asked questions page, or sign up to my e-course where I deliver the most important posts from this site in an organized manner.
Please select the version most suitable for your needs: