Copyright
This website and its content is copyright © IPassTheCPAExam.com 2010–2015. All rights reserved.
Privacy
We do not share personal information with third-parties nor do we store information is collected about your visit for use other than to analyze content performance through the use of cookies, which you can turn off at anytime by modifying your Internet browser's settings. We are not responsible for the republishing of the content found on this website on other websites or media without permission. If you suspect there is abuse of this website's content elsewhere, please contact us.
On the subject of email addresses that may be collected through comments, contests or any other means:
We send e-mail newsletters only to users who ask to receive them.
You can easily get off the list in just one click. You can find the unsubscribe link at the bottom of each e-mail newsletter.
We will never make your name or address available to any other companies or agencies without your permission.
Blog Comments
We reserve the right to edit or delete any comments submitted to this website without notice due to;
Comments deemed to be spam or questionable spam
Comments including profanity
Comments containing language or concepts that could be deemed offensive
Comments that attack a person individually
We also reserve the right to quote or republish any part of the comments in publications and other media.
Terms and Conditions
ll content provided on this website is for informational purposes only. Although every effort has been taken to ensure accuracy, we make no representations as to the accuracy or completeness of any information on this site or found by following any link on this site. We will not be liable for any errors or omissions in this information nor for the availability of this information. We will not be liable for any losses, injuries, or damages from the display or use of this information.
This policy is subject to change at anytime.
Product Review and Evaluation Policy
Reviews are meant to help candidates. We realize a good part about giving good advice on the CPA exams is to make sure candidates have the right material. To that end, we are constantly on the lookout to test prep providers and post our reviews for our readers to reference before making a decision to purchase.
They also sometimes help us. We also sometimes use affiliate links on this site. If you use our links to buy these materials, we get a little cash to keep this site running. You get reviews, and sometimes discounts and giveaways if we can manage them.
Reviews will always be objective and adding value. However, no matter who or what we partner, our promise to you, reader, is this: We will always honestly review materials, and if we do not think a product is worth recommending, we will either post the honest review anyway, or decline to post the review.
Disclosure
We first and foremost, created IPassTheCPAexam.com or all you readers. Every decision we make prioritizes the readers' interests and experience.
Having said that, there are rules and regulations these days that require disclosures where there may be hidden interests or unspoken biases related to recommendations we make here. And this is a great idea, but it makes life for us a bit more complicated.
For instance, if we interviewed someone and they grab the bill for lunch, we would have to disclose that. If we use an affiliate link that gets us 7 cents vs a link that gets us 0 cents, we'd have to disclose that. If we respond to a candidate and recommend that he/she use a particular prep provider for their situation, same thing.
This would be a massive, tedious job for us, and a terrible reading experience for our readers. And our readers come first.
So to conform to the rules and maintain our sanity, for every product, link and recommendation that comes from us, always assume the following: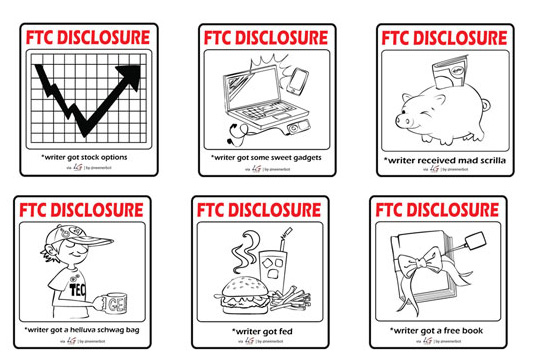 Images courtesy of Louis Gray and Jeannine Schafer.
If you have questions on any of the above, please feel free to contact me. Have a great day!
Stephanie