Let Me Find the Right CPA Review Course for You!
Discovering which CPA review course is best for YOU to pass the CPA Exam is critical. But who am I and why should you trust these rankings?
Stephanie Ng, CPA
I passed the CPA Exam on the first try. And it's absolutely doable if you find the right CPA study materials. My CPA Exam scores are: AUD – 88; BEC – 87; FAR – 92; REG – 84.
I've even written a best-selling CPA Exam guide to help candidates pass the CPA Exam. While I have other important credentials, here's what I need you to know: I have personally used all these courses. And there is one that will be best for you. I am here if you have questions, and of course, you can use the information on this page to help inform your decision.
CPA Review Courses Comparison Disclosure
| | | | | | | | | |
| --- | --- | --- | --- | --- | --- | --- | --- | --- |
| | Biggest brand name in the industry | | Best MCQs and simulations | | | Most unique course & best lectures | | Test bank with video explanation |
| | | | | | | | | |
| | | | | | | | | |
| | | | | | | | | |
| | | | | | | | | |
| | | | | | | | | |
| | | | | | | | | |
| | | | | | | | | |
| | | | | | | | | |
| | Twice non-Becker students | | | | | | | |
| | | | | | | | | |
Top 8 CPA Review Courses Comparison -- CPA Courses Ranked
Below, you will find a more extensive and comprehensive list of the best CPA review courses for 2023. I've also included my analysis of their strengths and weaknesses.
Becker CPA Exam Review offers CPA prep courses that are the gold standards in the exam prep market. That's why we've named Becker as our #1 rated CPA prep course.

Over 1 million CPA candidates have studied with Becker. In fact, their reputation is so strong that they have relationships with the Big 4 and other top accounting firms to train their future CPAs. Becker has really taken the time to develop courses that follow the AICPA blueprints and help you pass the CPA Exam the first time.
Becker uses an adaptive e-learning platform that comes with access until you pass, digital and hard-copy texts, 400+ SkillBuilder videos with detailed problem explanations, and digital flashcards. Many of the MCQs are accompanied by detailed video explanations of the answers. Plus, the SkillBuilder videos walk you through each and every practice simulation and show you exactly how to improve your analytical skills to solve them.
Also, Becker's Final Review is like a cram course with condensed reviews of the most critical concepts, plus new MCQs and simulations that are just as hard as the ones you'll see on exam day. To give you even more practice, the timed mock exams look and feel just like the real exam. What's more, Becker also offers Live Online or Live courses and five one-hour tutoring sessions for personalized attention.
Plus, Becker CPA has just introduced the Concierge package. This program was developed to offer CPA candidates individualized guidance and support in their CPA journey. Basically, Becker Concierge comes with everything in the Pro package plus several extras including a pass guarantee, dedicated Success Coaches, and up to 50 weekly one-on-one hour-long tutoring sessions. Becker also offers access to a License Navigator who assists you with the licensing procedure in your chosen jurisdiction. And finally, Becker Concierge offers a bonus CPE Certificate Program, allowing you to take any of Becker's certification programs in topics like Excel.
I personally used Becker to pass the CPA Exam. When I sat for the exam, Becker was renowned for its live classes, which were a bit difficult for me to get to after work. I love that Becker now has the entire platform online (no more downloading the PassMaster software). The new Becker interface is especially impressive and easy to use. So, now candidates get the great Becker quality (just like I did), and even more learning tools than ever before, like videos that walk you through task-based simulations (this is pretty rare).
After you purchase the Becker course, feel free to utilize my tips on how to study with Becker CPA.
Save on Becker Pro

Use this code on the Becker site to save on your CPA review course!
Save on Becker Premium

Discount applies to the Premium version of Becker CPA Review.
Get the Best Price on Becker Premium
Best Price on the Becker Advantage Course

Don't pay more for your Becker Advantage Course.
Get the Best Price on Becker Advantage
Surgent CPA Review is a very popular CPA prep course with award-winning instructors. The team at Surgent packs their courses with lots of multiple-choice questions (MCQs) and sample task-based simulations (SIMs). Plus, they include over 100 hours of video lectures, high-quality textbooks, practice exams, and access until you pass. And the Surgent CPA Review Ultimate Pass uses an adaptive learning platform—A.S.A.P. Technology—that builds your studies around your weak content areas. This method cuts down your study time. In fact, according to Surgent, their candidates spend less than 100 hours per section studying for the exam. And, they can boast an overall 89.7% pass rate.
What I love most about Surgent is that you're provided with a READYscore that predicts, with stealthlike accuracy, your CPA Exam score. There's nothing more satisfying when you're studying for this exam than watching your READYscore get stronger every time you work in the course. And while I have never met Liz (the accounting professor who teaches the videos), I feel like I know her just by watching the lectures. I kind of see her as the CPA den mother for all the CPA candidates out there 🙂 She really wants everyone to pass and it shows in the videos.
Surgent's prices position their courses as very economical options, especially when you utilize my discount code.
If your budget isn't too tight, Surgent has some good features – an engaging lecturer, adaptive learning technology, online tracking, and a pass guarantee -- all in one nice package. And to discover even more details about Surgent, get answers to your Surgent CPA FAQs.
Save ​with the Surgent CPA Review Discount ​-- ​Ultimate Pass Course

​Save with this exclusive Surgent code just for I Pass the CPA Exam Readers. This Surgent CPA discount applies to the Surgent ​Ultimate Pass Course​.
Save 34% on Surgent Ultimate CPA!
Save ​​with the Surgent CPA Review Discount ​-- Premier Pass Course

Save with this exclusive Surgent CPA discount code just for ​our readers. This Surgent CPA ​coupon ​can be used on the Surgent ​​Premier Pass Course​.
Save 42% on Surgent CPA Premier
Save ​​with the Surgent CPA Review Discount ​-- ​Essentials Pass Course

Save with this exclusive Surgent ​Essentials discount code. ​This Surgent CPA coupon is applicable to the Essentials Pass Course.
Save 44% on Surgent CPA Essentials
Discount on Individual Sections of Surgent CPA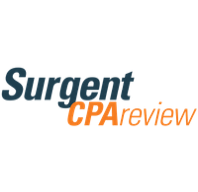 Exclusive discount on individual sections of Surgent CPA Review.
Save 20% on Individual Surgent CPA Courses!
Gleim Premium CPA Review produces some of the most affordable CPA products without sacrificing quality. And Gleim has over 10,000 MCQs and more than 1,300 SIMs, making it one of the best banks of CPA questions available. In fact, Gleim gives you hundreds of more practice TBSs than other providers. I also appreciate that when you answer practice questions, you'll get explanations for the right and wrong answers. Plus, Gleim's practice exams closely mimic the CPA Exam, so you'll feel more comfortable on the big exam day. Gleim also has digital and print books, audio lectures, SmartAdapt courses, personal coaching, access until you pass, digital flashcards, and the Gleim Instruct Video Series.
Moreover, Gleim has been producing CPA materials since 1974, so they know a thing (or two) about the CPA Exam. The test bank is really the best I have seen, and you can use it to target your weak areas to the deepest levels. For instance, you can drill down not just to derivatives, but the type of derivative and more, all in the test bank.
The Gleim practice questions are tough and great for those who want to build more confidence for passing. The Gleim CPA test bank is also well-loved for the huge number of questions it has. Not surprisingly, this test prep is a good supplement to other lecture-heavy courses.
The full 4-part Gleim CPA Review System costs $1,999 for the Premium version and $1,599 for the Traditional version (find additional Gleim CPA discounts here). These prices make Gleim one of the most affordable among CPA Exam prep providers.
Gleim is an excellent course for those who struggled with concepts while in college. What's more, if you like to dive into details, you may really appreciate Gleim's offering.
NINJA CPA Review is a little different from other review providers. Consequently, NINJA CPA offers a monthly subscription, which is a good option for CPA candidates on a tight budget. The NINJA approach uses "weapons" like MCQs, SIMs, notes, flashcards, textbooks, cram videos, and audio lectures to develop a "battle plan" of study.
Additionally, NINJA CPA has stripped away all fluff and tightly focuses your studies on the most important content that is likely to appear on the CPA Exam. What's more, NINJA is a great option if you need to supplement your existing CPA study materials (and quite affordably, too). Check out how NINJA compares against the competition.
I personally used NINJA when I studied for the CPA Exam (in addition to Becker). Back then, NINJA was only a supplement, whereas now, it's a full course. However, the NINJA notes are still as concise and helpful now as they were when I sat for the CPA Exam. In my opinion, there's no better way to quickly solidly all the topics covered in the AICPA's CSOs than NINJA notes. And if you're unhappy with your NINJA products, you'll receive a no-questions-asked refund.
NINJA CPA Review is great as a full course or a supplement. It's actually one of the best-selling supplements on the market, and you can use the free trial to ensure that you like what you'll get. For just $67 a month, you really can't go wrong with NINJA.
Wiley CPAexcel CPA Review
Strengths
The Wiley CPAexcel Review Courses are part of a family of exam-prep courses in the business and finance fields. Wiley's CPA Platinum Review Course comes with textbooks plus an additional 2,000+ pages of online resources, 140+ hours of video lectures, and a substantial test bank with 12,000 MCQs and 500+ TBSs. Also, Wiley provides digital flashcards to study on the go.
Lastly, Wiley CPAexcel's Virtual Classroom Series presents live CPA exam classes in real-time online in a classroom-like environment; students and instructors can even interact as they would face-to-face!
Roger CPA Review courses use an innovative platform, SmartPath Predictive Technology, to guide students through high-quality study materials that help candidates pass the CPA exam faster. In fact, according to Roger's website, their AI platform helps users pass the exam three times sooner than other candidates. And Roger also has a notable 91% CPA Exam pass rate.
However, Roger's comprehensive Elite course includes fewer MCQs and sample problems when compared to other review providers. But Roger's creators claim they provide quality over quantity. They focus your study time on high-quality problems versus endless busywork with easy MCQs.
Plus, Roger's lectures have a reputation for being quite engaging. One of the members of the I Pass team used Roger to pass and still remembers many of the funny jokes and mnemonics Roger mentioned in his lectures.
The Yaeger CPA Review 4-Part Course Bundle comes with 120+ hours of in-depth video lectures per section, textbooks, audio lectures, CRAM courses, and printed flashcards. However, it's Yaeger's personal touch that really grabs my attention. This bundle comes with personalized phone calls with Phil Yaeger himself to set your study plan and review your progress.
Plus, for a small monthly fee, you have access to a 1-on-1 instructor hotline that directly connects you to Phil Yaeger and other instructors for up to 2 hours per exam part per month. Wow—that is a lot of personalized instruction.
Roger purposely skips the non-critical parts of the exam content. As a result, some students love it, but others may struggle to catch up. If you want to know as much as you can about accounting for the CPA Exam and your career (as all that extra accounting information is good for both), you won't get the content coverage you're looking for in Roger's course.
Check out the demo to see if you like the old-school teaching style. If you do, you can save a lot of money by going with Yaeger (it's my budget course recommendation) or, at the very least, you could supplement with the cram course.
Lambers CPA Review has great customer support. With the "Ask the Expert" feature, a content expert will respond to accounting questions within 24 hours.
The Lambers platform uses three learning modes to detect your content weaknesses and focus your studies. The Pre-Test mode establishes your baseline knowledge. Next, the Adaptive Learning mode drills the topics you haven't mastered. Finally, the timed mock exams in the Simulated mimic the feel of the real exam.
Also, if you take a section of the CPA Exam and fail twice, Lambers will refund your purchase price for that section's course.
Lambers does not have any audio courses. The company also does not have an app, but the mobile site works well on tablets and smartphones. Additionally, this course is not comprehensive, as the course lacks high-level video lectures, flashcards, live online classes, or textbooks. However, Lambers CPA test prep is an affordable test bank, although the amount of simulations is quite limited at this time.
The Lambers CPA courses drill you with practice questions to test your mastery of the content. If you already have an accounting background, you could benefit from this style of instruction. Or, Lambers could be for you if you're very busy and only have time for a no-nonsense course without a lot of extras. Otherwise, Lambers could be used as a test bank to supplement another, more comprehensive review course.
Universal CPA Review is a fairly new player among CPA Exam courses. Basically, the company focuses on visual learning. That is, Universal's course combines multi-media video presentations, visually enhanced study guides, and a test bank with video explanations for all multiple-choice questions and task-based simulations. The Complete Package includes unlimited access to study materials for each CPA Exam section, a 30-minute study strategy session with a Universal team member, hundreds of video lectures, 200+ task-based simulations, and 4,200+ practice multiple-choice questions.
Universal CPA Review claims that you learn faster and retain information better from visual-based learning over traditional text-based methods. Therefore, the Universal study guides use images, charts, and infographics to reinforce concepts. Likewise, the animated videos depart from the classroom-style video lessons offered by most CPA review providers. Instead, Universal's video presentations heavily rely on visual aids to break down the exam's most complicated problems.
However, Universal CPA Review does not currently offer many of the additional tools used by other companies. For example, Universal does not have a mobile app, audio lectures, or flashcards if you plan to study on the go. Moreover, the course does not include timed mock exams, which are critical to practice before your exam day.
What's more, the test bank contains significantly fewer multiple-choice questions and task-based simulations than other CPA Exam review courses. However, Universal makes up for the smaller test bank by including video explanations for every sample question.
If you're a visual learner, you might want to check out Universal CPA Review's free 14-day trial. Plus, if you purchase Universal's materials, they come with a 7-day money-back guarantee.
My General CPA Review Recommendations
I try to keep this list of CPA prep courses as objective as I can. But, since many of you ask which provider I generally prefer, I'll tell you what I think are the best CPA prep courses and supplements.
Gain access to in-depth videos about the most complex problems on the CPA Exam, task-based simulations

Enjoy a detailed performance tracking platform
Learn from a course with an impressive record (90% of Elijah Watt Sells winners used Becker)
Benefit from the history and quality that comes from using a prestigious CPA review course
Pass the CPA Exam with fewer study hours

Use laser-focused analytics to determine when you're ready to sit for the CPA Exam

Get access to some of the best guarantees and instructors available
Go with Gleim to:
Dive deep into concepts
Access one of the best test banks available (either separately or as part of the comprehensive course)

Keep your CPA review affordable with a complete course costing less than $2,000
Benefit from the best money-back guarantee available
Go with NINJA to:
Pass the CPA Exam without breaking the bank
Supplement your current CPA course with additional materials (Notes, Audio, MCQ), all at an affordable price
Get a unique perspective on the materials (Jeff uses some humor when explaining things)
CPA Exam Supplements and Course Features
Best CPA Test Bank
The CPA Exam Blueprints reveal that the exam contains hundreds of questions about hundreds of topics. Additionally, the exam questions could be about anything relating to the topics. So, you'll need to answer a lot of practice questions to be ready to pass.
A test bank is a collection of questions previously released by the AICPA or written by the review provider. The benefits of using a big test bank include increased exposure to the exam content, opportunities to strengthen weak areas, and familiarity with the testing environment. You'll also enjoy a decreased chance of memorizing the questions.
Test bank size varies greatly among CPA prep materials. That being said, a few review providers have compiled the biggest and best test banks available. These providers are Gleim and and NINJA.
The Gleim CPA Mega Test Bank contains over 10,000 unique questions and simulations as well as detailed answer explanations for every question. Once again though, the Gleim Premium Course features more questions: over 13,000, which includes 1,300+ TBSs. Without this Gleim CPA discount, the Gleim test bank costs almost twice as much as Wiley's, but it supplies almost twice as many questions. The Gleim Premium Course costs less than the Wiley Platinum Course, especially with this Gleim CPA discount.
NINJA CPA Review is a popular CPA subscription service that allows you to access a variety of learning tools, one of which is a test bank. The NINJA CPA Review test bank includes thousands of questions. Plus, it utilizes an adaptive learning algorithm so that you can focus on your weak areas. This test bank is a great supplement to any course.
I recommend using one of these test banks if you prefer to drill questions and build your confidence by completing lots of practice exams and quizzes.
Best CPA Review Video Lectures
For study sessions that feel a little less like studying, watch video lectures. They're video recordings of instructors teaching about the exam concepts and questions. With video lectures, you can process information faster and retain it longer, deepen your understanding, engage with concepts more enjoyably, and have more convenient study sessions.
| | |
| --- | --- |
| CPA Review Course | # of Video Lecture Hours |
| | 275+ |
| Wiley CPAexcel | 140+ |
| | 100+ |
| | 350+ short videos |
| | 100+ |
| | 100+ |
| | 90+ |
| | 80+ |
With review courses providing comparable video lecture hour totals across the board, base your CPA course decision on the quality rather than the quantity of the video lectures. While some video lecture series are confusing or dull, they're the sweet spot for other courses. The Becker CPA Review video lectures are the most comprehensive, the Roger CPA Review video lectures are the most entertaining, and the Wiley video lectures are the most condensed.
Becker has the highest number of video lecture hours in the industry. Therefore, Becker covers more CPA Exam content in their video lectures than anyone else, making them the ideal course for audio and visual learners. What's more, Becker has created exclusive SkillBuilder videos that serve as private tutoring sessions for all 400+ of Becker's TBSs. Finally, a team of CPAs, Ph.Ds, and accounting, law, or business professionals with real-world experience lead the Becker lectures, so the instruction is accurate, insightful, and helpful.
These videos feature high-quality, entertaining lectures led by Roger Philipp himself. Roger CPA Review aims to be an effective, efficient, and enjoyable course, and the video lectures greatly aid the achievement of that goal. In reality, Roger is a professional, energetic, and competent teacher, so his video lectures are among the best on the market.
If you plan to integrate video lectures into your exam studies, you should hold out for video lectures that you love. I believe you'll find them in one of these 2 courses.
Best CPA Exam Multiple-Choice Questions
The majority of the CPA Exam is multiple-choice questions (MCQs), and these aren't your typical MCQs. Rather, these questions test you for refined skills like application and analysis, as defined by the CPA Exam Blueprints.
You must do more than just memorize formulas to answer exam MCQs successfully. Instead, to achieve the levels of knowledge needed to perform well on the MCQs, you must consistently answer with exam-caliber practice questions. Realistically difficult MCQs are an important CPA review component, so you need a course that delivers them.
| | |
| --- | --- |
| CPA Review Course | # of MCQs |
| Wiley CPAexcel | 12,000 |
| | 10,000+ |
| | 8,100+ |
| | 7,700+ |
| | 5,000+ |
| | 5,000+ |
| | 5,000+ |
| | 4,000+ |
Two courses are known for having the most and the best MCQs.
Becker probably gives you more practice questions than you need, but that's a good thing. What's more, Becker provides only relevant CPA Exam questions, which will keep you from learning outdated concepts that are no longer tested. Finally, Becker has been in the business long enough to know how to write an MCQ that sounds like what you'll see on the CPA Exam. So, you'll have plenty of opportunities to get your knowledge where the exam expects it to be.
Gleim CPA Review is another course that has built its reputation on quality questions. Gleim also supplies you with a mountain of MCQs. And with over 40 years in the industry, Gleim also has every AICPA-released MCQ. On top of that, Gleim's detailed answer explanations accompany every MCQ.
The 2 MCQ testlets on each exam section contribute 50% of your score, so I suggest you weight MCQs about as heavily in your review course decision.
Best CPA Exam Task-Based Simulations
The CPA Exam intends to ensure you're ready for the real-word responsibilities of a CPA. Therefore, the exam features questions simulating the tasks of a CPA called task-based simulations (TBSs). TBSs require you to use information provided to do things like fill out tax forms, enter amounts into a spreadsheet, or review a document.
TBSs are a significant part of the CPA Exam. For this reason, they should be a significant element of your CPA study materials. Some providers craft TBSs reflecting actual exam sims better than others, so you'll want to prioritize courses excelling in simulations.
The number of practice TBSs is also crucial, and it varies greatly.
| | |
| --- | --- |
| CPA Review Course | # of TBSs |
| | 1,300+ |
| Wiley CPAexcel | 500+ |
| | 500+ |
| | 400 |
| | 417 |
| | 230 |
| | 164 |
| | ~20 |
I've found the TBSs of these CPA Exam study guides to be the best in class.

Not only does Gleim CPA Review offer the most TBSs, but they also present the highest quality TBSs. Most every Gleim TBS meets the CPA Exam's standards. As a result, your knowledge can meet the exam's standards as well. TBSs are too important to not position Gleim near the top of your list based on simulations alone.
Like Wiley, Becker CPA Review also offers 500+ TBSs. What's more, Becker has created an exclusive video series designed to help candidates master TBSs, the most challenging type of CPA Exam question. This series, called SkillBuilder videos, contains a step-by-step tutorial for overcoming every single one of Becker's 500+ TBSs.
Due to their elevated difficulty and different types, the more practice TBSs you get, the better. You'll get plenty in these courses.
Best CPA Review Audio Lectures
Want to study for the CPA Exam on the go? Then make audio lectures the playlist of your exam journey. Audio lectures are pretty self-explanatory: they're the auditory content of a lecture. So, they're ideal for auditory learners or candidates wanting to maximize their time.
The point of audio lectures is to let you study for the exam when you're simultaneously occupied with less demanding tasks like exercising, cleaning, or commuting. All of the review courses with audio lectures allow you to download and access them via whichever listening device you desire.
To determine which audio lectures you need, consider the amount of content coverage they offer (do they skimp on the details or thoroughly address explanations and examples?) and the lecturer's teaching style (do they hold you at rapt attention or threaten to put you to sleep?).
The course with audio lectures that meets both criteria is NINJA CPA Review. The Gleim CPA Review lectures are also a good option.
NINJA CPA Review offers the most popular and best-selling audio lectures. These audio lectures cover the essentials and let you make the most of every minute until exam day. The audio lectures come with the NINJA CPA monthly package.
And NINJA CPA Review has freshly-recorded lectures available; no rips of the video lessons here!
The Gleim CPA Review audio lectures are professionally done and offer thorough coverage as well. While they are not as entertaining as Roger's, they still provide good information. On top of that, you can stream or download them according to your preference.
If audio lectures are an important review component for you, then you'll find these audio lectures to be the most comprehensive and effective available.
Best CPA Exam Study Guide Planners
Passing the CPA Exam involves making plans about the exam requirements, applications, dates, etc. Thankfully, when it comes to making a study plan, your course can help you out with a CPA Exam study planner.
Not every course contains a study planner. But of the planners available, I've found the interactive, adaptive ones are best for keeping you on track for success. In my opinion, a quality study planner is straightforward, which means it's simple and intuitive. It should also be customizable in that it generates a personalized agenda incorporating your days off. Finally, it should adjust by recording your progress, modifying due dates as necessary, and holding you accountable. Study planners meeting these criteria come from Surgent CPA Review and Gleim CPA Review.
The study planner in Surgent CPA Review is definitely one of the best because it is based entirely on your schedule and your daily learning progress. Your exam date and days when you're not available to study dictate your overall study schedule. Then, your daily study plan (daily surge) adapts according to how well you performed in previous lessons.
The Gleim CPA Review study planner is just as good, as it also lets you insert all your schedule information and study preferences before revealing a realistic plan. Equally important, the Gleim study planner adapts when you add or remove blackout dates. It also texts or emails you about missed study sessions.
To ensure you pick the best test date and are totally prepared in time, you must determine how fast you want to pass, find time in your schedule for regular study sessions, average 1-2 study hours a day, and figure out when you can finish studying. The interactive study planners in these courses makes this entire process much easier.
Best Customer Support
A good CPA course covers the exam content, a great course features a variety of study materials, and the best course goes above and beyond to support you as you study. In reality, phenomenal customer service is a hidden gem of quality CPA review, and only a few courses truly provide it.
Contact via phone, email, live chat, and social messaging comes standard for many CPA review providers. However, a select few outfit their courses with access to teams of experts. Such extra steps enable these providers to really distinguish themselves. To that end, the 2 that I find have the best customer support are Gleim CPA Review and Surgent CPA.
Gleim CPA Review has an outstanding reputation for customer support for 3 reasons. First, Gleim offers access to exam mentors called Personal Counselors who will help you create a study plan, supply advice, answer questions, and extend encouragement as needed. Second, the Gleim team also includes technical experts who will assist you with any computer or course access problems. Third, Gleim has made it easy for you to tap into the knowledge of their accounting experts by incorporating a practice question inquiry system into their course.
Surgent CPA offers its own trio of candidate services. First, the Access Until You Pass Guarantee gives you free CPA online study content and courseware updates until you pass. Second, their CPA mentoring lets you receive online support from CPA Exam experts. Finally, the Ultimate course allows candidates to ask content questions of educators and responses are answered within 24 hours.
A CPA online study course like this can make a world of difference in the speed and success of your CPA Exam studies. With this in mind, you really should regard review providers who offer such extraordinary customer service and personalized coaching above those that don't.
Best CPA Exam Cram Courses
There are two scenarios in which you may prefer to cram for the CPA Exam: when you want to pass super fast or when you want to feel super prepared. In either instance, a cram course can help you out. A cram course is a condensed review of critical exam topics with a limited period of access. They're basically a study insurance policy designed to ensure you have all the facts, definitions, dates, rates, and formulas memorized before exam day.
Though several are distinct courses, most cram courses are supplementary: you take them only after you've completed a more comprehensive CPA study guide. In some instances (but not most), you can only purchase the cram course if you're already using another course from that review provider.
The two providers with cram courses that stand out are Becker CPA Review and Roger CPA Review.
Becker has a final cram course they call the Becker Final Review. You should start this cram course 1-2 weeks before your scheduled exam date. The course includes condensed reviews of the most important and challenging topics likely to appear on the exam.

Roger's online cram course comes with everything you need to boost your CPA Exam score by up to 10 points in a short period of time. With 2 months of access, you get 10 to 25-minute micro lesson lectures, practice questions on the lectures with in-depth explanations, and succinct digital textbooks.

If you are very nervous about the CPA Exam and don't feel confident in your preparations as exam day closes in, you might want to invest in one of these quality cram courses.

Best CPA Exam Flashcards
They may not be the most technologically advanced study tool, but flashcards still offer some tried-and-true advantages that can help you pass the CPA Exam.
Flashcards are great for memorizing definitions, formulas, journal entries, and anything else you're struggling to understand. While making your own increases your comprehension and retention of the information, buying pre-made flashcards saves time and effort. Consequently, if you want to experience the convenience of these handy study aids without getting a cramp in your hand, you should purchase flashcards from these 3 providers.
Roger CPA Review gives you flashcard options. On the one hand, you can select the digital flashcards that are accessible via phone or tablet to stimulate your memory and develop active recall. With the digital flashcards, you can flag cards you've mastered and even break the deck down by topic. On the other hand, you can choose the printed flashcards. These section-specific collections keep things simple by including an assortment of over 200 terms, mnemonics, and summaries of foundational CPA Exam concepts.
Surgent CPA has created a complete set of spiral-bound printed flashcards for all 4 exam sections. The set includes 250 AUD, 250 BEC, 300 FAR, and 250 REG flashcards that cover over 1,000 terms and definitions in total. And Surgent updates their flashcards quarterly so that they always match the latest CPA Exam Blueprints. Surgent's printed flashcards come with the Premier and Ultimate courses or can be purchased separately. However, Surgent also has 2,200 digital flashcards in their free flashcard app. The fact that no purchase is necessary to access these flashcards makes them useful even if you make your own flashcards as well.
The Roger and Surgent flashcards are inexpensive study tools targeting the tricky exam topics that most candidates struggle with, so they're worth the money. Try one of these flashcard options to enjoy the benefits of flashcards fast.
Best CPA Exam Mobile Apps
You always have your phone with you, right? Well, depending on the provider you choose, that means you could always have your CPA review course with you as well.
This convenience is made possible by the mobile apps some CPA review providers have created to complement their courses. Whenever you have a chance to glance at your phone or tablet, you have a chance to study thanks to mobile apps.
The functionality of CPA Exam mobile apps varies. Some contain digital flashcards, others create quizzes, a few encompass an entire course, and one is a game. Each has their pros and cons, but the two best mobile apps come from Roger CPA Review and Becker CPA.
The Becker CPA mobile app is a must for its users. This fantastic app includes the full course -- no more lugging heavy books around with you. The app syncs with the online course so that both resources track your study progress, which is awesome. On top of that, you can even use the app to study offline when you don't have internet access.
Roger has 2 great mobile apps. The first is the flashcards app, which I recommended above. The second is a multiple-choice questions quiz app. This app lets you study from a test bank of over 3,500 AICPA-released questions and learn more about the answers to these questions with expert-written explanations. On top of that, you can even keep track of your score, bookmark specific questions, and use a calculator and timer just like those found on the CPA Exam.
Mobile apps are so popular and easy to use that studying for the CPA Exam with one just feels natural. If you agree, choose one of these mobile apps to expand your opportunities to review.
What Is a CPA Review Course?
If you're on the fence about purchasing CPA study materials, allow me to provide some more explanation about what a CPA review course is. A CPA review course is a collection of self-study resources designed to prepare CPA Exam candidates to pass by teaching them about the exam content. You can access most CPA course components online. Unless they are supplements, most courses include everything you need to pass, such as:
Digital or physical books
A bank of practice questions and simulations
Video lectures
Audio lectures
A study planner
Performance tracking software
Customer service access
Limited time access
Some must-have CPA study materials from this list include books, practice questions and simulations, and a study planner. Helpful but less essential elements would be video lectures, flashcards, audio lectures, and adaptive technology. Finally, elite courses offer convenient guarantees like access that doesn't expire. These guarantees are especially handy if finishing the exam takes you longer than 18 months (which is the length of access for some courses). Furthermore, you can purchase CPA prep courses for each exam part separately or as a complete set. Once you purchase a course, the only other thing you need to pass is the determination and willpower to keep studying!
Do You Really Need a CPA Study Course?
In short, yes. Almost every CPA candidate does because of the nature of the CPA Exam. The CPA Exam is a challenging test covering an extensive amount of information. After all, the exam's purpose is to ensure that candidates possess the knowledge and abilities required of modern Certified Public Accountants. To tackle this noble goal, the CPA Exam features 4 sections with hundreds of questions each and assesses candidates at very high levels of skill. So, unless you've just graduated and have a photographic memory like Sheldon Cooper, you'll need the guidance and evaluation that only a CPA course can offer. In general, CPA study material benefits candidates in 3 specific ways.
Content Coverage
The best CPA review courses cover and present the exam content in a convenient and efficient way.
The AICPA does provide a free practice exam, but because this exam contains only a handful of questions, it can't replace a CPA test bank. The AICPA also shares some very general information about what's on the exam in the form of the CPA Exam Blueprints. However, these documents are an inadequate substitute for a review course as well because they don't go into great detail. Consequently, filling in the gaps would require countless hours of additional research. Thankfully, a CPA prep course gathers and distills all this information you for you. Specifically, a quality review course features expertly-authored materials that address every area of the exam content. So, purchasing a review course frees you to focus on mastering the material rather than compiling it for yourself.
A review course also monitors your understanding because the CPA Exam expects you to reach certain levels of skill with the exam content:
Remembering and Understanding: The perception and comprehension of the significance of an area utilizing knowledge gained.
Application: The use or demonstration of knowledge, concepts, or techniques.
Analysis: The examination and study of interrelationships of separate areas in order to identify causes and find evidence to support inferences.
Evaluation: The examination or assessment of problems and use of judgment to draw conclusions.
Support System
The best CPA reviews supply a support system for additional information, advice, and encouragement.
If you'd rather not take on the CPA Exam alone, I've got good news: Most CPA study materials provide some form of customer service. Depending on the course, you may be able to rely on friendly exam mentors to answer your questions, help you create your study plan, coach you through the course, encourage you during study struggles, and keep you on track to reaching your goals. Besides that, your course may also come with the aid of a technical team for resolving computer or course issues. Finally, you may even get the chance to have questions and concepts explained to you by accounting experts and professors. You can usually talk with these members of your CPA Exam team via phone, email, or from directly within your course (such as a Q&A forum).
How Much Does CPA Review Cost?
The cost of a CPA course varies by review provider, but the average is a little under $2,000. As you can see from the chart, some review course prices rise well above this dollar amount. Yet, plenty of courses pack a lot of value into a $2K price tag. For the sake of your wallet, you should know that you might pay more in the end if you purchase a course that doesn't have unlimited access. You'll also pay even more if you start with CPA study materials that you eventually realize don't meet your needs. To avoid these financial setbacks, be sure to choose a course with a generous access policy. Also, do your homework before you buy so you can be sure you've purchased the course that's best for you.
Best Budget Course
As you can see from the chart, almost every full CPA course costs over $1,000. In fact, many come in at or above $2,000. I think some of these courses offer a lot of value, so I don't believe they are all overpriced. However, I do know that you may have limited funds, and in that case, I think the best budget CPA review course is Yaeger CPA Review.
With this Yaeger CPA Review discount, the Yaeger course costs about $1,000 and still includes everything you need to succeed. The complete Yaeger course comes with digital and physical textbooks, a quiz-generating and exam-simulating test bank, over 100 hours of video lectures, audio lectures, 1-on-1 instructor support, a cram course, flashcards, and more. With Yaeger CPA Review, you can pass the CPA Exam even when money's tight.
Best Option for Candidates Googling "Fail CPA Exam"
If you fail a section of the CPA Exam, you may suspect that your course is to blame. Before you come to this conclusion, you need to evaluate your own study habits first. But, if you put your heart and soul into your studies, used your course exactly as instructed, and still failed, you probably have a good case against your course. When you need to move on to another exam prep in light of these points, I recommend turning to Surgent CPA Review.
With adaptive technology powering its course, Surgent aims to be the champion of CPA Exam re-takers (e.g., candidates searching "fail CPA Exam" on a Friday night -- don't worry: you're not alone!). Surgent's technology adapts to you, pinpoints your weak areas, and saves you time as you progress through your studies. Additionally, their course comes with a free trial and an access until you pass guarantee. With a re-taker-friendly price point and this Surgent CPA Review discount sweetening the deal, Surgent can be just what you need to boost your exam score above 75.
Best CPA Study Materials for Accounting Students
Still in school? In this case, the best time to take the CPA Exam is immediately after you earn 120 credit hours. If you've reached that milestone, you should begin your exam journey and purchase a CPA review course. In order to pass the exam, you'll want exam prep interesting enough to energize you when you come to it after class. Furthermore, your course must be comprehensive enough to keep all the accounting information you've learned fresh in your mind.
With these points in mind, I believe Becker CPA is the course for students. The Becker course doesn't bog you down with details: it just gives you vital exam information that is directly aligned with the AICPA Blueprints. The Adapt 2U Technology ensures that you're capable of a passing performance. The SkillBuilder videos are second to none.
And with live online classes and 1-on-1 academic tutoring, you can overcome even the most difficult topics you might be struggling with. Plus, with the most comprehensive courses offering unlimited course access, you can take as long as you need to pass as you finish your degree.
Best Choice for CPA Candidates Working Full-Time
If you're working full-time as an accountant, you need the CPA certification so you can tap into all of your career potential. Because the CPA will help you earn more money, more benefits, and more job opportunities, you can't afford to put it off much longer. And when you use exam prep that covers all of the testable content in a clear, concise, and applicable way, you can pass the CPA Exam faster than you think.
Gleim CPA Review and Surgent CPA Review both provide all of the information you need to know and present it in simple, digestible formats. Surgent specializes in focused lessons, while Gleim's SmartAdapt™ technology plans your study sessions for you. Additionally, each of these courses will help you discover your weaknesses with the CPA Exam Blueprints. For this reason, they're excellent for accountants who've been out of school and in the field for some time.
Do I Have to Buy Materials for 4 Parts of the CPA Exam at Once?
No, you don't have to buy your CPA Exam prep for all 4 parts at once. Instead, you can purchase materials one section at a time. However, you'll save much more if you DO purchase all 4 sections at once.
For example, let's take a look at Gleim CPA's prices for each section vs. all 4 sections:
AUD Review Course: $599

BEC Review Course: $599

FAR Review Course: $599

REG Review Course: $599

Cost if you buy all 4 at once: $1,999, before Gleim CPA discounts

If you were to purchase the 4 sections one-by-one (e.g., buy CPA Exam BEC prep now and the other 3 sections later), you'd end up spending $2,396. In the long-run, this means you'll spend $396 more than you would by purchasing the 4 sections together. Additionally, individual sections almost never have any discounts, making this choice the most expensive by far.
Will I Need a CPA Exam Tutor?
While CPA tutoring can be helpful, if you find the best CPA online class, it shouldn't be necessary to also enlist the help of a CPA tutor.
Becker conducts our favorite CPA online study course, and it's included at no extra cost in the Pro package. Additionally, there are CPA self study options too, which are more budget-friendly.
However, if you're really struggling, CPA exam tutoring might be an excellent idea, especially if you have utilized all the resources in your course.
Summary -- CPA Review Course Comparison Chart
In summary, here is a quick chart of some of the best CPA courses. To be fair, I will compare CPA review courses from each provider's highest comprehensive product.
| | | | | | | |
| --- | --- | --- | --- | --- | --- | --- |
| | Comments | Price before Discounts | # Lecture Hours | # MCQs | # SIMs | Access Time Limit |
| Becker CPA Pro | Our #1 rated course - Big name with a great reputation | Check Price | 275+ | 8,100+ | 500+ | Until you pass |
| Surgent Ultimate Pass | Excellent CPA exam prep e-learning platform | Check Price | 100+ | 7,700+ with an extra 1,000 with Ultimate Pass | 400+ | Until you pass |
| Gleim Premium Review System | Best MCQs and SIMs | $1,999 | 100+ | 10,000+ | 1,300+ | Until you pass |
| NINJA CPA | Excellent overall value | $67/month | 65+ | 6,100+ | 200+ | Monthly subscription |
| Wiley Platinum Review Course | Good bite-sized video lessons | $2,499 | 140+ | 12,000+ | 500+ | Until you pass |
| Roger CPA Review Elite | Unique course with engaging lectures | $1699 | 100+ | 6,000+ | 400 | Until you pass |
| Yaeger CPA Review 4-Part Course Bundle | Great mentoring support | Price | 120+ | 4,000+ | 164 | 18 Months |
Other CPA Review Courses to Consider
I want to mention a few other CPA exam review providers that might be lesser known in the market but are definitely worth your consideration.
Universal CPA provides 4,200+ MCQs, 200+ SIMs, 40+ hours of highly engaging video lectures, unlimited progress tests, real-time Adaptive Learning Technology, and unlimited access until you pass. Plus, Universal CPA has high-quality resources at a more affordable price.
I-75 Tutoring offers a CPA review bundle with 5,000 MCQs and final exam testlets that mimic the real CPA Exam. The narrated question videos really explain problems; they don't just lecture to you through a screen like some other review providers' videos. Also, I-75 tutoring provides students with 5 tutoring sessions via Skype with Darius Clark, the company's founder.
Fast Forward Academy offers 80+ hours of videos, 7,000+ practice questions and simulations, unlimited practice exams, a digital flashcard creator, and real-time progress analytics. And the "FastFocus" final review condenses the most important material in your weakest areas to give you an intense review right before your exam. However, Fast Forward Academy is perhaps best known for its enrolled agent prep course.
MDS CPA is another good review course to consider. Unlike some courses that overwhelm you with large amounts of information that might not be on the CPA Exam, MDS CPA focuses on the development of core skills. The program builds overall analytical skills. In fact, according to their website, MDC CPA can get you ready to sit for the exam in as little as 15 weeks. In addition, they include options for online learning or traditional in-class learning at Ohio locations. MDS CPA also has a unique "Bootcamp Program" to get you caught up fast.
What to Focus on When Selecting a CPA Review Course
Most CPA study programs include standard materials like textbooks (hardcopies, PDFs, or online text), test banks with sample multiple-choice questions (MCQs) often gleaned from previous exams, sample task-based simulations (SIMs), video and/or audio lectures, and other study materials like flashcards. Plus, some of today's best CPA reviews are developing innovative e-learning platforms to help students study with more efficiency.
Some courses also include classes that are held live (an instructor and students gather in a classroom setting) or live online (an instructor in a classroom is connected with students via a live video stream).
I think it's helpful that some providers no include one-on-one support via live chat forums, face-to-face mentoring, or phone calls to answer questions and provide encouragement when needed.
Of these standard materials, which is the most important? Honestly, that depends on your learning style. I'm someone who likes to read hardcopy texts and highlight important passages while taking notes (I refer to this as active reading). But maybe you learn best by listening to audio lectures over and over during your daily commute. I suggest taking a few moments to think about your learning needs, learning style, and budget before purchasing a CPA review course.
Pick a Review Based on Your Learning Style
How do you learn? It might be a short and easy question, but the answer could guide your journey to become a CPA. Most people are tactile or visual learners or a combination of the two.
If you are a tactile learner, you probably use "hands-on" methods to learn. Therefore, you benefit from courses with big test banks, lots of MCQs of varying difficulties, and plenty of task-based simulations.
If you're a visual learner, on the other hand, you might want more from video lectures. You may find that videos that incorporate multi-media elements will hold your interest longer, allowing you to grasp more of the material.
Which Courses Have the Best CPA Test Banks?
Surgent CPA Review has a great test bank. Unlike many review providers, Surgent doesn't just give you a bank of questions to quiz yourself. Rather, questions are highly referenced with explanations of the answers, links to videos, and notes. However, Surgent doesn't sell its test bank separately.
As I mentioned earlier, Becker CPA also has high-quality test banks. Most questions come straight from previous CPA Exams. Becker regularly updates the test bank to match what you will likely encounter on test day. That way, you won't be stuck studying concepts that aren't even on the exam. If you want, you can even purchase the Becker test bank as a supplement to another course.
Gleim CPA Review claims that it has the largest and most "realistic" test bank on the market, meaning that their review questions are very similar to the ones on the real exam. With over 10,000 multiple-choice questions, over 1,300 task-based simulations, and more than 350+ SIMs with exhibits, Gleim's CPA Mega Test Bank is impressive. It's easy to use, and I haven't heard from a candidate yet who was unhappy with it.
Which Courses Have the Best CPA Video Lectures?
In my opinion, Becker's comprehensive video lectures are the best available. First, Becker's Pro package includes an incredible 275+ hours per section. But don't worry—they are broken into chunks of 2-5 minutes, so you'll have plenty of mental breaks in your studies. The instructors are professionals with ample experience in law, business, and/or accounting.
To explain complicated task-based simulations, Becker's SkillBuilder videos clarify the reasoning behind each problem's answer. Becker video lecturers have risen to CPA-level stardom. I could easily identify Becker's instructors in a crowded room, as they are memorable in the best way.
Wiley CPAexcel includes an incredible 140+ hours of video lectures in the Platinum Review Course. The "bite-sized" videos are shorter than 30 minutes, so you can squeeze several videos into your busy day. Wiley also has a great "Deep Dive Videos" series that breaks apart complicated problems in just 10-20 minutes.
Plus, unlike other courses that might just use one or two instructors, the Wiley videos feature several instructors from top-rated U.S. colleges and universities. This variety makes it more enjoyable to watch hours and hours of CPA videos.
Surgent CPA Review also has really high-quality videos. Surgent's bite-sized lectures are only 10-20 minutes in length. Each video covers a single topic. The expert instructors also provide study notes for each video to reinforce the concepts.
Which Courses Have the Best Adaptive Platforms?
Many online CPA exam prep providers are developing adaptive learning platforms. I want to highlight a few that I think are getting it right.
Surgent's A.S.A.P. Technology is a new platform that advances your studies. A lot of platforms track your progress and suggest new study materials based on your content weaknesses. But Surgent takes it one step further. Surgent's MyMCQ feature also adjusts the difficulty of your multiple-choice questions as you master the material. Surgent's CPA candidates claim that using the MyMCQ feature has saved them, on average, 17% of study time. And no other adaptive software also predicts your actual CPA Exam. So, Surgent's software gets it right and then some.
And Gleim CPA Review uses the SmartAdapt platform. It detects your weak areas and recommends a study plan to get you caught up. Unlike some other courses that use e-learning platforms that were generically built for multiple fields, SmartAdapt was specifically designed for CPA candidates.
Becker CPA has also developed a successful learning platform, Adapt2U Technology powered by Sana LabsThe Adapt2U study planner directs your studies toward the areas you need to strengthen, and it constantly re-assesses your progress and makes adjustments to your personalized study path.
CPA Classes Near Me
Nowadays, more and more CPA exam review courses are taught online via e-learning platforms. A few, however, incorporate live or live online classes. If you go with the Becker CPA Pro review, you can attend live classes that are taught across the United States. Some classes are offered on weekends, but some weekday classes are available, too.
Check out Becker's live classroom schedule to see if there is a class near you. (Although, in my opinion, Becker's live courses are a little overrated. Given that you can learn the material from the very qualified instructors via the pre-recorded videos within the course, I see no reason to deal with traffic, going somewhere after work, etc. Instead, I recommend choosing the Becker online course.)
If you live in the Columbus, Ohio area, you may want to see if MDS CPA's live classes are a good fit for you. The company offers CPA classes on Wednesdays and Saturdays. Class sessions focus on one section of the CPA Exam—audit, financial, business environment, or regulation—so you can pick the class that will strengthen your weak content areas.
Of course, because of our modern hectic lifestyles (and traffic!), it can be hard to get to a classroom at a certain time every week. Thankfully, some providers now offer "live online" courses that you can "attend" from the comfort of your home. Becker offers LiveOnline classes, as does Wiley. Wiley's CPA Virtual Classroom Series blends live recorded instruction with pre-recorded lectures to review the most frequently missed questions in the Wiley CPAexcel courses. Students can ask instructors real-time questions during the live sessions or access archived recordings to review lectures at their convenience.
CPA Exam Coaching
In college, I was one of those students who took advantage of my professors' office hours as often as I could. So, I'm impressed that many review providers understand the benefits of face-to-face mentoring and offer exam coaching for their students. Yaeger CPA, however, takes it one step further. Yaeger's Instructor Hotline gives you on-demand tutoring and one-on-one mentoring from CPA-licensed accounting professors. Students can schedule same-day appointments that include 15-45 minute phone calls with Yaeger instructors of their choice. When you get stuck on a difficult study problem, this type of personalized direction could be a big boost to your confidence.
CPA Exam Study Flashcards
A lot of my readers use flashcards, and I appreciate Becker CPA's flashcards. The Pro course comes with both printed and digital versions on the Becker flashcards. Additionally, you can also purchase Becker's flashcards separately. Becker's flashcards are the best I have found at helping candidates commit topics to memory and improving overall retention.
CPA Review Mobile App
It's important that you can access your study materials from anywhere to maximize your study time, so mobile apps are a popular feature to consider. Unfortunately, not all providers have developed proprietary apps yet. Roger CPA, however, offers a great mobile app that lets you access your course materials, including your progress metrics. The app includes audio lectures, MCQs, TBS, practice tests, and a full set of digital flashcards.
Best CPA Cram Course and Final Review Materials
If you're getting down to the wire, you might find a cram course helpful for that last study push. For example, Roger CPA's cram course is a two-week curriculum that reinforces critical topics and provides an intensive last-minute review. The cram course has the potential to boost your CPA Exam score by up to 10 points!
The Yaeger CPA Review CRAM Course is another good final review to consider. The course is available to any student, even if you chose another review provider for the bulk of your studies. In this course, Yaeger instructors lead you through key concepts and core proficiencies needed for the CPA Exam as outlined by the AICPA Blueprint.
Best CPA Exam Audio Lectures
Do you like to listen to Audible? Audio lectures are not as popular as video lectures, but some providers like Gleim CPA Review do include audio as well as video lectures in their programs. I wouldn't call Gleim's audio lectures "fancy" by any means, but they are a good study tool if you want to have CPA review materials in your headphones at all times.
Yaeger CPA also has a series of Listen-N-Learn audio lectures that cover all of the CPA Exam's major concepts. Students can download the lectures to their mobile devices and listen on the go.
What is the Cheapest CPA Review?
Let's be honest about something: The path to your CPA license is not cheap. Your courses and fees add up, so I understand if you are concerned about costs. Remember, though, that this is an investment in your future and your career.
NINJA CPA is one of the best cheap CPA review courses. It's for budget-conscious CPA candidates who might not need to invest in an entire comprehensive course. Although NINJA CPA does not offer adaptive learning platforms like some of the other courses, they have high-quality videos, texts, and MCQs at an affordable price point. Plus, NINJA CPA Review allows you to subscribe to the content on a month-by-month basis, which could save you money in the long road.
Best CPA Review Course for Recent College Grads
If you're a fairly recent college graduate who has already taken a lot of coursework that overlaps with the exam study material, I suggest a course that will quickly pinpoint your content weakness. Because of their outstanding A.S.A.P. Technology learning platform, Surgent CPA Review might be right for you.
Best Course if I Graduated a Long Time Ago
If you've been working in the field, you may already have many of the skills needed to pass certain sections of the CPA Exam. Therefore, you may want to consider a provider that can quickly access your weaknesses and develop a personalized study plan to fill in those content gaps. For that reason, I suggest Surgent CPA Review for the same reasons that I recommend their products to recent college grads.
A Few Quick Comparisons
Here are some brief evaluations of top review providers.
Becker CPA Review vs. Wiley CPAexcel CPA Review
Becker CPA Exam Review and Wiley CPAexcel are both strong courses with good reputations among CPAs. Although they each have their strong points, Becker has many more hours of video lectures (275+ hours per section), and that's an important point to consider if you are a visual learner. However, Wiley offers many more practice questions and task-based simulations in the Platinum course than Becker.
In the end, I'd choose Becker over Wiley if budget was not a concern.
Becker CPA Review vs. Surgent CPA Review
Becker CPA Review is one of the most well-respected names in CPA exam review courses. With a personalized study planner, a mobile app, plenty of MCQs and TSBs, digital flashcards, and a final review, I understand why Becker comes highly recommended by so many CPA professionals. However, Surgent offers similar products but with a slightly bigger test bank. Plus, Surgent has a sophisticated learning platform that cuts down your study time, all at a lower price point than Becker. Surgent is better for recent grads and professionals who need to cut down their study time (because work is all-consuming, right?).
Consequently, Becker is an excellent option for candidates who need more detailed teaching and hand-holding. So, if you sat in a tax class but have no recollection of it, you'll probably do best with Becker, as you'll likely need to "relearn" all the concepts.
Becker CPA Review vs. Roger CPA Review
Roger CPA Review is a strong course that gives Becker a run for its money. Becker CPA's Pro plan comes with more lecture hours, MCQs, and SIMs than Roger CPA's Review Elite package. However, I can't ignore Roger's engaging lectures. If you learn best from unique presentations of complicated materials, I suggest taking advantage of Roger CPA's free trial and checking out the sample video lectures.
Gleim CPA Review vs. Wiley CPAexcel CPA Review
If you are wavering between Gleim CPA Review and some of Wiley CPAexcel's products, think about how you learn. Wiley has some of the best bite-sized videos. So, if you are a learner who enjoys short bursts of engaging content, you may want to consider Wiley CPAexcel.
However, if you are more of a hands-on learner, you may benefit from the realistic test bank that comes with the Gleim Premium Review System. Plus, Gleim's system includes an incredible 1,300+ practice task-based simulations. Since TBSs are such a large component of the CPA Exam, Gleim's MCQs and SIMs could help you feel more prepared for the real exam.
Frequently Asked CPA Exam Questions
How Do I Apply for the CPA Exam?
First, visit the NASBA website. Check out the jurisdiction where you will apply for a license and confirm those particular requirements. Next, fill out your application with NASBA and wait for your NTS, or Notice to Schedule. Finally, using the info on your NTS, schedule your exam at a Prometric site near you. If you need more advice, check out my longer article about the CPA Exam application.
Is the CPA Exam Hard?
I'm not going to lie to you: The CPA Exam isn't what I would call easy. In fact, it's one of the most difficult professional licensing exams and only has a 50% pass rate. That's why it's important to be prepared by using a review course that best suits you. But I definitely think the CPA Exam is not overly hard, and it's certainly passable. And if you're curious, here are the common reasons candidates find the CPA exam to be hard.
You may be interested to know that the CPA Exam and Bar exam have relatively similar pass rates, but the CPA Exam is slightly harder than the Bar exam.
Which Section Should I Take First?
Each section has a different focus and format. BEC requires a lot of writing, while FAR, AUD, and REG are weighed with more MCQs and TBSs.
Since the content of FAR covers a range of financial accounting and reporting topics, I often recommend CPA candidates start with FAR followed by AUD and REG.
Since the contents of BEC are a little more unique with its themes of governance and economic analysis, I usually recommend tackling it last. (I have more recommendations about which CPA sections to take first, too.)
How Do I Become a CPA?
Although every state different requirements to become a CPA, some are fairly common. For example, most states require CPA candidates to have a combination of education and experience.
The education requirement is usually fulfilled with 150 credit hours earned through an accredited college or university. Once you've met certain education requirements, you can take (and hopefully pass!) the CPA Exam, and in some states, a CPA ethics exam. Once those pesky exams are over, you'll need 1-2 years of professional accounting experience before you apply for your CPA license. (If you want more information about becoming a CPA, check out my article.)
Is the CPA a Global Certification?
The Certified Public Accountant designation, which is administered by the American Institute of Certified Public Accountants (AICPA), is recognized in the United States and places with U.S. regional offices.
However, the CGMA (Chartered Global Management Accountant) certification for CPAs is globally recognized. Two organizations grant the CGMA: the AICPA and the CIMA (Chartered Institute of Management Accountants).
Why Should I Be a CPA?
If you've reached the end of this article and you're starting to wonder if becoming a CPA is worth all the effort, let me reinforce a few points. As a CPA, you'll have access to significant CPA benefits. First, CPAs have more job opportunities. Your license will open the door to careers in multiple government agencies, international business firms, non-profit organizations, and even educational institutions. Second, you'll have greater job security and flexibility, which is especially important in a down economy. And third, CPAs make 10-15% more than accountants without their CPA license. Some firms even give their employees a bonus after passing all exams and obtaining their license, in addition to raising their CPA salary.
How Long Do I Need to Study For the CPA Exam?
Most CPA candidates study for 80-100 hours per section, for a total of 300-400 hours. Learn more about how many hours you'll study for the CPA Exam in my detailed article.
What Are the CPA Exam Requirements in My State?
The United States has 55 different accountancy jurisdictions. Although jurisdictions used to have widely different requirements, the American Institute of Certified Public Accountants and the National Association of State Boards of Accountancy have been collaborating with each jurisdiction to develop more commonalities across the nation. I've outlined many of the details in my article, CPA Requirements by State.
Can I Take Multiple CPA Exam Sections in the Same Window?
Yes—you can take multiple exams for different CPA sections in the same window. But the exam windows are going extinct -- the AICPA has adopted continuous testing that means you can sit for the CPA Exam year-round. However, if you fail a section, you do have to wait to receive your score before you can apply to retake it.
CPA Exam Discounts
Many CPA exam review providers provide substantial discounts to my readers. You can find a list of CPA discounts and promo codes on this website.
What Are the Best CPA Study Materials?
CPA candidates often ask me about the best CPA review course for 2020. Every future CPA is different, and everyone has different learning needs and time constraints. So, it's hard for me to give an award of "best." But if I had to purchase one exam review for myself, I would purchase Becker CPA Review.
Let me tell you why. First, we are all busy. If I had to study for the CPA Exam again, I would want a review that gave me the biggest advantages in terms of study time. Not only does Becker provide high-quality study materials, but their personalized learning approach will help you study more effectively and more efficiently, pushing you to the finish line.
Did You Find What You're Looking For?
Thanks for going through this long post with me! If you need a specific recommendation, just drop me a note.