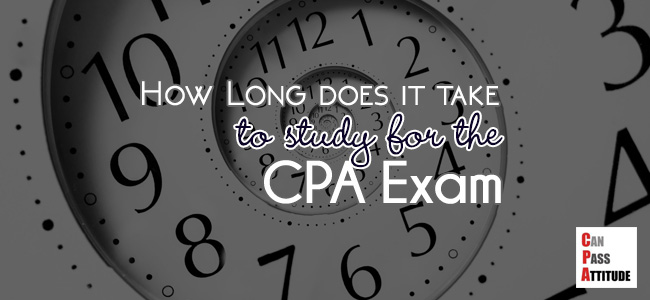 This is one of the most frequently asked questions.
Studying time largely depends on how discipline you are, and whether you have commitments (e.g. full time job, family, health) other than the CPA exam.
Rough Estimate: 330-440 Hours
As a general rule, you'll need 80-150 hours to study for each session of the exams, assuming you have basic accounting knowledge. Roughly speaking, you will need around 330-440 hours.
Most candidates spend more time in preparing FAR and REG parts of the exam, and less time on AUD and BEC.
How to Get a Better Estimate

If you run a busy life, it is best to find better ways to understand and keep track of how long it takes for CPA journey. Here are my suggestions:
1. Utilize Available Online Study Planner
Becker, Gleim and Wiley CPAexcel have interactive online study planner that helps you plan ahead with the study. The system calculates the time you need to complete each study unit, based on the average time required for their students in their studies.
The system also keeps track of your progress, based on the time you log on to the study sessions. When you lag behind, they send you an email reminder and keep you on track.
Roger CPA Review has an excel sheet as the online study planner. They decided not to go for the system as Gleim and CPAexcel has done, because many of their students prefer the flexibility of an excel sheet.
2. Create Your Own Planner
For other course providers, you'll either create your own excel sheet, or use traditional way of making the important milestones on your calendar.
In the video above and in my book, I listed 4 scenarios and you can pick the one that fits you the most, and follow accordingly.
Other FAQ

Want To Pass The CPA Exam On Your First Attempt?
If you find this article helpful, like my Facebook page!
Also, consider signing up to my mini-series which is completely free. I have two versions designed for candidates with different background: