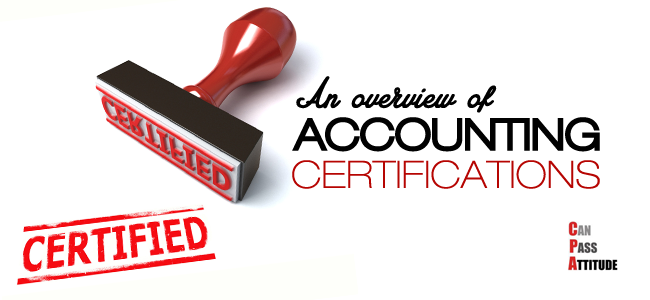 We've got a bowl of alphabet soup when it comes to finance and accounting certifications: CPA, CFA, CMA, CIA, CAIA, FRM, CFP, etc.
If you're pursuing or maintaining a career in accounting, you'd benefit from getting an accounting certification. But, you need to know: Which one is the best? Does it make sense to get more than one?
For this reason, I've shared my analysis of these top accountant certifications and finance certifications here to help you discover which is right for you.
Accounting Certifications Comparison Chart
Video Summary of Various Accounting Certifications
Accounting Certification of Choice: Certified Public Accountant (CPA)
The primary question for the process of choosing an accounting certification should be: which certification is the most useful?
For most accountants, the answer to that question is the Certified Public Accountant (CPA) certification.
Most General Accounting Certification
The CPA certification is probably the most widely recognized accounting certification because it is the most general. One of the requirements for earning the CPA is passing the CPA Exam, and the exam content is very broad.
The CPA Exam covers accounting topics such as financial accounting, management accounting, corporate finance, strategic planning, audit, general business, and U.S. taxation. In fact, the CPA Exam covers so much material that it actually consists of 4 different sections and hundreds of questions.
For this reason, the CPA Exam is one of the most challenging accounting certification exams. Surprisingly, this facet of the CPA certification doesn't detract from its popularity but rather adds to its prestige.
One of the Most Stipulated Accounting Certifications
The additional CPA requirements also contribute to the world-renowned reputation of the CPA certification. In the U.S., the states grant CPA licenses, and the state boards of accountancy oversee this process, which involves establishing the CPA licensure requirements. While the specifics of the CPA requirements vary per state board, the general certification guidelines are the 3 Es:
Examination: All state boards hold that candidates must pass the AICPA's Uniform CPA Examination.
Education: Almost every state board expects candidates to earn 150 hours of education with an accounting concentration.
Experience: Most state boards require candidates to acquire 1-2 years of professional accounting experience.
Some state boards also make candidates pass a CPA ethics exam (the fourth "E").
As you can see, the AICPA asks a lot of CPA candidates. The education requirement, in particular, is the highest among all accounting and finance certifications. Such strict requirements reinforce the perspective that earning the CPA certification is a particularly impressive feat that places CPAs in an elite group.
Most Regulated and One of the Oldest Accounting Certifications
The CPA certification is the most regulated because the CPA is the only qualification that includes the statutory right to sign audit reports and issue audit opinions.
Clearly, the CPA is the accounting certification of choice, but if you need any more reason to respect it, you should know that it is one of the oldest accounting certifications. The CPA's long history began in 1896, yet thousands of candidates still sit for the exam every year.
If you'd like to join them so you can earn the most esteemed accounting certification around, start by investigating the best CPA review courses on the market and related CPA review discounts.
Certified Management Accountant (CMA) Certification
Certified Management Accountant certification is almost like a subset of the CPA certification. The CMA certification focuses completely on management accounting, while the CPA only touches on it. Therefore, the CMA certification adds value with its specializations in cost accounting, financial analysis, and strategic planning.
The Institute of Management Accountants (IMA) administers the U.S. CMA program. Though this program is based in America, it is globally recognized because the CMA is available in 140 countries.
However, there are also many CMA equivalents around the world. These comparable certifications include the CIMA in the UK, the CMA Canada (part of CPA Canada), and the ICAI (formerly the ICWAI) in India. All of this competition is the reason why the U.S. CMA certification is not as popular among accountants as it would be.
Another reason the CMA certification is not as popular (though not any less useful) is because of its diminutive usefulness for public accountants.
The CMA does not benefit public accountants as much as the CPA does. However, if you hope to work in corporate accounting in the future, particularly in Fortune 500 companies or companies with manufacturing facilities requiring cost and inventory management, then the CMA is what you need.
This particular accounting certification can help you land a high-quality job in these industries. The CMA certification lets you engage in both the business management and finance sides of a company. Additionally, the expertise you gain from this vocational flexibility equips you for positions such as CEO, CFO, COO, and Vice President, Finance, among others.
CMA Requirements
A factor that has helped the CMA gain traction in America is the relaxed CMA requirements:
Examination: You have to pass the CMA exam, which has just 2 parts.
Education: You simply need any bachelor's degree from virtually any university around the world.
Experience: You must acquire two years of relevant accounting experience.
The CMA is considered the gold standard in management accounting. If you know this is the career path you want to take, then learn more about how to become a CMA today. And if you're ready to get started on the CMA exam, you'll want to check out the best CMA review courses and CMA review discounts.
Certified Internal Auditor (CIA) Certification
The Certified Internal Auditor (CIA) certification also supplies you with an accounting specialization. As you can see, the CIA designation is strictly for internal auditors. While internal auditors and compliance professionals have many certification options, the CIA certification is the most relevant. Internal audit is important for all companies, so the CIA will help you find a variety of employment opportunities. However, CIAs most often work for large companies performing audit procedures and helping independent auditors.
CIA Requirements
If CIA accounting greatly interests you, you can earn the certification by fulfilling the following CIA requirements:
Examination: You have to pass the CIA exam, which features 3 parts.
Education: You must have a bachelor's degree in any discipline from an accredited university. You can get this requirement partially or fully waived with 2-7 years of working experience in internal audit.
Experience: You need to accumulate 2 years of internal audit experience. A master's degree in an applicable field can substitute for 12 months of work experience.
While earning the CIA certification is not as challenging as earning certifications like the CPA, CIA accounting is a distinct niche. If you are not interested in internal auditing, don't get the CIA certification.
On the other hand, if you're ready to take your internal auditing skills to the next level, discover how to become a certified internal auditor today. There are a handful of CIA review courses, and you can find the best CIA review courses and biggest CIA review discounts here.
Chartered Financial Analyst (CFA) Designation
The Chartered Financial Analyst (CFA) designation is the most popular title in the investment community. In fact, it is now a must-have for security analysts and asset managers. Honestly, the CFA is an advantage for just about any career in the finance and investment industries.
Most CFAs work for a hedge fund, investment fund, or Wall Street-based corporation, but the CFA can also lead to company management. Because the CFA trains you to think analytically about finance, investing, and business operations, you can use it to become a controller, CFO, or some other type of finance professional.
You can also utilize the CFA at a global level, as the CFA is the most international accounting and finance designation. The CFA's popularity shot up since the CFA Institute (formerly AMIR) reached out to countries around the world in 1988. Today, CFA charter holders are active across the globe, and China has the highest number of CFA applicants.
CFA Requirements
Though the CFA focuses on finance, the low barrier of entry into the CFA program attracts many candidates with non-finance backgrounds. Earning the designation involves meeting 2 of these 3 these CFA requirements:
Examination: You need to pass the CFA exam, which has 3 levels.
Education: You must have a bachelor's degree in any discipline, OR
Experience: You have to obtain 4 years of relevant professional experience.
While the CFA designation allows you to develop well-rounded skills outside the realm of accounting, its scope is narrower than that of the CPA because it only covers finance and investment. If you're an auditor or tax accountant, you may not want the CFA title.
Having said that, the CFA is a great avenue for going deeper into the realm of investment. Determine how to become a CFA today if that's the realm for you. Learn about the best CFA courses and CFA review discounts.
Chartered Alternative Investment Analyst (CAIA) Certification
The Chartered Alternative Investment Analyst (CAIA) certification is the new kid on the block.  The CAIA Association was established in 2002 but has grown rapidly. Due to the proliferation of alternative investment products, there are now 8,000+ CAIA charter holders. The CAIA is another very specialized designation, and it allows you to stand out among CFAs in the investment community. If your work already involves alternative investment, the CAIA program would be a good choice for you.
CAIA Requirements
In the past, the content of the CFA and CAIA exams overlaps considerably. But recently, the CAIA exam moved further away from standard portfolio management topics to better distinguish itself. Passing the CAIA exam is one of 3 CAIA requirements, and as with the CFA designation, you must meet 2 of the 3.
Examination: You have to pass the CAIA exam, which has 2 levels.
Education: You need a bachelor's degree and one year of professional experience, OR
Experience: You must amass 4 years of relevant work experience.
Alternative investment is the fastest growing segment of the investment industry. If you would like to steer your career toward
hedge funds,
commodity trading (CTA),
real estate, and
private equity fund management,
or if you aspire to become
a chief investment officer,
a consultant to institutions, family offices, and ultra-high-net-worth individuals, investment analysts, regulators,
a due diligence officer,
an asset allocator,
a capital introduction specialist, or
a fund administrator,
then you should seriously consider the CAIA designation. As you can see, it provides a host of career possibilities! If you'd like to pursue the exciting potential of the CAIA, begin by getting answers to your CAIA exam FAQs.
Certified Information Systems Auditor (CISA) Certification
The Certified Information Systems Auditor (CISA) certification is currently the most recognized designation for information systems (IS) audit control, assurance, and security professionals. Due to a series of financial scandals, the Arthur Anderson fallout, and problems within internal control, the CISA certification has become quite popular. In fact, the number of CISAs has doubled in the last decade.
But the CISA has been around for a while now. The Information Systems Audit and Control Association (ISACA) launched the CISA certification in 1976. ISACA itself began in 1969 to benefit information systems audit, assurance, security, risk, privacy, and governance professionals. ISACA membership has quadrupled in the last 10 years, and the association now has more than 140,000 members in 180 countries. The CISA is one of four certifications the ISACA grants, and more than 27,000 IT professionals take the exam every year.
Becoming a CISA is a good idea for auditors planning to prove their competency in IT auditing and their dedication to the industry. As a very technical and specialized certification, the CISA can help you qualify for exclusive career opportunities that would otherwise be out of reach. Of course, one of the biggest draws is the increased salary you can earn as you advance in the industry. Compared to general internal auditors, IT auditors can make $11,000-$21,000 more with each promotion. Such expansive payouts are the result of the high demand for CISAs in the wake of a growing emphasis on internal control.
CISA Requirements
If you'd like to become a CISA as well, you won't have to do as much as you would to earn some of these other certifications. There are only 2 requirements for securing the CISA:
Examination: You need to pass the CISA exam, which just has one part.
Experience: You must have at least 5 years of experience in information system auditing, control or security.
IT skills are more important than ever, and with the CISA, you can be invaluable to the information systems industry. Jumpstart your IT auditing career by learning how to become CISA certified today. You can also find CISA discounts to help with your preparation.
Enrolled Agent (EA) Designation
The Enrolled Agent (EA) designation is the desirable credential for tax preparers. An enrolled agent is an expert in tax preparation. "Enrolled" means licensed to practice by the federal government, and "agent" means a person authorized to appear in the place of the taxpayer at the IRS.
Together with CPAs and attorneys, enrolled agents have unlimited rights to represent taxpayers before the IRS for audits, collections, and appeals.
CPAs generally have a higher long-term earning potential, but EAs have the chance to earn a substantial amount during tax season. And while CPAs and attorneys typically begin their careers at firms before moving into private practice if they so choose, enrolled agents have their own clients and can, therefore, work at home with flexible hours.
The main reasons to become an enrolled agent include setting yourself apart from regular tax professionals, gaining clients' trust with a qualification that includes receiving special privileges from the IRS, and differentiating yourself from attorneys and CPAs as a tax expert.
EA Requirements
The IRS created the enrolled agent designation in 1884, so it's actually a few years older than the CPA certification. Because this designation deals directly with the IRS, former IRS employees can become enrolled agents without taking the EA exam, also known as the Special Enrollment Examination (SEE).
If you haven't worked for the IRS before but seek to secure enrolled agent status, passing the EA exam is the only major enrolled agent requirement you must meet.
If you're committed to a tax career in the U.S. and desire to establish yourself as a tax specialist, find out how to become an enrolled agent now. If you're already certain you'll be pursuing the EA exam, learn how to take advantage of EA course discounts and find the best enrolled agent courses.
Other Niche Designations
Overall, we've already discussed 7 major finance and accounting certifications, and that's just a handful of them. Others include:
Certified Fraud Examiner (CFE)
Certified Government Auditing Professional (CGAP)
Financial Risk Manager (FRM)
Certified Financial Planner (CFP)
Accredited Financial Examiner (AFE)
Certified Bank Auditor (CBA)
Certified Forensic Accountant (CFA)
Accredited Business Accountant (ABA)
Certified Payroll Professional (CPP)
So, if you continue to aim your career toward specific abilities and skills, one of these certifications may prove advantageous. However, many accountants earn one of the 7 certifications we discussed in the beginning of this article.
Popular Questions about Accounting Certifications
Which is the easiest accounting certification to earn?
Over the years, candidates have asked which is the easiest accounting certification to earn more times than I can count. In truth, the exam difficulty does vary, but I wouldn't pick an accounting certification based on this criteria. You should instead choose the one that adds the most value to your career.
Try to avoid shortcuts and short-term gains. It's much better to plan long-term so you can benefit long-term.
Which is the hardest accounting certification to get?
Just because an accounting certification has a reputation for being difficult to achieve does not mean that earning it would be an impossible task for you. Rather, if you are intelligent and hard-working, you can get any of these certifications!
That being said, we can see that some of these certifications have very stringent prerequisites, so their reputations may be well-founded. Looking at requirements alone, the CPA and the CFA certifications are the most demanding. However, the CPA and CFA exams usually have higher pass rates than the CIA exam and Part 1 of the CMA exam. Consequently, our perspective on certification difficulty can alter according to the factors we focus on.
How many accounting certifications do you need?
The answer really depends on your career path. How you want to specialize is also an aspect of this decision. If you can qualify for it, getting the CPA title is a good idea because the CPA is so prestigious and versatile. Earning one additional title can then help distinguish you even further.
However, I would advise against certain certification combinations. For example, the CMA and CFA lead to completely different career paths. Therefore, pairing these particular certifications wastes money, time, and effort. This matchup also leaves recruiters confused about what you want to do. In my opinion, getting a CPA and CFA, CPA and CMA, CPA and CIA, or CFA and CAIA makes more sense.
Should I get an MBA instead of or with an accounting certification?
This is another big question. Basically, I consider an accounting certification and an advanced degree different enough that you can get both, as they serve distinct purposes. But as always, you'll find the answer to this question by reflecting on your own career goals and developing your understanding of these choices. To get started on the latter, read my thoughts on the CPA vs Master's, the CFA vs MBA, and the CMA vs MBA.
Concluding Thoughts about Accounting Certifications
There are numerous accounting certifications you can get as an accounting and finance professional. The ones I've listed are the leaders in their respective fields. There are also tier 2 and tier 3 titles that you can get, but I think the cost of getting these may exceed the benefits.
But of course, I am always open to new ideas from my readers. You are more than welcome to share your thoughts on accounting certifications in the comments section below.
If you'd like to move forward with earning one of these popular accounting certifications, click the buttons below!