You may have come across a term called NTS quite often in your CPA journey. What exactly is NTS? What's the significance?
The CPA Exam NTS Stands for Notice To Schedule
The NTS is issued by NASBA. It is your approval ticket to sit for the CPA exam in the US.
This is the authorization you will need to schedule an exam. You will need this number to make an appointment with Prometric. The proctors at the Prometric centers do not distribute NTS to exam candidates.
The following is a scanned copy of a real NTS from Maine State Board of Accounting: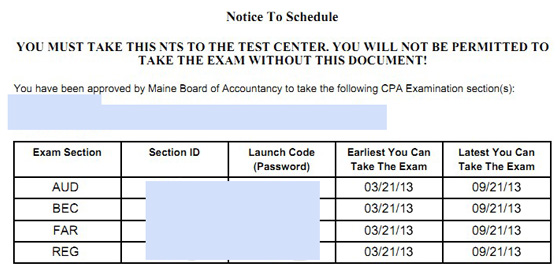 The section ID and the launch ID will be used when you schedule your exam in the prometric website. The notice also states the period when you can take the respective part of the exam.
Common Questions
1. I understand that the expiry date will show on the NTS, but I want to have a general idea before hand. Is the CPA Exam NTS valid for 6 months?
Mmost states allow 6 months and it starts to count on the day when the NTS is issued. Exceptions are shown below. Please click on the link for explanation on the exceptions.
Texas: 3 months from application date
California, Hawaii, Louisana, Utah: 9 months from NTS issue date
North Dakota, South Dakota, Virginia: 12 months from NTS issue date
2. My name is misspelled or some of my exam information is incorrect, what do I do?
Please call NASBA at 1-800-CPA-EXAM to make any changes or correction to your exam information.
3. How do I schedule/reschedule my exam?
You can either call NASBA at 1-800-CPA-EXAM or go online to Prometric. I have a page to show you exactly how to do it.
Any Other Questions?
You can drop me a note on Facebook, or visit our FAQ page for other common questions.
If you find this site helpful, please consider signing up to my mini-course which is completely free. I have two versions designed for candidates with different background: