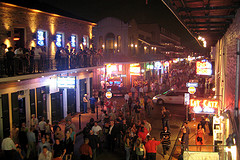 Louisiana only grants CPA license to its resident and they have very specific subject requirement for the accounting courses.
Please make sure the educational institution you are attending is teaching in accordance to this requirement.
Louisiana CPA Requirements
1. Education Requirements to Sit for the Exam

Bachelor degree or above.
150 semester units from an accredited university or educational institution.
Course requirement:

Accounting: 24 semester units in undergrad level, or 21 in graduate level. Please check for specific subject requirements.
Business: 24 semester units, including 3 credit hours of commercial law.
Special note:
Pre-evaluation service is available if required. You can download the form here.

2. Additional Louisiana CPA Requirements to Get the License
Education
Same as the exam requirement.
Work Experience
1 year experience under the supervision of a licensed CPA. Please contact the State Board on the nature of experience required.
Part-time experience can be counted and 2,000 hours is equivalent to one year.
Please note that experience should be gained within 4 years preceding the date of the license application.
Ethics Qualification
3. Louisiana CPA Requirements on Residency & Age

US citizenship

not

required.
Candidate must be a resident, employee, or keep office(s) in the state. Specifically, first-time candidates must have maintained continuous residency for 120 days within one year preceding the examination.
Minimum age: none.
4. Fees
First-timers: $723 (4 CPA exam fees) + $130 (initial application fee).
*** Special note on NTS***
Please note that unlike most states, NTS approved by Louisiana State Board is valid for 9 months counting from the date of NTS issuance. For details, please refer to the CPA exam instruction below.
5. Continuing Education
CPE is a must for license holders. Click here for Louisiana CPA CPE requirements.
6. Other Useful Information
7. Contact
State Board of CPAs of Louisiana
601 Poydras Street, Suite 1770
New Orleans, LA 70130
Email: cpaes-la@nasba.org
Phone: 504-566-1244
Fax: 504-566-1252
What if the Louisana CPA Requirements don't Work?
Check out these pages to learn about the educational and experience requirements, with my recommendation at the end of the posts:
If you have questions, feel free to leave a comment below, or visit my Facebook page.
* Photograph courtesy of stuseeger