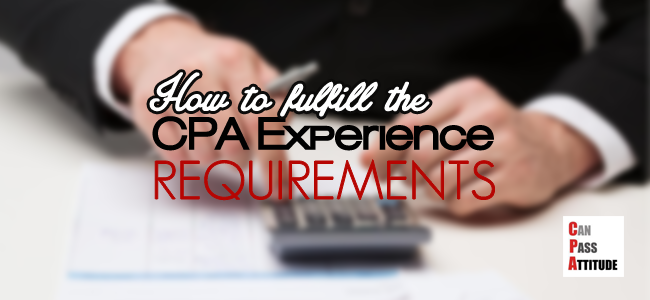 Fulfilling the US CPA experience requirements can be a headache for those who do not go to the traditional public accounting career route.
Here is a video on the overview with explanation on common obstacles and possible solutions.
Prefer to read the text? Please find the information below:
CPA Experience Requirements: Common Issues and Solutions
Let me go through the common issues and solutions with these frequently asked questions from readers. This is especially applicable for those who do not plan to practice public accounting in the US.
1. Do I have to work in public accounting (anywhere) to get the license?
No, for most states. While a handful of state boards recognize public accounting as the only CPA experience requirements, most states allow non-public accounting, taxation or even academic/teaching work as valid experience.
2. Do I have to work in the US?
No. The rule is on the verifier instead of the location of the workplace.
Specifically, for most states, the verifier has to be an actively licensed US CPA (from any states). This means that retired or inactive licensees, as well as CPA certificate holders are not qualified as verifier. In most cases this verifier must also be your direct supervisor.
Getting back to the question, if you can find a US CPA to work under but the opportunity is outside of the US, it is perfectly fine. Many overseas US CPA may not keep their license active so make sure you check with your supervisor on the status of his/her license.
3. I have 5 years of public accounting experience under an active and reputable Indian chartered accountant. Can it be counted?
Unfortunately no. Most states require the verifier to be actively licensed in the US only. Some states such as Colorado, New Hampshire and Pennsylvania accept "CPA equivalent", but this normally means qualified accountants from countries that signed a mutual reciprocal agreement with IQAB. As of 2018, this list of countries / jurisdiction include:
Canada (CPAC),
Australia (CPA Australia and ICAA)
Hong Kong (HKICPA)
Ireland (CAI)
Mexico (IMCP)
New Zealand (NZICA)
Scotland (ICAS)
4. What are the states that don't require the CPA verifier to be your boss?
Montana, Washington, Arkansas* and Indiana* are some of the states that allow a CPA to verify your experience without being your supervisor. This adds a lot of flexibility, because they can in theory verify your prior experience (even outside of the US) as long as they are relevant.
* These states require applicants to submit their social security numbers, which might be an issue for international candidates.
5. Are there any states that allow a non-CPA supervisor to verify?
Yes. Illinois, North Dakota**, Ohio, Virginia and Wisconsin do. Note that Ohio and Virginia require candidates to have SSN in order to sit for the exam.
** Rules changed on April 1, 2016: ND now requires experience to be verified by a CPA or equivalent.
6. How many years of experience are the state boards looking for?
It depends on the state, but in most cases only 1 year is required. Some states ask candidates who work in non-public accounting to accumulate one additional year (i.e. 2 years) of experience before getting the CPA license.
7. Do State Boards count the experience before the exam, after the exam, or both?
It depends on the state, but for most states they are quite flexible, i.e. they count experience you gained before, during or after the exam.
If this is a concern because you don't plan to work in accounting in the future and rely on counting the experience you had previously, double check with your state board beforehand.
8. I passed the CPA exam, then realized that I can never fulfill the CPA experience requirements of my state. Can I get the license from another state, and if so, which one?
I strongly recommend candidates to pick a state the works all the way to licensure. However, if you get this advice too late, here is the remedy:
Check whether you fulfill the education requirement of the states mentioned in Questions 4 and 5. If so, you can arrange an exam credit transfer. Credit transfer is only possible if you complete the exam requirement of the state to be transferred.
For example, if you originally registered for New Hampshire because it requires the least accounting credit hours, you can't expect to switch to Virginia without making up the accounting classes. In other words, the state boards don't let you game the system.
What's Your Next Step?
1. Check Out AllLibrary.com for CPA Experience Requirements Info
The application can be an exceedingly complicated process, and the outcome often depends on your unique educational background and situation. I would love to help as much as I can, but in many cases it is easier and more efficient to do your own research and decide accordingly.
There exists a database that contains the rules and regulations of the all state board regarding the CPA experience requirements and licensing rules. Every one can access with a fee.
If you are serious about the exam, I encourage you narrow down your choice to no more than 5 states, free up half a day and buy a 24-hour pass for US$10. It's worth it.
2. Sign up for NASBA's Experience Verification Service
NASBA recently launched an experience verification service, with a client manager guiding you from start to finish. The catch is that it's only available in 11 states / jurisdictions and the service is expensive ($500 for domestic candidates and $700 for international candidates).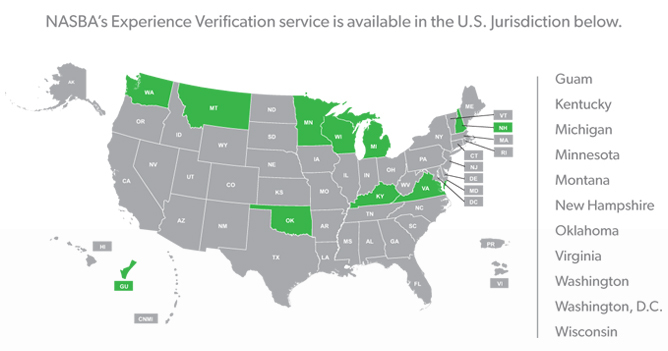 If you want a relatively hassle-free experience and don't mind the cost, check it out here.
3. Seek Third-Party Professional Advice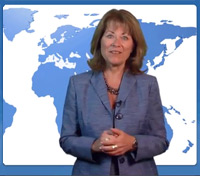 If you have a particularly tricky situation or need advice from an expert, Leslie-Anne Rogers might be able to help. She has been in this business for 20+ years. Note that this is her full-time job and please expect to pay a fee, and that transfer success is NOT guaranteed. You can find my interview with Leslie-Anne here.
4. Do More Research on CPA Experience Requirements
Are You Serious about Taking the CPA Exam?
If the answer is yes, join my free "e-course" and learn how to plan, study for and pass this exam. I have two versions designed for candidates with different background:
* Those with US degrees, or
graduate/live/work in the US
^ Those who study abroad, or
graduate/live/work outside of the US