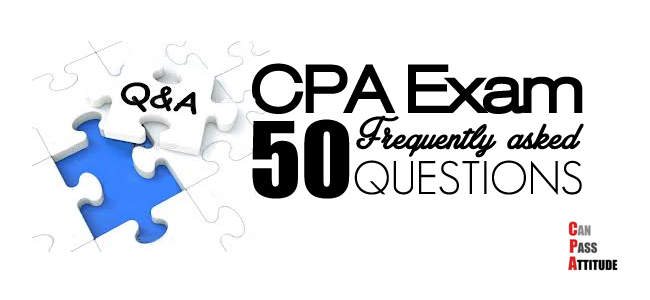 Here are answers to readers' most common CPA Exam FAQ. If you have a question that you cannot find an answer to, drop a note on my Facebook page and I'll do my best to respond as soon as I can.
CPA Exam FAQ I Collected Since January 2010
General Questions on Accountancy and CPA
CPA Exam FAQ on Starting the Process

Should I Go For CPA or Other Professional Qualifications / Degree?

CPA Exam FAQ on The Most Efficient Way to Apply

Qualification Questions
Other Questions for International Candidates
How Do I Become A US CPA If I Am From…
Taking The CPA Exam Outside The US

Questions on Passing the CPA Exam
Questions on CPA Exam Review Courses
Questions On CPA Exam Tactics
Questions on CPA Exam Motivation
Questions on Life after CPA Exam
CPA CPE Requirements
Licensing Issues
Other Accounting Qualifications
Questions On Career With A CPA
May I Help You Plan, Study And Pass The CPA Exam?
The process may sound awfully complicated, but once you take the first step in your CPA journey, it's completely doable. I am more than happy to help you along the way!
If you find these Q&As helpful, please consider signing up to my mini-course which is completely free. I have two versions designed for candidates with different background:
If you find this article helpful, please consider signing up to my mini-course which is completely free. I have two versions designed for candidates with different background:
* Those with US degrees, or
graduate/live/work in the US
^ Those who study abroad, or
graduate/live/work outside of the US