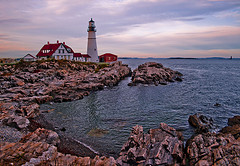 Maine is a relatively easy state in which to sit for the CPA Exam. For the education requirement, Maine simply expects candidates to earn a bachelor's degree or higher within 120 days following the examination.
However, the board has a strict experience requirement: they demand 2 years of public accounting experience. But, the board will consider non-public accounting experience to determine if it is substantially equivalent.
Furthermore, Maine requires candidates to have a social security number as well.
Maine CPA Requirements
1. Education Requirements to Sit for the Exam

Bachelor's degree or above.
Fulfill at least 120 credit hours.
15 credit hours in accounting, auditing, and ethics combined.

3 credit hours in accounting
3 hours in auditing.
Educational requirements must be met within 120 days of completing the CPA Exam.
2. Additional Maine CPA Requirements to Get the License

Education
150 credit hours from an accredited university or educational institution.
Accounting courses: 15 credit hours ( 3 in accounting, 3 in auditing, and ethics).
Work Experience
2 years of public accounting work experience:

at least 400 hours in audit, review, and compilation.
at least 200 hours in advisory services.
non-public accounting may be counted if it is deemed substantially equivalent to public accounting.

The experience has to be supervised by US CPA or equivalent. Please check with the Board on the definition of CPA equivalent.
Part-time work can be counted: 2,080 hours is equivalent to 1 year of full-time employment; 173 hours is equivalent to 1 month of full-time employment.
The NASBA Experience Verification service is available to those who do not have access to an active U.S. CPA for verification.
Ethics Qualification
3. Maine CPA Requirements on Residency & Age
US citizenship

not

required.
Maine residency 

not

required.
Minimum age: none.
Note on Social Security Numbers
The disclosure of your social security number is mandatory in the license application form. Catherine Caroll kindly confirmed the understanding via email:
Yes, Maine Law requires individuals seeking licensure with this department must provide a social security number issued by the U.S. Social Security Administration.  There is no exemption to this provision even to those previously licensed.

Yours truly,

Catherine
Catherine M. Carroll
Board Administrator
4. Fees
First-timers: $774 + application fee
5. Continuing Education
CPE is a must for license holders. Click here for Maine CPA CPE requirements.
6. Other Useful Information
7. Contact
Maine Board of Accountancy
Department of Prof. & Fin. Regulation
Office of Lic. & Reg.
35 State House Station
Augusta, ME 04333-0035
Email: cpaes-me@nasba.org
Phone: (207) 624-8672
Fax: (207) 624-8636
What If the Maine CPA Requirements Don't Work for Me?
Check out these pages to learn about the educational and experience requirements, with my recommendation at the end of the posts:
If you have questions, feel free to leave a comment below, or visit my Facebook page.