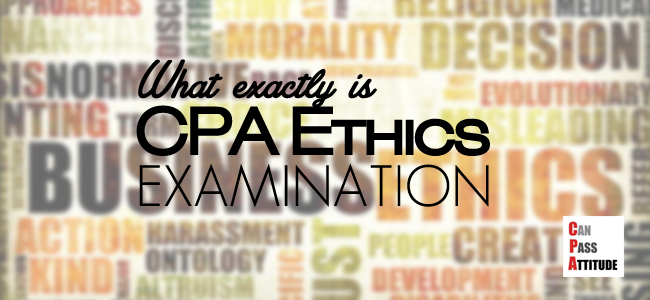 The CPA Ethics Exam is one of the requirements required by many (but not all) state boards in getting your CPA license in the US. Most candidates take the exam after passing the Uniform CPA Exam.
(Please click here if you need guidance on how to become a CPA in the United States.)
First of all, let me address a few frequently asked questions:
1. Who Administers the CPA Ethics Exam?
There are some states that run their own ethics exam or courses, but many state boards pick the Professional Ethics Exam administered by the AICPA.
2. Does Every State Require a CPA Ethics Exam?
No, only 35 or so state boards require their to-be-CPAs to take the ethics exam. Please double check with your state board to see if this exam is indeed necessary.
3. Is the CPA Ethics Exam Difficult?
Not really. The exam is more like a self-study, open-book test. However, since the passing score is 90 you have to be careful when reading and picking the correct answer for the questions.
4. Can I Take the Ethics Exam Before I Pass the Uniform CPA Exam?
Yes for most states, but I heard that WA doesn't allow this. So please double check if your state if you would like to proceed with the CPA Ethics Exam before finishing the Uniform CPA Exam.
In general I would recommend that you focus all your energy in studying for the "core" exam and tackle the ethics exam at a later stage. You can just view this exam as a necessary evil — not difficult but something that needs to be done.
CPA Ethics Exam By AICPA: Overview
The AICPA Ethics Course is a self-study course that may be taken online or through correspondence.
They try hard to make this rather dry topic interesting by adding interactive elements (kind of like watching slide shows) and real-life scenarios to explain the AICPA Code of Conduct, the concept of "independence" and new rules from the Sarbanes-Oxley Act. It's kind of like a mini version of REG.
All in all you should be glad to get the CD version — I used to have this thick book with small font and I had to constantly pinch my arms to keep going.
An 11-hour course in CD-ROM format
40 multiple choice questions
You can choose to submit the test electronically or the traditional way (see below)
A score of 90 or above is required to pass the exam
Candidates should pass the exam within 2 years of CPA certification application
Depending on your state, the course *may* be able to count towards your CPE credit
How To Take and Pass The CPA Ethics Exam
1. Purchase the self-study course
Your State Board will tell you how to take the exam after you pass the Uniform CPA Exam. Or you can choose to buy it directly from the AICPA website. Cost: $159-179, depending on the format.
In case the link doesn't work for you, the pack you should purchase is called "Professional Ethics: AICPA's Comprehensive Course".
2. Study the Materials
You don't need to spend the full 11 hours on the course (I know… how exciting can this topic be!?) but please make sure you don't skip around and miss some important points. Some additional tips for you:
Take notes so the concepts can sink in (at least long enough for you to take the test…)
When working on the multiple choice, read the question carefully — they can be tricky!
Don't pick the first answer you think it's correct. Spend the time to read through all. Remember, with a 90 passing score you can't afford to make careless mistakes.
3. Submit your Answers
(i) Submit electronically
The full instruction can be found in the package. Essentially, you will find a serial number on the answer sheet (the number that starts with "CPE-") that gives you the access online. You can get your results immediately after submission.
Don't worry if you see the answer sheet with 240 slots — I don't know why but I can reassure you that there are only 40 questions and not 240 questions for the CPA Ethics Exam.
(ii) Submit by mail
If you prefer the traditional way, then fill in the bubbles and mail directly to AICPA according to the instruction found in the package. Please note that it may take up to 6 weeks to get your results using this method.
Tips for snail mail:
Mark the bubble that ask AICPA to send the result directly to the State Board (you will still get a copy of the result, no worries)
Make a copy of your answer sheet in case the mail got lost and you need to resubmit
Use certified mail and keep the receipt
* * * FAQ * * *
1. I need help! Is there any review course?
Check out this free resource: The Washington Society of CPA provides an Ask The Ethics Expert (now available to members only) online service for anyone who has questions on the CPA Ethics Exam administered by the AICPA.
2. I bought the course a while back. Is it still good?
AICPA give you one full year to study and take the CPA Ethics Exam. If this is not enough, you can ask for a 30-day extension by contacting AICPA Grading Depart at 1-888-777-7077.
My advice though is that you should take the Ethics test as soon as possible (but after the Uniform CPA Exam) and get it done with. It's not that difficult, especially compared to the CPA exam.
3. I failed the CPA Ethics Exam twice… is there a limit?
You are limited to 3 attempts for online submission. After that, you will have to mail the answer sheet to AICPA.
4. I registered and passed the exam in State A, but will move to State B shortly. I am about to take the CPA ethics exam. Which state board should I send my score to?
If your plan of working in State B is quite permanent, you can request sending the score to State B directly and transfer your CPA exam credit from State A to B at the same time. You'll need to have fulfilled State B's education and experience requirements for licensing before the transfer. Generally speaking, if State A is a substantially equivalent state, there shouldn't be any issue.
More Questions?
You can contact the AICPA Service Center Operations if you have questions concerning their Ethics Exam.
Email: service@aicpa.org
Phone: (888) 777-7077
Are You Done with your Exam and have a Success Story to Tell?
We have a page dedicated to successful candidates. Take a look here and share your happy story with us!