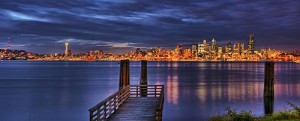 Washington state board follows the "3E" requirement, but the rules related to verification of experience is among the most flexible among all states.
If you are an auditor with experience from outside of US, a part-time work or even a volunteer, take a closer look.
Washington CPA Requirements
1. Education Requirements to Sit for the Exam
Bachelor degree or above.
150 credit hours from an accredited university or educational institution.
Accounting courses: 24 credit hours, of which 15 should be in "upper division" (i.e. 3rd and 4th year classes):

Introductory/Elementary Accounting;
Intermediate Accounting;
Advanced Accounting;
Cost/Managerial Accounting;
Audit;
U.S. Federal Taxation/ Accounting law (this does not include business law);
Accounting Information System.

Business courses: 24 credit hours, which can include the following:

Macro- and Micro-economics;
Budgeting;
Investments;
Business law;
Statistic (no more than 6 undergraduate semester hours);
Money & Banking;
Finance course;
Management and administration;
Accounting courses in excess of the required 24 semester hours.
Special note: May sit 180 days prior to meeting educational requirements.
2. Additional Washington CPA Requirements to Obtain the License

Education
Same as the exam requirement.
Work Experience
1 year of public accounting work experience.
At least 2,000 hours of work experience.
Role can be in accounting, attest, management advisory, financial advisory, tax, tax advisory or consulting.
The experience has to verified by:

A CPA in Washington; or
A CPA qualified for practicing privileges for a min of 5 years prior to the verification;

The verifier

does not need

to be your supervisor.

Part-time and even volunteer work can be counted.
Additional CPE courses are required if the license application has passed the CPA exam for more than 4 years.
*Launched in Apr 2016* The NASBA Experience Verification service is now available to those who do not have access to an active U.S. CPA for verification.
Ethics Qualification
3. Washington CPA Requirements on Residency & Age

US citizenship not required
Washington residency not required
Minimum age: none
4. Fees
First-timers: $774 + application fee
Repeaters: exam fees + $72-131 repeat application fees
5. Continuing Education
CPE is needed for license holders. Click here for Washington CPA CPE requirements.
6. Other Useful Information
7. Contact
Washington State Board of Accountancy
PO Box 9131
Olympia, WA 98507-9131
Email: customerservice@cpaboard.wa.gov
Phone: (360) 753-2586
Fax: (360) 664-919
What if the Washington CPA Requirements don't Work?
Check out these pages to learn about the educational and experience requirements, with my recommendation at the end of the posts:
If you have questions, feel free to leave a comment below, or visit my Facebook page.
* Photograph courtesy of stuseeger