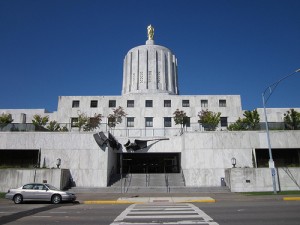 Oregon State Board requires a standard 150 credit hour requirement, but the accounting and business courses are relatively flexible without the restrictions to upper-division level.
Note that there are two levels of qualifications for accountants in Oregon: the CPA and the PA (Public Accountant). Please make sure you click on the correct information on the State Board website.
Oregon CPA Requirements
1. Education Requirements to Sit for the Exam
4-year bachelor degree or higher
Fulfill 150 credit hours
24 semester credits of accounting courses (Beginning June 30, 2017, these courses must be in upper-division level)
24 semester credits of additional accounting or business courses
Note: Courses from community colleges are acceptable if they are transferable to an accredited four-year college or university.  Generally 100 and 200 level community college courses are considered transferable.  You are not required to actually transfer the courses to a 4-year college or university. 
2. Additional Oregon CPA Requirements to Get the License

Education
Work Experience
1 year of accounting experience supervised by a CPA or CPA equivalent.
CPA equivalent refers to an active PA licensed in Oregon or a licensed Chartered Accountant from Canada, Mexico or Ireland.
The verifier must hold an active license in good standing for a minimum of 5 years prior to and during the period of supervision.
Qualifying part-time experience must be at least 20 hours per week.
Ethics Qualification
3. Oregon CPA Requirements on Residency & Age

US citizenship not required.
Oregon residency not required.
Minimum age: none.
4. Fees
First-timers: $786 + application fee.
5. Continuing Education
CPE is needed for license holders. Click here for Oregon CPA CPE requirements.
6. Other Useful Information
7. Contact
Oregon State Board of Accountancy
3218 Pringle Road, S.E. #110
Salem, OR 97302-6307
Email: david.r.hunter@state.or.us
Phone: (503) 378-4181
Fax: (503) 378-3575
What if these CPA Requirements don't Work for Me?
You may want to check out these pages to learn about the educational and experience requirements, with my recommendation at the end of the posts:
If you have questions, feel free to drop a note in the comment section, or visit my Facebook page.