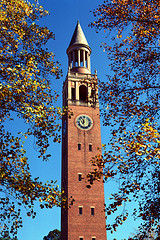 For North Carolina CPA Exam requirements, the #1 rule is the the candidate must be a US citizen, or with the intention of becoming one.
The State Board also requires the full 150 credit hours to get the CPA license, but a bachelor degree is good enough to sit for the exam. After passing the CPA exam, you will need to accumulate 1 year of experience under the direct supervision of an active CPA licensee.
North Carolina CPA Requirements
1. Education Requirements to Sit for the Exam
A candidate is required to fulfill one of the following:
Bachelor degree or above.
Accounting course requirement: 30 semester hours (at least 6 hours of accounting at principals level are allowed, some upper division courses are required).
may count 1 Business Law class (3 hours) towards this 30-hour requirement.
Note: candidates have 120 days after taking the first section of the Exam to meet the educational requirements.
2. Additional North Carolina CPA Requirements for the License

Education
Fulfillment of 150 semester hours, including 24 hours in accounting, finance and business related subject.
Work Experience
1 year of full-time experience in accounting, directly supervised by an active US CPA licensee.
If the applicant is not directly supervised by a US CPA, then the experience requirement is four years.
4 years of teaching experience in the areas of accounting. By that it means at least 12 semester hours at all times as well as 2 years of teaching above immediate level.
Please note that unpaid/volunteer work can be counted towards the experience requirement.
3. North Carolina CPA Requirements on Residency & Age
US citizenship (or having the intent to  become one) is 

**required**

North Carolina residency

not

required.
Minimum age: 18.
4. Fees
First-timers: $774 + application fee
5. Continuing Education
CPE is needed for license holders. Click here for North Carolina CPA CPE requirements.
6. Other Useful Information
7. Contact
North Carolina State Board of CPA Examiners
1101 Oberlin Road, Suite 104
PO Box 12827
Raleigh, NC 27605-2827
Email: phyllise@nccpaboard.gov
Phone: (919) 733-4224
Fax: (919) 733-4209
What if these CPA Requirements don't Work for Me?
You may want to check out these pages to learn about the educational and experience requirements, with my recommendation at the end of the posts:
If you have questions, feel free to drop a note in the comment section, or visit my Facebook page.