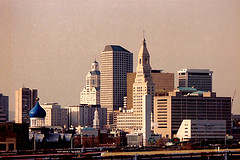 Connecticut allows Economics courses to be counted as related courses in the education requirement.
A 4-year bachelor degree or above, together with 24 credit hours of accounting and 22 hours of business courses, are required to get qualified for the examination.
Connecticut CPA Requirements
1. Education Requirements to Sit for the Exam
Bachelor degree or above.
Accounting courses: 24 semester hours.
Business courses: 22 semester hours (including Economic, finance and law courses).
2. Additional Connecticut CPA Requirements to Get the License
Education
150 semester hours.
Additional course requirements:

36 semester hours in accounting (basic or above is fine).
30 semester hours in economics and business administration.
60 semester hours in general education.
Experience
2 years of accounting experience supervised and verified by an active CPA licensee.
The experience can be public or non-public accounting.
Please check CT State Board regulation below on details on certain restriction on non-public accounting that may apply to your case.
Ethics Qualifications
3. Connecticut CPA Requirements on Residency and Age
US citizenship

not

required.
Connecticut residency

not

required.
Minimum age: none.
4. Fees
First-timers: $774 + application fee.
5. Continuing Education
CPE is required for license holders. Please click here for Connecticut CPA CPE requirements.
6. Other Useful Information
Education requirements
Connecticut State Board Regulation (licensing information under Section 20-280-24)
7. Contact
Connecticut State Board of Accountancy
Department of Consumer Protection
165 Capitol Avenue
Hartford, CT 06106
Email: dcp.licensecpa@ct.gov
Phone: (860) 509-6179
Fax: (860) 509-6247
What if these CPA Requirements don't Work for Me?
You may want to check out these pages to learn about the educational and experience requirements, with my recommendation at the end of the posts:
If you have questions, feel free to drop a note in the comment section, or visit my Facebook page.