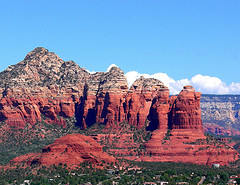 Arizona allows candidates with 120 credit hours to sit for the exam. However, in order to get the CPA license, you will have to fulfill the standard 150 credit hour requirement.
For working experience verification, your supervisor may not need to be a CPA, but he should have experience equivalent to one and he will need to supply resume and job description as evidence.
Arizona CPA Requirements
1. Education Requirements to Sit for the Exam
Bachelor degree or above.
Complete 120 credit hours.
Accounting courses: 24 credit hours (12 hours in intermediate/advanced level).
Other required courses: 18 credit hours of "related" courses. Check out the CPA Exam FAQ link below on the required subjects.
2. Additional Arizona CPA Requirements to Obtain the License
Education
150 credit hours from an accredited university or educational institution.
Accounting courses: 36 credit hours (30 hours in intermediate/advanced level).
Other required courses: 30 credit hours of "related" courses. Please click on the Certification FAQ link below on the required subjects.
Experience
1 year in the office of a CPA, private industry, or government that has exposed the applicant to and provided the applicant with experience in the practice of accounting.
Arizona State Board accepts non-CPA supervisors to verify your experience but the person(s) must:

have a role similar to an active US CPA licensee.
"must attach a resume and a job description to verify they have the education and experience to oversee a potential CPA candidate". For details, please check out the AZ state Board FAQ.

Part-time work can be accepted as long as the candidate can demonstrate that the experience is equivalent to the standard one-year full-time requirement.
*Launched in Apr 2016* The NASBA Experience Verification service is now available to those who do not have access to an active U.S. CPA for verification.
Ethics Qualifications
3. Arizona CPA Requirements on Residency and Age

US citizenship

not

required.
Arizona residency

not

required.
If candidates do not have social security number, they can write a letter to the State Board and explain the situation.
Minimum age: 18.
4. Fees
First-timers: $774 + application fee.
5. Continuing Education
CPE is required for license holders. Please click here for Arizona CPA CPE requirements.
6. Other Useful Information
7. Contact
Arizona State Board of Accountancy
100 N. 15th Avenue, Room 165
Phoenix, AZ 85007
Email: info@azaccountancy.gov
Phone: (602) 364-0804
Fax: (602) 364-0903
What if the Arizona CPA Requirements Don't Work for Me?
Check out these pages to learn about the educational and experience requirements, with my recommendation at the end of the posts:
If you have questions, feel free to drop a note in the comment section, or visit my Facebook page.