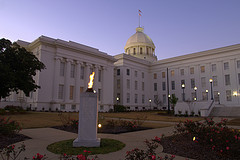 Alabama awards CPA license to US citizens only.
The education requirements are also relatively tough — you need to fulfill the 150 semester units before you sit for the exam, and the specific courses on accounting, business and law are very specific.
Alabama CPA Requirements
1. Education Requirements to Sit for the Exam
Bachelor degree or above
150 semester units
Accounting courses: 33 semester units (excluding introductory courses)
Business courses: 27 semester units 0r more
Other required courses: 3 semester units in business law
Note:
Courses from community courses are recognized for non-accounting courses only. For accounting courses it must be upper-division and attended through 4-year colleges.
All education must be completed prior to taking the CPA examination in Alabama.
2. Additional Alabama CPA Requirements to Get Licensed
Please note that Alabama is one of the 5 remaining two-tier states that will send a CPA certificate to candidates who have passed the CPA exam and pass the ethics exam.
The requirements of CPA certificate vs license is quite different:
Working experience
Certificate: not required
License: 1 year of public accounting experience, or 2 years of non-public accounting experience (i.e. working in accounting field in private sector, government or academia instead of in a public accounting firm). Please click the Alabama CPA experience requirements for more details.
Only full time work is qualified (i.e. part-time doesn't count). Full time work is defined as 30 hours per week
Ethics requirement
Not required to take the CPA Ethics Exam unless the candidate passed the REG before 2004 and/or BEC before 1994. Contact the AL state board for details if this is the case.
3. Alabama CPA Requirements on Residency and Age

US citizenship **required**
Alabama residency

not

required
Minimum age: 19
4. Fees
First-timers: $800
Retakers: $900
5. Continuing Education
CPE is required for license holders. Please click here for Alabama CPA CPE requirements.
6. Other Useful Information
AL Accountancy Rule 30-X-5-.06, on experience requirements
7. Contact
Alabama State Board of Public Accountancy
PO Box 300375
Montgomery, AL 36130-0375
Phone: (800) 435-9743
Fax: (334) 242-5700
Email: teresa.taylor@asbpa.alabama.gov
What if these CPA Requirements don't Work for Me?
You may want to check out these pages to learn about the educational and experience requirements, with my recommendation at the end of the posts:
If you have questions, feel free to drop a note in the comment section, or visit my Facebook page.