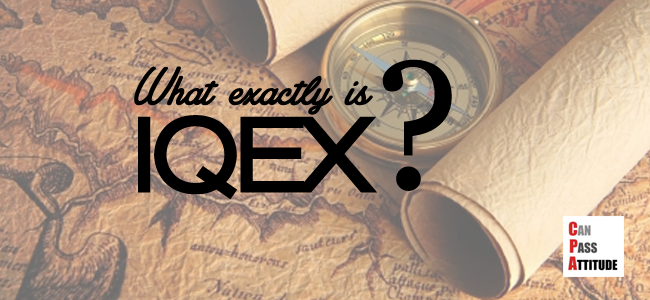 IQEX Exam, which stands for stands for the International Qualification Examination, is a professional exam designed for CAs and CPAs in reciprocating countries with the United States.
Who Takes the IQEX Exam?
Chartered and Certified Public Accountants from Canada (CA only), Australia (CA only), Ireland, Mexico, New Zealand and Hong Kong who would like to become qualified as CPA in the US.
Important note:
If you became a member of these associations on the basis of recognition of credentials earned in other countries, you are not eligible to apply. You can still qualify but has to sit for the entire Uniform CPA Exam.
Special note to Canadians:
The CA, CGA and CMA are currently undergoing unification in Canada. The only IQEX MRA in effect was with the Canadian Institute of Chartered Accountants; therefore, only legacy CA members of CPA Canada can qualify for the IQEX.
You can check out this NASBA page to confirm the above information.
Why Take the IQEX Exam
It's worth the effort if you see yourself working for a US company or a US subsidiary using US GAAP. CPA in the US is also the most globally recognized accounting qualification in the world.
Why Take this Instead of the Uniform CPA Exam?
The advantage of IQEX over the standard Uniform CPA Exam is that it covers much less topic — IQEX takes 3 hours to complete while the Uniform CPA exam takes 14 hours. After passing IQEX you can apply for the same CPA license in participating states.
But I have Never Heard of IQEX…
It is true that the number of IQEX candidates has declined considerably as more countries and companies are switching to adopt IFRS (International Financial Reporting Standard).
In light of this, IQEX has undergone a major change in content and delivery format: IQEX is now the same as the REG part of the Uniform CPA exam.
The Current Format
Same as REG, the exam will be 3 hours long and contain four testlets:  3 test-lets (i.e. groups of questions) each with 24 multiple choice questions, and the 4th testlet with 6 task-based simulation.
Please find the content breakdown:
Ethics, Professional, and Legal Responsibilities 17%
Business Law 19%
Federal Tax Process, Procedures, Accounting, and Planning 13%
Federal Taxation of Property Transactions 14%
Federal Taxation of Individuals 16%
Federal Taxation of Entities 21%
Candidates are expected to learn Internal Revenue Code and Federal Tax Regulations to confidently pass the Taxation Area. Furthermore, candidates are also expected to learn Federal Law and Uniform Acts for the Business Law Area.
IQEX Pass Rate
The pass rate has never been disclosed, but given the syllabus is only 1/4 of the full uniform CPA exam I am willing to bet that the pass rate is way above 50%, the one for the uniform CPA exam.
Where Can I Take the IQEX Exam?
The exam is and continues to be offered at Prometric centers in the U.S and Canada.
Similar to the Uniform CPA exam, IQEX is offered during the first and second month of every testing window:
January – February
April – May
July – August
October – November
How Do I Start?
You can download the application form from NASBA any time. Once your application is processed, you will receive a NTS (Notice to Schedule) and schedule a time at the / of your choice. The NTS is valid for 6 months.
More info here:
Note: in order to obtain the CPA license from one of the states, you will need to fulfill the working experience requirement as well. For Canadians this is typically not an issue but candidates from other countries please take the time to check the requirements.
IQEX Exam Preparation and Study Materials
CPAexcel has a IQEX review course, and Roger CPA Review has a promo code specifically for your IQEX exam.
Not Sure If You are Qualified for the IQEX Exam?
Feel free to drop a question on my Facebook page.
If you are not qualified to take the IQEX exam, you may want to check out how you can handle the CPA exam application as an international candidate.
All you need is to sign up for my e-course specifically created for you as an international candidate so you can learn about how to proceed efficiently towards your goal — getting the most recognized and prestigious CPA qualification in the world.
Feel free to learn more about this
CPA exam mini-course
here before signing up.