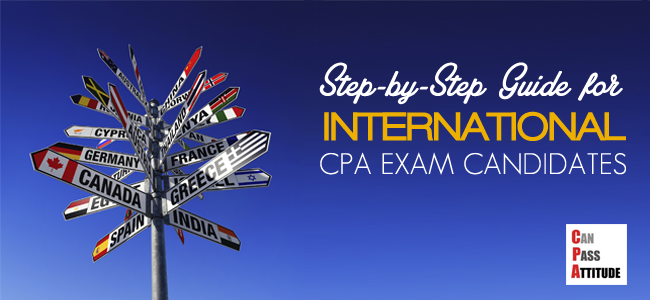 If you are an international student preparing for your CPA application, or someone who live outside the USA looking to get the CPA title, this is the right place.
(Domestic US candidates: this page on how to become a CPA is more relevant)
I am an international student myself who got my CPA while working in Hong Kong. I've been there, done that, and I'd love to share my first-hand experience with you.
The CPA Application Procedure
The good news: the application procedure is the same regardless of where you are from.  To get qualified for the CPA license, candidates need to fulfill the "3E" requirements:
Education
Examination
Experience
The 3E stands for:
Education: a minimum of 4-year bachelor degree from a regionally accredited institution and 150 credit hours of general coursework, with a minimum number of courses in accounting and business
Examination: the 4-part Uniform CPA Exam
Experience: 1 to 2 years of relevant accounting experience verified by a US CPA, or equivalent
In the US, the CPA license is granted by US states or jurisdictions. Each of them has slightly different rules. This causes a lot of confusion, but at the same time creates opportunities for whose can't exactly fulfill the 3E.
Challenges for CPA Exam International Students
If you fulfill the 3E requirements, the application process is fairly straightforward. However, if your case is similar to most of international candidates, it could be an uphill battle because your profile does not exactly fit a typical accounting student in the US.
For example, if you are educated outside of the US, chances are the your school is not regionally accredited or that it is not a 4-year degree. Also, you may not have a Social Security Number (SSN) or work under a US CPA.
Don't worry, we will find a way to work around it.
Let Me Help You Figure This Out
Now, please click on the situation most appropriate to your case:
(A) I live in the US and…
(B) I do not currently live in the US and…
A1. International Student / Holder of Working Visa in the US
Good news! There is little to worry about if you get your education in the US.
If you complete 100% of your coursework in the US, your application is the same as that of the other domestic US applicants. If you did part of your coursework outside the US, the only difference is that you need to send your non-US transcripts to an credential evaluation agency so the state boards can compare your education apple-to-apple.
Accounting Majors
If you are an accounting major studying in a US college, you should have fulfilled all the education requirements, and your school can provide everything you need to apply for the CPA exam.
The only exception is North Carolina and Alabama, which grant CPA license to US citizens only. In this case, you can register in another state.
Relevant but Not Accounting Majors (e.g. Business, Finance)
If you are a graduate with some coursework in accounting, then you will likely get only 120 credit hours instead of the required 150 hours. There are two ways to solve this issue:
(i) Take Courses To Get That Extra 30 Credit Hours
My recommendation is to make up for some courses based on what you are lacking (check with your preferred state for details). In most cases, you can get this done easily through community colleges or online courses. Check out this page for more ideas:
(ii) Go Through Guam (Inactive License)

This isn't the "proper way" and not my official recommendation, but this could be one of your considerations.
Guam issues an "inactive license" for those with only 120 credit hours and without experience, but the candidate must be an accounting major.
A2. H4 Visa Holders with Accounting Background
You might be a BCOM, BCOM + CA or even a BCOM + MCOM and you are now in the US with your spouse holding a H4 visa.
General Requirements
If you graduate outside of the US, you need to go through a credential evaluation agency to get your transcripts/marksheets "translate" into something that the US people can understand. It will cost you $150-250 and a bit of hassle, but generally shouldn't be a complicated process.
Common Obstacle
Besides the extra step of credential evaluation, H4 visa holders may face these challenges:
(i) SSN – Social Security Number
H4 holders generally don't have SSN. On surface, almost all state boards tell you that SSN is required. You have to understand that for regulated professions like CPA, SSN is an important tool to track down those who do not comply with the rules.
Thankfully, some states waive this requirement if you ask for it. You may write a letter to explain the reason, fill out a SSN Affidavit form.
(ii) Not Allowed to Work
Certain H4 visa holders are allowed to work. If you don't fall into this category, there are two ways to work around this issue:
You can pick a state that does not require working experience (e.g. inactive license in Guam and non-reporting license in Massachusetts). There are some compromises that come with such a restricted license, but you can always apply for the full license status once your visa status is changed, e.g. when you get the green card.
You can also find a state (e.g. Illinois) that allow non-CPA to supervise and verify your experience. This way you will most likely able to make use of the work previously done in your home country.
Another way is for you to volunteer for an organization that allows you to work under a US CPA. You will need to be careful with this: if you volunteer for a job for free, which is otherwise a paid opportunity, it will amount to an illegal activity.
Many H4 visa holders volunteer at religious or social organizations which typically will be considered okay. You may also want to consult with the expert in this area.
For Your Further Reading
A3. Non-Accounting Majors with Little Coursework in Accounting
It is getting incredibly tough to get the CPA qualification without a lot of accounting coursework. Technically it is possible for you to become a CPA but expect to spend a fair amount of time, energy and money to just get qualified.
We have a full page on CPA exam for non-accounting majors.
B1. Master's Degree in Relevant Subjects Obtained from Non-US University
If you have a master's degree in accounting, taxation, finance or business administration (i.e. MBA), you will most likely able to fulfill the 150 credit-hour educational requirements, because 150 credit hour is equivalent to 5 years of tertiary education.
(i) You have a 2-year bachelor degree
If you have a 2-year bachelor and a 2-year masters, it will add up to 4-years of coursework which will still be short of the required 150 credit hours. You might be able to qualify, but double check with the NASBA coordinator of your state or the state board representative before applying.
Extra Steps that You Need to Take
The only extra step you need to do is to send over your transcripts to a foreign credential evaluation agency where they will translate into something equivalent to the US educational system. It takes some time and a bit of a hassle, but it shouldn't be complicated.
B2. 4-Year Degree in Accounting Obtained Outside the US
General Note
Like other international candidates, you will need to get your transcripts evaluated by a foreign credential evaluation agency. It takes any time from a few days to 8 weeks, depending on the agency you are getting.
Possible Issue
You will likely get only 120 credit hours instead of the required 150 hours. What you can do is to make up for some courses based on what you are lacking (check with your preferred state for details) and in most cases you can do this through community colleges or online courses.
B3. 2/3-Year Degree in Accounting Obtained Outside the US
It used to be fine if you are a 3-year degree holder in accounting to get qualified for the CPA exam. However, it no longer works.
If you are very, very serious about getting the US CPA, I suggest that you take a 2-year master's degree to fulfill the requirements.
Otherwise, it might be easier if you consider something such as the CMA with a much simpler application process. If you have other professional qualifications e.g. CA, ACCA, please read B4 below.
B4. Holder of Other Accounting Related Professional Qualifications
Similar to the case in B3, some states used to waive all the educational requirements if you have other professional qualifications in other countries.
However, things have changed and unless you are a CA from countries with reciprocal agreements and take the IQEX, chances are that these professional qualifications do not help at all.
I've seen trends especially since 2012 that state boards consider these qualifications as professional credentials instead of educational credentials, so they cannot be used to count towards the educational requirements.
I have a post dedicated to Indian BCOM candidates but is also relevant to other 3-year degree holders.
Need Help to Figure All This Out?
The process may sound really complicated, but it is best if you can select a scenario most relevant to your case and do some research before asking me a question.
I am happy to answer any question but it saves both of us a lot time if you try to understand the background information and possibly narrow down your choices first. Thank you, and wishing you the best in your CPA journey!
Detailed background reading on the requirements: