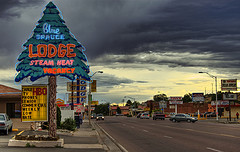 New Mexico State Board accepts  either public or non-public accounting experience, but only US CPA can verify your experience.
New Mexico CPA Requirements
Note to international candidates: there are certain consultancy companies or forums in India that recommend New Mexico as the state board of choice for BCOM + CA candidates. I personally don't think it works, and you can see a real example of a complicated case here. Please double check if you don't want to get in this position.
1. Education Requirements to Sit for the Exam
Bachelor degree or above from a regionally accredited institution.
30 semester units of accounting courses, of which a maximum of 3 units out of these 30 units can be from business law.
2. Additional New Mexico CPA Requirements to Obtain the License

Education
Fulfill 150 semester hours from any regionally accredited educational institution.
Work Experience
1 year of public or non-public accounting experience supervised and verified by an actively licensed CPA.
Please note the CPA equivalent (e.g. Chartered accountants from other countries) are not eligible for verification.
Ethics Qualification
3. New Mexico CPA Requirements on Residency & Age

US citizenship not required.
New Mexico residency not required.
Minimum age: 18.
4. Fees
First-timers: $723 (4 CPA exam fees) + $155 (initial application fee).
5. Continuing Education

CPE is needed for license holders. Click here for New Mexico CPA CPE requirements.
6. Other Useful Information
7. Contact
New Mexico Public Accountancy Board
5200 Oakland NE, Suite D
Albuquerque, NM 87113
Email: accountancy.board@state.nm.us, cpaes-nm@nasba.org
Phone: 505-222-9850
Fax: 505-222-9855
What if these CPA Requirements don't Work for Me?
You may want to check out these pages to learn about the educational and experience requirements, with my recommendation at the end of the posts:
If you have questions, feel free to drop a note in the comment section, or visit my Facebook page.