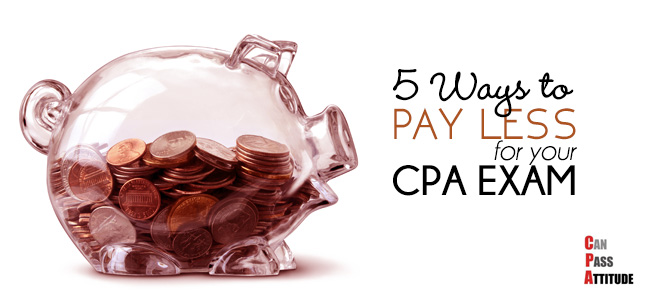 The path towards the CPA qualification can get expensive, but there are less costly way to do it.
My 5 CPA Exam Cost Saving Tactics
You can expect to spend $3,000 on the CPA exam. If this sounds a lot, here are my 5 suggestions to reduce the CPA exam cost:
1. Take Exam Only When You are Ready
In my opinion, the #1 cost to avoid is the "retaker" cost. If you fail to pass, you'll need to pay the examination fees, related traveling expenses and possibly review course update / renewal fees. There is also big opportunity cost in terms of the extra time and effort to revise the materials again.
Everyone wants to pass on their first try, but few actually sit down and make a solid plan towards this goal.
For example, did you prepare a workable study plan to keep track of your progress? Do you realistically have time to complete the study? The suggestions may sound cliche, but they could make or break your passing success.
2. Take Several CPA Exam Sections Together
Most state boards give discounts to candidates who apply for several exam sections in one go.
Also, for those need to travel far to the testing center, taking several sections in one trip substantial reduces CPA exam cost in traveling and accommodation, as well as visa expenses for international candidates.
3. Pick One Core CPA Review that Suits Your Learning Style
I received numerous emails from candidates who want to switch from one review course to another. Not a good idea.
The CPA exam curriculum is the same, but how it is presented can be vastly different from one provider to another. Switching costs a lot of money. The difference in presentation is confusing and drags down the progress.
Instead, you should spend a good amount of time picking the one course that fits your learning style. If the most affordable book happens to be your first choice, great; but if you think the more expensive course is better, I suggest you go with your instinct. Studying with the right tool substantially increases your chance of passing and minimize the chance of a retake.
The last thing to do is to blindly follow the crowd and get whoever people think is the "best". Only you know what's best for yourself.
Note: it's fine to get practice questions from different providers as supplements, as long as you rely on one review course as the core study guide.
4. Check Out the Discount Coupons
Discount coupons are available from CPA review providers from time to time. I list out the latest promo codes and offers for easy reference.
5. Make Good Use of Free Materials
Yes, there are free lunches after all!
(a) AICPA official tutorial and sample tests

These sample tests do not offer enough practice for your CPA exam preparation, but it gives a good idea on exam format and style.
Official CPA exam tutorial and sample tests.
(b) 6-month access to AICPA Authoritative Literature Database
This is offered free for all CPA exam candidates. Very useful to get familiar with the search function within the task-based simulation section.
More info on CPA exam authoritative literature
(c) Free trials from selected CPA review courses
Wiley CPAexcel, Gleim and Roger offer free trials. Check them out and click for the free trial buttons on the respective pages.
Do You Have Other CPA Exam Cost Saving Ideas?
Share your ideas below!
You are also welcome to check out my frequently asked questions page, or sign up for my free e-course to learn about the CPA exam process here: