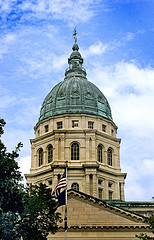 The #1 point you need to know about Kansas CPA exam requirements is that you have to be a local resident in order to get the CPA license. You will also need to accumulate 150 semester hours before you can apply.
Another "special" requirement from KS State Board is that candidates are requested to take 11 credit hours of oral and communications classes.
Kansas CPA Requirements
1. Education Requirements to Sit for the Exam

Bachelor degree or above
150 semester units from an accredited university or educational institution.

CPA review courses can be counted towards this as long as they are offered by accredited educational institutions (the commercial ones featured in CPA exam review courses page don't count unless they arrange to have it taught in schools)

Course requirement:

Accounting: 30 semester units
General education: 42 semester units — please check here for specific subject requirements
Oral and communication: 11 semester units
2. Additional Kansas CPA Requirements for the License

Kansas is a two-tier state, which means that you must obtain a CPA certificate before you can apply for a permit to practice. Please note that the certification does not allow you to practice or hold out as a CPA.
(i) Certification
(ii) Permit to practice (License)
Must hold a Kansas CPA certificate
Work Experience:

1 year of public or non-public accounting experience (i.e. accounting experience in government, industry, academia or public practice is qualified)
The experience has to be verified by an active CPA but no need to be supervised by one.
Part-time work is allowed.
3. Kansas CPA Requirements on Residency & Age
US citizenship

not

required
Candidate must be a resident, employee, or keep office(s) in Kansas. This implies that SSN is required.
Minimum age: none
4. Fees
First-timers: $774 + application fee.
5. Continuing Education
CPE is required for license holders. Click here for Kansas CPA CPE requirements.
6. Other Useful Information
7. Contact
Kansas Board of Accountancy
Landon State Office Building
900 SW Jackson, Suite 556
Topeka, KS 66612-1239
Email: info@ksboa.ks.gov, cpaes-ks@nasba.org
Phone: (785) 296-2162
Fax: (785) 291-3501
What if these CPA Requirements don't Work for Me?
You may want to check out these pages to learn about the educational and experience requirements, with my recommendation at the end of the posts:
If you have questions, feel free to drop a note in the comment section, or visit my Facebook page.