Wiley CPAexcel was developed by a team of professors in 1998 and has been part of Wiley since November 2012. Wiley CPAexcel is one of the fastest growing CPA review providers, and its product appeals to international students because of the sophisticated online delivery platform.
Disclosure
Disclosure: The I Pass Team may earn a small amount of compensation if you purchase CPA review courses from our links; however, our team uses these revenues to maintain the site and produce awesome free content just for you!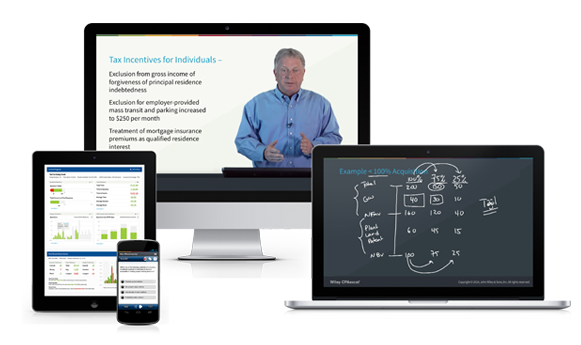 Why Wiley CPAexcel Is the Best CPA Review Course
1. Best Overall Value
There is no CPA review course on the market that offers as much value as Wiley CPAexcel. Wiley's most expensive course is $2,800 (without a discount, but there's one here). The Platinum course, while the most expensive, is a great value all-around. You'll get 140 hours of lectures (including the deep dive lectures), an analytical course, flashcards, a mobile app, Access Until You Pass, and so much more. I also love Wiley CPAexcel's comprehensive materials and the overall quality of the course's questions and lectures.
2. "9 out of 10" Pass Rate and Big 4 Recommendation
When you think about it, 9 out of 10 is pretty encouraging considering Prometric does not prescreen students to take the exam.
Besides this impressive statistic, Wiley CPAexcel has received an endorsement from one of the Big 4 firms. While I don't think a Big 4 endorsement should be the deciding factor, it gives comforts to candidates who may not be familiar with the brand name.
3. No-Gimmick Unlimited Access Until You Pass Guarantee

The first thing I really like about Wiley CPAexcel is their no-nonsense approach to protecting CPA Exam candidates.
Most of the major CPA Exam providers offer a variety of "promises" to those who may not be able to pass the CPA Exam on their first attempt. Some offer a discount if you reach a certain attendance rate, while others may offer you continued access within a limited time frame.
Additionally, some of the other CPA review courses (like Becker) charge extra for updates after a specified date. When you realize that more than 50% of candidates fail to pass the CPA Exam each year, this is a very important point to consider. In case you fail the CPA Exam, you're going to need a course that will be available to you, without any additional fees, for as long as you need it.
4. More Digestible with Effective Bite-Sized Lessons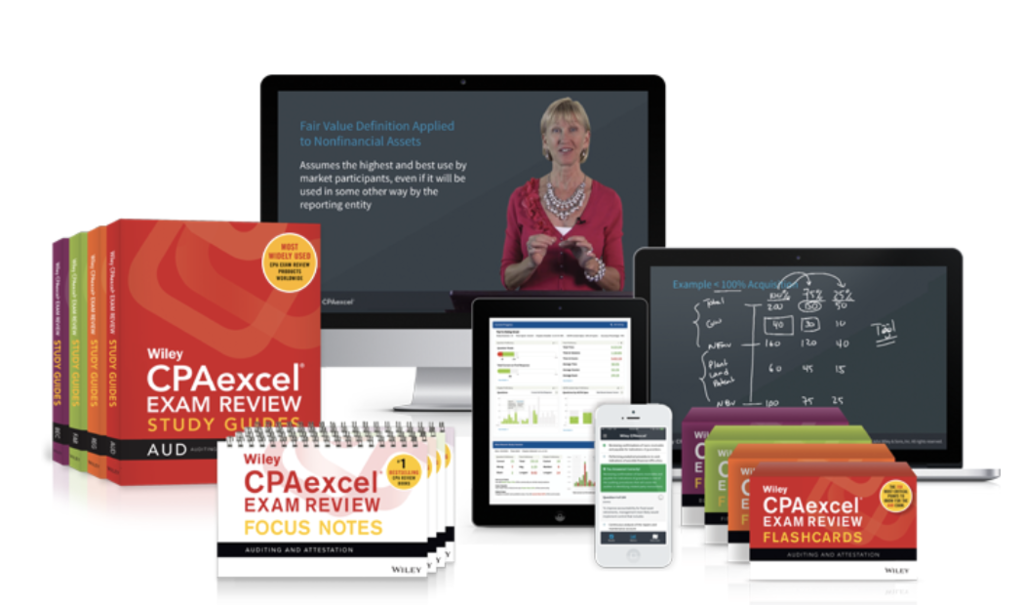 Instead of a half-day, or even full-day course once a week, Wiley CPAexcel's online capability allows candidates to study at their own pace with bite-sized lessons. Judging from my own experience in Becker live class, this is definitely a plus.
The lessons typically take 30 minutes to complete, which many of us can do during lunch time — and assuming you have a one-hour break, you'll still have another half hour to digest the materials and work on a few multiple-choice questions.
And frankly, even if you have the time, accounting isn't too much fun, and I would much rather learn from short online videos vs. a 4-hour long lecture. Also, accomplishing a little at a time is more motivating.
5. Impressive Analytical Tools to Keep You On Track
One of the reasons why candidates fail the CPA Exam is time management. Candidates may not set aside enough time for final review. Additionally, some candidates do not finish studying all the materials. Wiley CPAexcel can provide a great solution for these candidates.
The Wiley CPAexcel course includes personalized exam planning functionality with every course, and I'll tell you how it works.
When you enter the study planner, you will be asked to enter your exam date and the number of hours you plan to devote to studying each week.
Once you enter this information, the system supplies you with a detailed list of assignments (the actual coursework), and a specific due date and number of hours required. There are also check boxes that you can click after you complete each assignment.
If you need somebody to help you keep track of your study progress, no one will ever do a better job than this computerized study planner.
The Wiley CPAexcel platform is very high tech in that it allows you to track your progress in real time and also generates lots of cool charts for you. If you are analytical, you will love it.
Walk-Through of Wiley CPAexcel Online Platform
My readers love the Wiley CPAexcel CPA review course as much as me!
I think CPAexcel is a stellar review course– the bite-sized lessons are perfect for those studying while working full-time. The system support staff is extremely responsive and quick. I also liked the student discussions and best of all, the exam tutor. The course was well worth the price ($1500 for all 4 parts), and the unlimited updates is a definite distinction."

— Renata
Wiley CPAexcel's CPA Review Course May Not Be the Best Choice for These Types of CPA candidates
1. It's Great for the PC-Based Learner, But…
Wiley CPAexcel uses a computer-based approach. I understand that students learn best in different mediums. If you are NOT someone who can live in front of a monitor and stare at the screen for a long time, this may not be the best course for you. Update: Wiley CPAexcel now has a mobile app, so you'll be less tied to a computer and can study on the go!
I also understand that many students are accustomed to underlining, highlighting, and taking notes on actual books to facilitate their learning. CPAexcel does include textbooks; however, but if you are a textbook learner, you aren't taking full advantage of what Wiley CPAexcel is offering.
2. Some Find the Lectures Too Summarized
One of my readers had this to say about the Wiley CPAexcel lectures:
Their lectures, although short and sweet, are very general and usually do not touch upon the specifics of the topics at hand. For example, I had to get my old intermediate accounting book and do research on how accruals and deferrals work, and now I am having to go back to that same intermediate book in order to refresh my memory on the single and multiple-step statement because the lecture just touched upon their purpose but no exercises were shown.

Anyway, I am committed, but it seems to me I will have to put in a lot more time than the ½ hour they advertise." ~ Maria
In short, if you are a fresh grad, then this is no problem at all. But if you need more guidance because you are a non-accounting major or have been out of school for years, then take note of this. Update: Wiley CPAexcel has recently added an additional 40-hours of deep dive lectures. This brings the total lecture offering to 140 hours – more than any other course!
Summary of What Wiley CPAexcel Offers
Strengths
Limitations

Offers the best value
9/10 pass rate + Big 4 endorsement
Unlimited online access until you pass
Effective and flexible bite-sized lectures
State-of-the-art study planner and analytical tools

Primarily for PC-based users
Lectures may be a bit too summarized
My Conclusion: Great Choice for Busy Professionals on the Go

I highly recommend Wiley CPAexcel if:
You need a lot of lectures and appreciate a variety of learning materials.
You appreciate a highly customized course that tracks your progress and weaker areas.
Getting no-gimmick, free trials and unlimited access until you pass the exam appeals to you.
Try CPAexcel Now for Free!