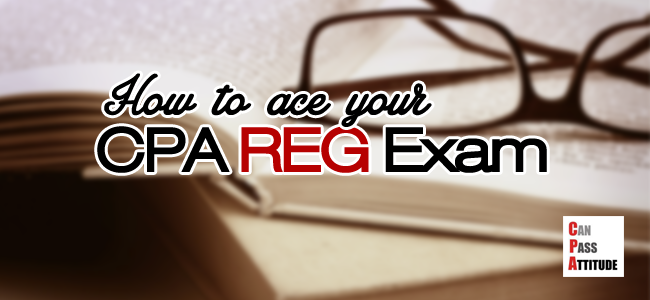 This section covers knowledge of federal taxation, ethics, professional and legal responsibilities, and business law, and the skills needed to apply that knowledge." — CPA Exam Candidate Bulletin

CPA REG Exam Topic Areas and Weighting
REG is a combination of federal taxation, business laws and business ethics:
| | |
| --- | --- |
| 1. Ethics, professional and legal responsibilities: code of conduct, concept of independence and due care and legal responsibility and liability | 15-19% |
| 2. Business Law: concepts on agency, contracts, debtor-creditor relationships, government regulation, uniform commercial code | 17-21% |
| 3. Federal Tax process, procedures, accounting and planning: cash vs accrual accounting, percentage of completion, completed contract, installment sales, inventory methods | 11-15% |
| 4. Federal Taxation on property transactions: types of assets and related tax implications | 12-16% |
| 5. Federal Taxation on individuals: gross income inclusion and exclusions, adjustments and deductions, exemptions, AMT (alternative minimum tax), tax computations | 13-19% |
| 6. Federal Taxation on entities: tax reporting for 3 types of legal entities (sole proprietorship, partnership and corporation) and trusts | 18-24% |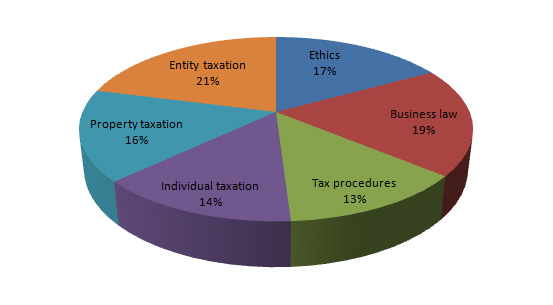 Format of the CPA REG Exam
REG is a tough, 3-hour long exam. The format includes 3 "testlets" (groups of 24 multiple choice questions) and 1 testlet of 6 simulation questions.
Starting in April 2017, REG will be extended to become a 4-hour exam. There will be 2 testlets of 38 multiple choice questions each, and 9 task-based simulation questions. The score weighting of multiple choice and TBS is 50/50. They will be a new, optional 15-minute break midway in the exam.
Similar to other sections, it is fully computerized. Candidates have to sit for the exam in one of the prometric centers.
Historical CPA REG Exam Pass Rate
REG is notorious — as you can see from the chart, the pass rate back in 1Q 2005 was a chilling 35%. Since then, the pass rate has been steadily climbing. I don't think the exam is getting easier, but the flexibility from the computerized exam (since 2004) allows candidates to sit for the exam one at a time and it does improve the pass rate of "harder" sections e.g. FAR and REG.
The pass rate dipped at 1Q2011 when the new exam format kicked in, but has been steadily climbing up since. You can check out the general discussion on CPA Exam pass rate here.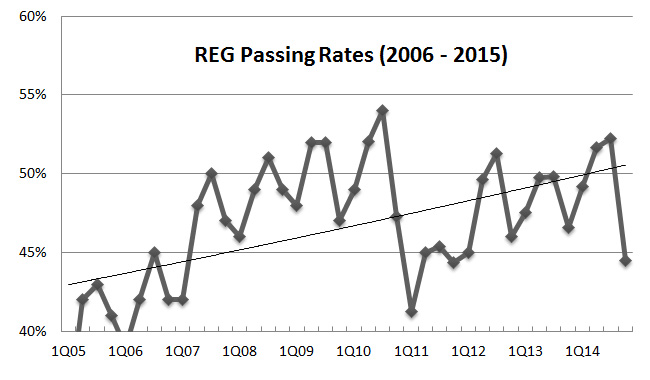 CPA REG Exam Tips
Some people really have problem with tax. I am one of them. Yes, I absolutely hate REG, but I managed to get a 84 because I hate it so much that I can't imagine having a retake.
If you feel the same, study hard and get it done with, you can do it!
1. If You are Bad at Taxation, Like Me…
It's such a pain to study for the taxation part of REG isn't it, but given it represents 60% of the test there is no way we can go away with it.
Here is my solution:
Straddle the taxation study with "lighter" topics. I personally find business law and ethics easier (note: easiER, not easy), so whenever I am done with one part of the taxation, I will "treat" myself with a section of law or ethics.
Break up the study with practice tests. It's hard for me to concentrate on something I really don't  like, so I break up the study into smaller, more manageable section by working on the practice tests.
You might get most of them wrong on your first try. Don't worry, do them again immediately so the concepts sink in, and the fact that you get more answers correct make you feel better and more energized to move on.
2. If You are Good in Taxation…
Lucky you! But the flip side for you could be business law and ethics — especially ethics. Some of my friends underestimate the ethics section and bombed the exam because of it.
I don't know why, but this is also one of those "subjective" questions that some candidates just have difficulty dealing with.
If the diagnostic tests show your weakness in this area, then the best approach for you is to work on many, many practice tests until you understand the concepts inside out. I can't think of any other way to work on this besides repeated practice. Also, don't forget to work on those you got wrong. My strategy is to do the wrong ones at least twice and make sure I understand why I did wrong. That's how I learn and improve my score steadily from low 60s at the start to 84 in the final exam.
More Tips?
General guide

Strategies for other exam sections
Get the Best Prep for Your REG Exam!

Lesson your load with these state-of-the-art learning tools: