Did you know that Japan has the largest number of CPA exam candidates after the US? Let's take a look at the typical profile of a Japanese candidate, the overall pass rate, and how to apply for the exam.
The following analysis is based on the 2013 data from NASBA. NASBA has not released any specific pass rate data for Japan since then.
Japanese CPA Exam Candidate Profile
There were 1,985 candidates applied directly from Japan in 2013. While this was the biggest pool outside of the US, the number has been decreasing every year (3-year negative growth rate of 42%). I couldn't find any write up on the decline, but I suspect the relatively low pass rate, as well as the stagnation of the Japanese economy, could be part of the reasons.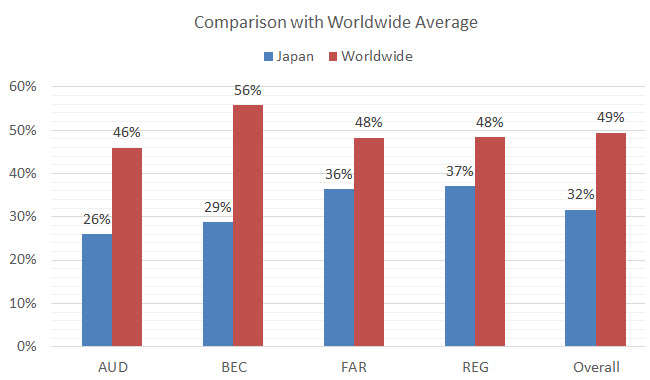 As you can see, the Japan candidates' pass rates in each exam section is considerably lower than the global average. I believe that language is the biggest reason, given most Japanese do not learn English until they reach secondary schools. There is also little interaction between Gaijin (expats) and locals, and therefore Japanese do not have much chance or need to practice their English.
Secondly, most Japanese universities offer a general degree. Almost all candidates are non-accounting majors and have to make up their accounting credit hours in various coaching classes. Their accounting knowledge may not be as solid as those who go through an accounting program for 4-5 years.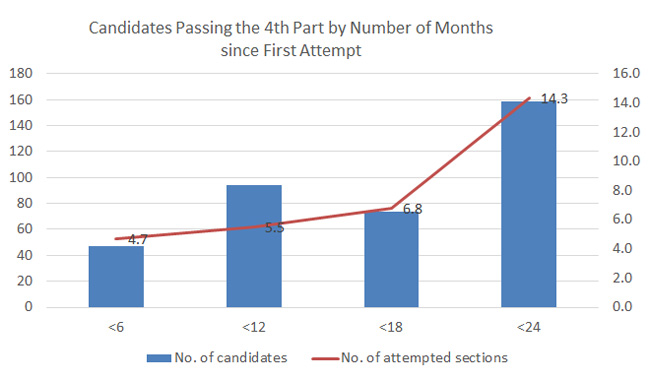 (x-axis: number of months since first attempt;
left y-axis: number of candidates; right y-axis: number of attempted sections)
For those who passed, they did comparatively well. The chart above shows that successful Japanese candidates take 12-18 months and 4-8 attempts to pass the CPA exam. If the process drags on for more than 24 months, the average number of attempts greatly increases to 14.3 times.
How to Become a CPA as a Japanese National
Japanese goes through the same procedure as the US candidates, with one extra step of getting the foreign credential evaluation. The basic requirements are:
Education: minimum 4-year bachelor degree and 150 credit hours of general higher education
Exam: taking and passing the 4-part Uniform CPA Exam
Experience: 1-2 years of verifiable and relevant experience
For details, please refer to the following page:
Taking the CPA Exam in Japan
Japan is the first country to open up exam sites for the AICPA exam. There are currently 4 sites: Tokyo (2 locations), Osaka and Yokohama.
The exam is open only to legal residents of Japan and US citizens working abroad. In other words, other international candidates (with a tourist / transit visa to Japan) will not be allowed to sit for the exam at these non-US sites.
Restrictions of Taking CPA Exam Outside of the US
Yes. There are preconditions that you must commit to when you choose to take the exam in Japan:
The candidate has to be licensed within 3 years. This means that you have to figure out how to fulfill the experience requirements before taking the exam.

Some state boards (such as California) do not participate in the international administration.
For Your Further Reading
Need Help to Figure This Out?
You are most welcome to drop me a note on Facebook! You may also want to sign up for my free e-course for more information on the CPA exam from an international candidate perspective.
Feel free to learn more about this CPA exam mini-course here before signing up.