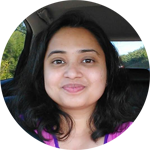 I've invited one of my special readers, Bhairavi, to share her CPA exam success story with you. She is an inspiration!
Hi, my name is Bhairavi Agnihotri, and I moved to the U.S. from India a few years ago. Prior to coming to the U.S., I practised as a Chartered Accountant (CA) for a few years, mainly in the areas of accounting and auditing.
Since the Indian CA is not recognized in the U.S., the quickest way to continue working in the accounting and auditing industry meant that I would need to get a CPA, because it opened up new roles possible avenues to change.
Overcome Obstacles One Step at a Time
Before I began my journey, I had all kinds of doubts in my mind about passing the CPA – right from where to start up to whether I would even finish all of the four exams within the prescribed 18-month period. And then there was the possible expense of multiple attempts! Not to mention that I was new to the computer-based testing format altogether.
But, as anyone would do when faced with a challenge such as the CPA, I read up on it, and chalked out a tentative plan. Some of the planning tasks were selecting a CPA review course amongst the available options, and selecting a tentative order for the four subjects based on my familiarity with topics.
Take Time to Pick a Good Review Course
I signed up for an online CPA review course so that I would be able to discipline myself, and pace my preparation. The review course helped me put myself into the familiar classroom learning environment, and split study material into short lectures.
It also offered me a platform to interact with the instructor, and other students who were preparing for the CPA like me. The comprehensive quizzes after each topic allowed me to test myself, and decide the relative time I would need to invest in each topic.
FAR
Financial Accounting and Reporting (FAR) was by far the toughest exam of all, and also my first. Passing FAR in the first attempt was a huge morale booster, and also a lesson into how I needed to create a strategy to tackle the remaining exams. If there's one thing about FAR that stands out, it is time management. In addition to learning the material, finishing all of the questions during the actual test was a challenge in itself. I scored an 81 on FAR.
BEC
Business Environment and Concepts (BEC) was the next on my list. BEC, in contrast to other subjects, had comparatively fewer topics to study. But the challenge, for me, was the nature of the questions, i.e. written communication. I would recommend a lot of practise for this subject. I gave it 3 months of prep time. I scored 78 on BEC.
AUD
The third exam on my list was Auditing. (AUD) U.S. auditing standards are similar to Indian auditing standards, and most of my work experience as a CA was in the area of auditing. These things made Auditing a relatively easier subject to prepare for, and pass. I want to stress that in order to ace the auditing exam, one needs to apply Generally Accepted Accounting Principles (GAAP). Another reason why attempting and clearing the FAR before Auditing is advantageous. I passed AUD with 98 points.
REG
The last of the exams was Regulations (REG). What separates REG from other subjects is the sheer number of rules that one needs to memorize, and recall during the exam. The subject has two parts to it – taxation and business/commercial law. Prepare to learn, revise, and re-revise lots of facts along with specifics. Flash-cards are your best friend! I passed REG with 85 points.
My Reflection
The journey was full of self-doubt, fear, and ups and downs. Fighting distractions to stay on target was what helped me pass all of the subjects at first go.
Roger's CPA review course was a tremendous help, and in hindsight, one of the best decisions I took when I started on this journey.
My friend, Stephanie, the founder of www.ipassthecpaexam.com was a constant beacon and support. I am so glad to have found Stephanie to help me navigate the way. Thank you for all of your support, Stephanie. I can't thank you enough.
I value the support that my husband gave me throughout the process, which at times, for him, meant putting up with my whining and reminding me of the light at the end of the tunnel.
Note from Stephanie
Bhairavi, *hugs* 🙂
I remember Bhairavi signing up to my newsletter back in January 2014. As you can see from her writing, she has always been so organized and prepared, and her ability to analyze a situation and solve questions one at a time amazes me. I just knew that she would pass on her first try, and she did.
Readers often ask me the tips to success. It's hard to generalize, but I hope reading stories from Bhairavi and others give you an idea what a successful candidate feels like. It's not how many hours they study. It's the proper planning, excellent execution and can-do attitude.
For Your Further Reading