Yaeger CPA Review has over 40 years of history and prides itself on the old-school teaching approach, innovative student portal, and flexible pricing. Let's see if the latest Yaeger CPA Review 2019 suits your budget and learning style. Disclosure: The I Pass Team may earn a small amount of compensation if you purchase from our links; our team uses these revenues to maintain the site and produce awesome free content just for you!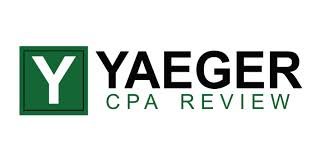 Get $200 Off
With Our Exclusive Yaeger CPA Coupon Codes!
Who Is Yaeger Anyway?

Phil Yaeger launched his CPA review course in 1977 with 13 students in Washington DC, and later on, established himself as the largest CPA review course provider in the DC metropolitan area. Since the computerization of CPA Exam in 2004, Yaeger CPA Review has been providing its online course to candidates around the world.
Despite an ambitious expansion plan, Yaeger CPA Review remains a family business with its unique old-school style teaching methods and friendly customer service.
Yaeger CPA Review Product Offering
1. Bundled Review Courses
This is the standard course available as a complete set ($1,399) or as a single-part ($399).
Video Lectures + AdaptaPASS Student Portal
104 hours of video lectures
Unlimited viewing (online version: valid for 18 months)
Yaeger instructor-authored interactive textbooks covering multiple choice questions, exam simulations, and AICPA blueprint representative tasks
Hard-copy, bound text books (digital books also included)
Built-in quizzes and questions
Daily, weekly, and monthly course calendar and management tools
Community message boards with instructors and other students support your online studies
Access to Yaeger CPA Review instructor hotline for one-on-one assistance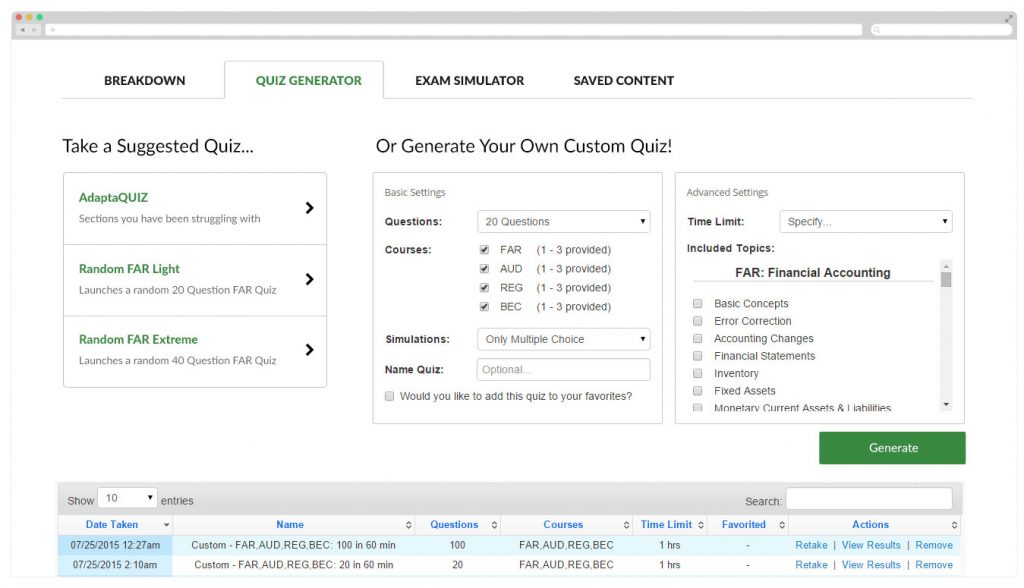 2. Yaeger At Your Pace Financing
This is a complete set with the same offering as the above, but each part will be delivered at your request (i.e. only when you are ready). This prevents you from having out-of-date materials.
3. CRAM Courses
These CRAM courses cover key concepts you will need to know. They're great when used as a final review before your exam date or as a stand-alone "short" review course.
Single parts cost $245: Delivered online (6-month access) or via USB drive (unlimited usage but $80 additional fee). CRAMs also include digital versions of the books
4. Listen-n'-Learn Audio Lectures
Complete set at $445 and single part at $125
Delivered as mp3 download
Included in comprehensive course purchase for $1,199
5. Yaeger in a Flash
Digital flashcards app at $79.99
Over 2,000 flash cards covering each subject
6. Yaeger CPA Review Quiz Generator
The team recently developed the proprietary "Yaeger Test Bank" and no longer includes the Wiley Test Bank in their review course.
AICPA-released licensed content
Over 5,000 questions delivered online
Mobile ready – tablet AND phone access
Yaeger CPA Pros and Cons
Here are 4 reasons why you should pick Yaeger:
1. Old School Approach That Works
I know "old school" doesn't sound terribly exciting, but for those who have been out of school for a while, this style of teaching really works.
We want a teacher — a real person — who talks to us and actually uses a white board to write down the calculation and explain every step. This is the Yaeger's approach, and you may be surprised to know that this seemingly conventional, down-to-earth way of teaching has become almost extinct.
In a typical CPA review live class, the instructor hands you a written explanation for the multiple-choice questions, and that's it. I guess this is the most cost-effective way to run a course for a big institution, but is it the best way to teach students?
With Yaeger CPA Review, Phil and his team of professional instructors go through each AICPA representative task and hundreds of multiple-choice questions one by one and explain why they are tricky and how you can master them. The instructors focus on mastering the core concepts and every representative task addressed in the AICPA Blueprints.
2. Concept + Tactics + Low Price = Excellent Value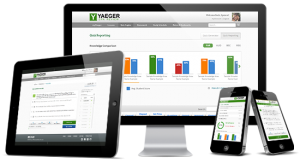 Not only are the Yaeger CPA Review instructors good at explaining the concepts tested on the exam, but they also show you how to efficiently answer the questions and
recognize the examiner's "tricks."
3. Hotline to Answer Your Questions
Live classes are not available in Yaeger CPA review, which means that access is available online or via USB. Some of you have reservations with these "e-courses" because there isn't a way to ask the instructors questions.
However, Yaeger provides a solution by offering a hotline that lets you ask questions by phone. If you don't like asking a question over the phone, you can leave a message at the AdaptaPASS Student Portal, and the instructors will respond to your questions directly.

4. Affordable Pricing
This is one of the least expensive courses on the market, and you get a lot for the low price.
5. AICPA Blueprint Integration
No other review provider has structured their 2019 review course around the AICPA
Blueprints and taught specifically to the test. Students are pleased that Yaeger has
spent the time to align their methodology with the structure of the CPA exam.
You can c
heck out the latest demos here:

Yaeger CPA Review

But Then, Yaeger CPA Review Has Its Limitations
Here are 4 reasons why you may not like it:
1. Do You Actually Like Old-Style Teaching?
Not everyone likes the old-school style of teaching in the first place. So this could be a negative depending on your learning style.
Along the same lines, the lectures aren't as entertaining as, say, those found in Roger CPA Review. There are times when we want to doze off even though the stuff is important — this happens especially in AUD and REG for many candidates.
Dr. Yaeger is probably the most "old-school" and is generally liked by students, but I have readers who find him "monotone" and repetitive and believe he has too many pet phrases ("ok?"), which some may find a bit annoying. But if he helps us pass the exam in one go, this shouldn't be an issue.
Gary who teaches AUD sounds like a classic accounting professor from school. You know what I mean. A few readers also commented that he tends to skip over some sections, so they need to get supplementary materials (Gleim test prep software, in most cases) to make up for it.
In short, do check out the free trial on the Yaeger's CPA Review site and see if you are a good fit for the style.
2. No Free Unlimited Updates or Guarantees
Yaeger provides free or discounted updates. Updates are free within the 18-month access window from the date of purchase. At the same time, review courses such as Gleim offer a money-back guarantee, which Yaeger CPA does not provide.
Summary of What Yaeger Offers
Strengths
Limitations

40+ years of history + old-school approach
Content that mirrors the AICPA Blueprints
Instructor hotline available
Competitive pricing

Old-school approach (if you don't like it)
Long videos (very thorough but could be boring)
No free unlimited updates: after 18 months, access expires / extensions available by request
Don't Forget the Yaeger CPA Discount!
If you like Yaeger, use the Yaeger discount code below that is exclusively for my readers!