In this evaluation, we focus on the Wiley CPA test bank.
Wiley CPA Review (Test Bank) Video Walk through
Let's see how exactly the Wiley CPA test bank looks like and works here:
The Pros
1. Gives You Enough Varieties of Questions To Pass
Many readers asked about test prep comparison, especially Becker vs Wiley. It's hard to pick because it depends on one's budget, background and learning style.
But then, if I have to compare, Becker test prep software tends to reinforce key concepts covered in their own lecture notes, while Wiley offers more variety with more obscure questions.
In fact, Becker students who really want to pass the exam on their first try often get the Wiley CPA test bank as supplement. Few people do it the other way around, because getting Becker as supplement would be too expensive.
2. Application Replicates Real Exam Experience — At Lower Price

The application looks very much like the one you will see in the real exam. Given the exam is 100%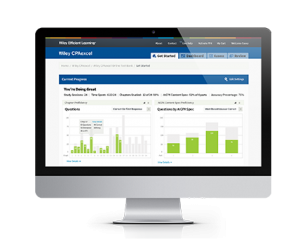 computerized, I believe it is a must to get a lot of practice on screen vs using pencil and paper.
Other providers have software that look pretty much like the real thing too, but you save money by getting the most affordable one from Wiley.
3. Available For Immediate Access

Once you place an order, a PIN (a chain of random letters and alphabets) will be emailed to you immediately and you can copy-and-paste the PIN to activate the account.
This is much better than the old CD-ROM format with the delivery time and installation.
4. Flexible Customization — Less Stressful and More Productive
For every study session, the application lets you pick everything from the subtopics to the number of multiple-choice and simulation questions. As long as you are disciplined enough to go through all the topics yourself, it could be a more flexible and less stressful (thus more productive) process for you.
5. Regular Updates Without Extra Cost and Hassle
The questions are automatically updated on a regular basis. Errors are corrected promptly online.
We no longer need to wait for the new version to come out, because the online version is constantly kept up to date.
6. Online Reporting and Analysis to Keep Track of Your Progress
The latest version comes with a lot more features such as view by subjects, by raw score or by percentages, and a number of customization features.
The Cons
Nothing is perfect. It's important to identify the limitations of the Test Bank:
1. No Money-Back Guarantee
A number of other providers have some sort of money-back guarantees. Wiley has none. While this is a limitation, most people don't seem to mind given it is an affordable investment compared to others.
2. Copying-And-Pasting Not Allowed Onscreen
If you are trying to copy the questions onscreen and paste in a Word document, it cannot be done. This creates some inconvenience if you want to show a particular question to a professor or if you want to keep the question for later reference.
Solution: use "print-screen" function on your computer.
3. Online Subscription Version Does NOT Work Offline
Previous versions allow users to download the test bank to their computers. The latest version no longer allows us. If you do not have a stable internet connection, you may want to get the CD-ROM version instead. (Update: CD-ROM version is no longer available)
Summary of What Wiley CPA Review Test Bank Offers
Strengths
Limitations

Best-selling CPA exam test prep
Wide variety of practice questions
Regular and automatic updates
Performance tracking
Affordable pricing

Text books sold separately
No refund and money-back guarantee
Special Offer for My Readers!
You can get the Test Bank at the official Wiley website, but if you buy it here you can get a good discount. (I just choose to profit less 🙂 The product and customer support is exactly the same)
Please note: This is NOT the review book but the Test Bank i.e. the online practice questions. No physical product will be shipped. To get the Wiley CPA exam review books please click here.
Most Common Questions from Customers
1. you mentioned the 2017 version but image is showing 2016. Which version will I be getting?
You will always get the latest version. Specifically, you will be given access to whatever Wiley is offering at this time, which of course will be their latest version. It's 2017 because the 2016 testing window has ended.
I know the images are confusing —  will update as soon as I get them from Wiley.
2. I just purchased the test bank and realized that it didn't fit my learning style. I activated the PIN to take a look but didn't touch any question. Can I get my money back?
No, I am afraid not. As soon as you activate the PIN, I pay Wiley on your behalf. They don't make any refund and therefore I cannot do so to you. Even if you don't activate the PIN, I cannot offer a refund because there is no way to prove that you didn't pass the PIN to others.
Please understand this is a strict no-refund policy. That's why I created a video walk-through so you can see  what you will be getting from the test bank.
3. I found another place selling the same PIN at a lower price. Can I cancel my order?
No, and same reason above. I don't have a lowest-price guarantee. Instead, I offer a generally attractive discount. Please check and compare the price, but do so before buying from me 🙂

4. I just paid… when will you send me the PIN?
The PIN will be sent automatically and immediately upon payment, via the email registered in your Paypal account. If you don't get the email, this is the most common reason:
Your Paypal email is not the one you normally use; or
The email drops in the spam folder
Please check accordingly. If still can't find it, shoot me an email and I will fix it for you.
5. I purchased the PIN before things happened and I have to postpone the exam until 2 years later. Will the PIN get expired?
It never expires as long as you do NOT activate it. Once activated you have 12 month of access.
6. The end of year is approaching and I suspect there is a newer version of the test bank. How is it updated, and when?
The test bank is automatically updated online on a regular basis. You don't need to worry about the calendar year cut-off for newer versions.
Sounds Good. I am Ready to Order!
In appreciation of your support, I am giving away this exclusive strategy for multiple choice questions, based on the latest research by William Poundstone. These tips will be sent to you together with the Wiley PIN.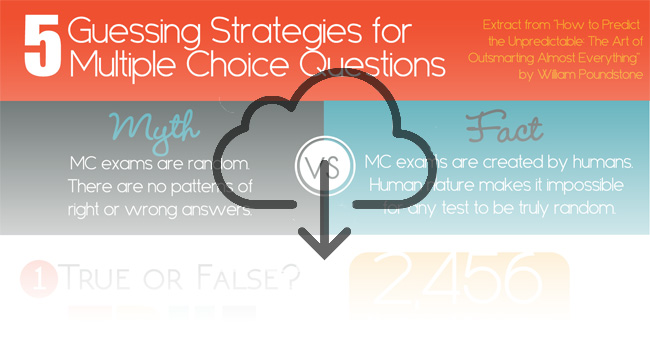 (Yup, no free download. This is available only to my Wiley CPA test bank customers)