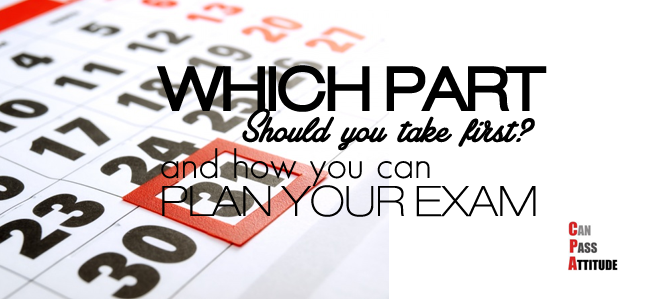 A proper planning of your CPA exam schedule and testing dates will make your life much easier, and greatly increase your chance to pass the CPA exam.
I am going to walk you through my recommended CPA exam schedule and explain the reasoning behind it.
Here is additional information in text format.
Did You Know…
The passing rate of the CPA exam has been increasing. In 2003, the average passing rate of CPA exam was 43%. 11 years later, in 2014, it jumped to 49.7%.
One of the reasons is that the computerized exam has allowed CPA candidates the flexibility to take the exam almost anytime during the year.
Then and Now

Prior to 2004, when the CPA exam was still in the pen-and-paper format, the exam was held in specific dates twice a year. Candidates had no choice but to take multiple sections if they wanted to complete the exam within a year.
With the computerized format, CPA candidates can work around their own schedules and take the CPA exam one at a time within the 18-month window.
How to Design Your CPA Exam Schedule
It depends largely on your work and family commitment. In general, I recommend taking the 4 parts one at a time, because:
You can focus 100% on one part of the exam.
You tend to do better after getting some exam-taking experience.
The CPA exam fee is the same anyway you take it (so why together and torture yourself?)
The Strategy
Follow these 3 simple rules and plan your CPA success!
1. Plan Ahead. Pick the Dates
Even out your CPA exam schedule. Avoid any possible crashes with important events in your (and your family's) life, such as wedding, having a baby, and anticipated career change.
2. Aim to Complete within 12 Months
For most candidates, this is doable as long as you put in sufficient time and effort. Once you complete one part, you will only have 18 months to pass the rest of the exam or risk retaking the sections you have completed.
In other words, as soon as you pass the first part of the exam, the 18-month clock begins to tick.
I recommend spreading the 4 CPA exams somewhat evenly within 12 months instead of the full 18 months. You can shorten the ordeal, and you can build in some buffer in case of retakes, or  postponements due to unexpected circumstances in life.
3. Take the Toughest CPA Sections First
Some people may disagree with this CPA exam schedule strategy, but I prefer getting rid of the toughest beast first, because:
Your energy level and ability to focus is the highest at the beginning of the year-long study.
It feels so much better to have tackled the toughest part. This is the best motivation you can ever have to get done with the exam.
Along this line, I recommend taking FAR first because:
FAR is the longest, but not necessarily the most difficult if you know accounting.
The exam questions are similar to the accounting coursework you have in school so you should take it when memory is still fresh.
Take AUD after FAR

AUD is closely related to FAR. It makes sense to take the two parts closely together.
Having said that, if you just started your work at an audit firm, you may consider taking AUD last. There will be so much you can pick up on the job that you can expect yourself to do much better if you take AUD a few months later.
REG vs BEC? Depends on Your Expertise

I find REG the most difficult myself (maybe I'm really not interested in the topic) so I also wanted to get it out of the way early.
BEC is the shortest and easiest CPA exam in my opinion, and as far as I know most CPA candidates agree with me (BEC can be tricky though, but it's another topic). Since you must be sick of all the studying by then, you will appreciate the decision of saving the easiest one at the end of your CPA exam journey.
One Last Note
Don't blindly stick with my suggested CPA exam schedule. If you are a tax accountant you might find REG the easiest, and FAR the most difficult. It depends on your background, and you should adjust your own CPA exam schedule accordingly.
As long as you put in your thoughts and plan ahead, you will be able to optimize your time and energy to tackle this efficiently and effectively.
Two Different CPA Exam Schedules from My Bloggers
To give you an example, Travis and Sumit have different views on how they plan the exam sections:
For Your Further Reading