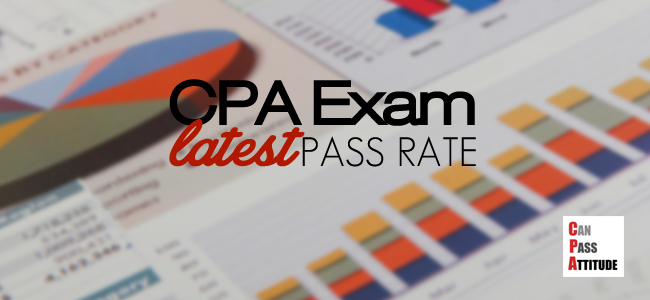 Still waiting for 2016 full year's results. The overall 2015 CPA exam pass rate was 49.9%, a tad higher than the 49.7% in 2014. It has been hovering around 50% for many years.
CPA Exam Pass Rate 2016: Latest Stat
| | | | | |
| --- | --- | --- | --- | --- |
| | FAR | AUD | REG | BEC |
| Q1 (2015) | 44.1% |  44.6% |  48.0% |  53.4% |
| Q2 | 48.9% |  49,2% |  51.0% |  57.6% |
| Q3 | 50.4% |  48.2% |  51.3% |  59.2% |
| Q4 |  42.8% |  46.7% |  47.2% |  55.0% |
| Year | 46.8% |  47.3% |  49.4% |  56.5% |
| Q1 (2016) | 44.7% | 44.9% | 47.6% | 55.4% |
| Q2 | 45.6% | 48.7% | 50.0% | 56.3% |
| Q3 | 48.1% | 45.3% | 50.2% | 57.6% |
2015 CPA Exam Pass Rate vs Previous Performance
2 of the 4 exam sections enjoyed increase in pass rates this year, with BEC again running way ahead of the pack. REG stayed pretty much the same, and FAR was off from last year.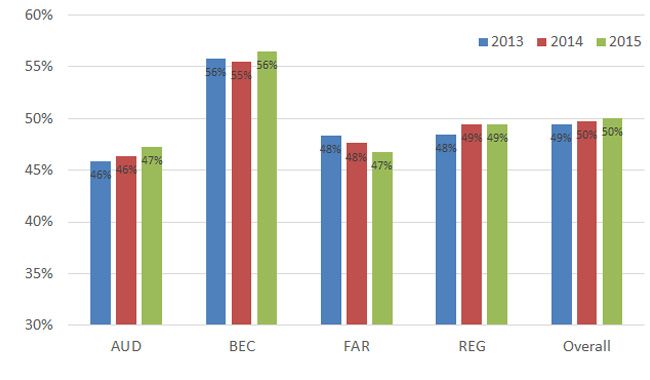 Source: AICPA website
Let's look at the longer historical trend by exam sections.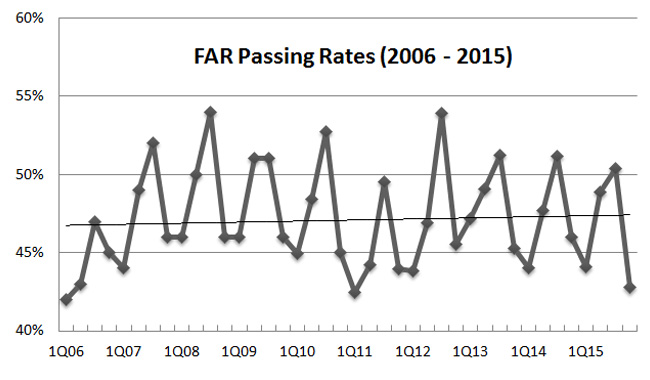 FAR pass rate has stabilized at around 48% with repetitive seasonal trend (discussed below).
Most candidates find FAR the toughest, not because the questions are the most difficult, but the scope is the widest. Candidates spend more time preparing for FAR, and therefore, the pass rate is usually better than what people would expect.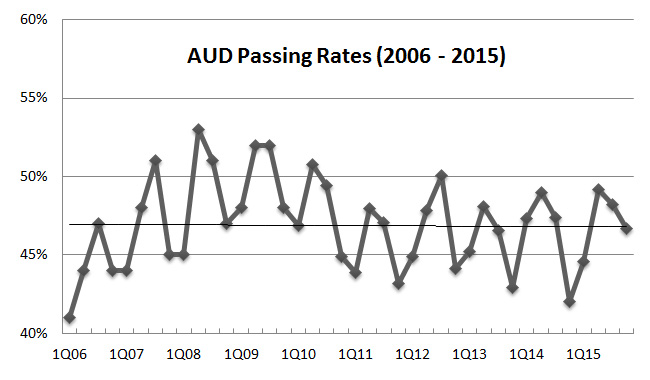 AUD pass rate used o have the lowest among the 4 parts, but this year it has caught up with FAR at 47.3%. AUD used to have the highest or second highest passing rates back in 2008 to 2010. Performance has dropped since the new 2011 format was introduced.
AUD looks relatively straightforward, but people often caught off-guarded by the vagueness of the questions — there is often more than one correct answers, and you have to pick the best answer. This has made the exam a lot more difficult.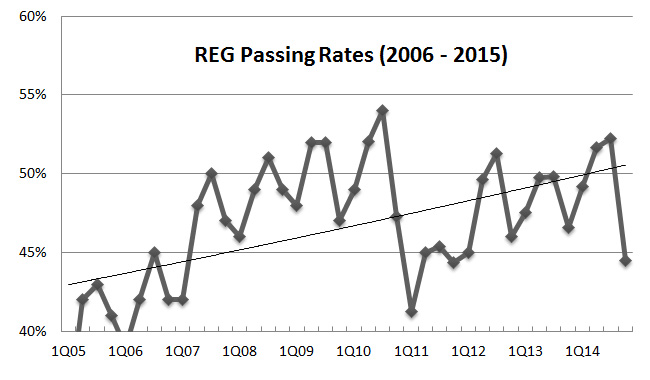 After a big drop in REG pass rate in 2011, it has steadily climbed back to the historical level at 48%. 2014 and 2015 REG pass rate was a pleasant surprise at 49%, reaching 51% in 2Q and 3Q of 2015.
REG has a very similar case to FAR in that many candidates find it difficult and so they spend a lot of time preparing for it. FAR and REG pass rates are strikingly similar in the past few years.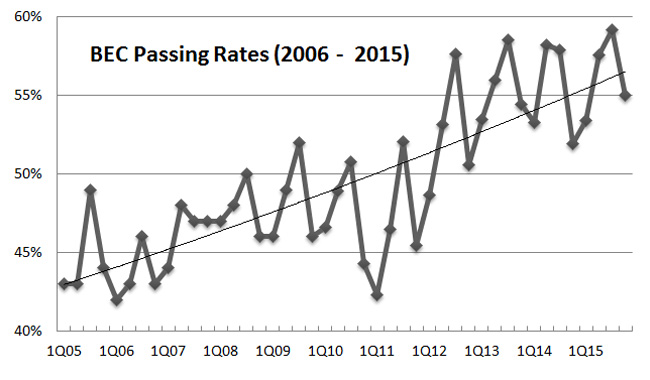 BEC continues to enjoy the highest pass rate and achieved 56.5% in 2015, an all-time high. BEC is the least technical part of the exam, and the lack of task-based simulations might help explain the relatively good performance.
Other Statistics
The new NASBA report provides data by major countries. Click on the buttons below for CPA exam pass rates by part, by age and performance in sims and written communications:
Did You Notice the Seasonal Trend?

The passing rate is highest in 3Q, and lowest in the 1Q and 4Q. Why?
I can't imagine that the AICPA is making things easier for 3Q exams. The trend is possibly due to the fact that candidates are generally less busy during the summer days, either it is a summer break for those who are at school, or a slower season for audit, tax and in financial industry.
Similar argument is valid for the January-February testing window when junior auditors are busy for the December fiscal year-end audits and taxation work. Explanation on 4Q performance is less certain… holiday mood? Winter blues?
Should I Time My Exam based on these Pass Rate Trends?
I don't think so. While the difference between the highest and lowest quarters are statistically significant (~5%), you simply can't take the exam only in the summer given the 18-month limitation. But it does show that when people have more time and commitment to study, the pass rate is higher.
How to Increase Your Own CPA Exam Pass Rate
In the Upcoming Exam
The best way to achieve this goal is to pick a review course that suits your background, schedule and learning style. Did you know that some of these courses boast a CPA exam pass rate of 88%, almost double the national average? You can find a summary of the pros and cons of the major CPA review courses here (our most visited page on this site).
In your Next Attempt
If you just got the news of failing the exam, don't be despair — as you see, pass rates are low. There are actionable steps that you can take to greatly increase the odds of passing.
I'll Help You Plan, Study and Pass!
I know the passing rate doesn't sound encouraging, but every year thousands of candidates continue to pass the exam, some of those in one go. The CPA exam is doable, and I am more than happy to help you along the way.
Check out my list of Frequently Asked Questions, or sign up to my free mini-course: