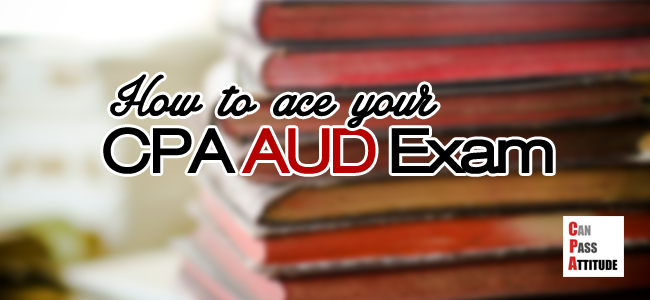 This [Auditing and Attestation] section covers knowledge of auditing procedures, generally accepted auditing standards and other standards related to attest engagements, and the skills needed to apply that knowledge." — CPA Exam Candidate Bulletin
CPA AUD Exam Topic Areas
Simply put, to pass this exam, you need a working knowledge on the procedure of the audit. Here is a summary on what's covered in the exam:
| | |
| --- | --- |
| 1. Engagement acceptance and understanding the assignment | 12-16% |
| 2. Understanding the entity and its environment | 16-20% |
| 3. Performing audit procedures and Evaluating Evidence | 16-20% |
| 4. Evaluating audit findings, communications, and reporting | 16-20% |
| 5. Accounting and review services engagements | 12-16% |
| 6. Professional responsibilities | 16-20% |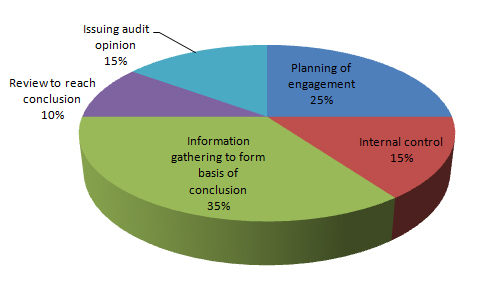 I have never been an auditor, but I worked closely with a team of auditors from KPMG and PWC on the audit of my company every year.
From looking at what they do, auditors, no matter how junior they are, have distinct advantage on this exam because this is exactly what they are supposed to do.
Having said that, non-auditors like me can pass the CPA AUD exam if you are willing to put in the extra work and practice.
Format of the CPA AUD Exam
The CPA AUD exam is one of the longest exam sections with 4 hours. The format includes 3 "testlets" (groups of 30 multiple-choice questions) and 1 testlet of 7 simulation questions. Similar to other sections this is a computerized test and you have to sit for the exam in one of the assigned prometric centers.
Beginning April 1, 2017, there will instead be 2 testlets of 36 multiple choices each (total of 72 questions), together with 3 testlets of task-based simulations. The score weighting of multiple choice and TBS is 50/50. You will still have 4 hours to take this exam, with an optional 15-minute break in between.
Historical Exam Pass Rate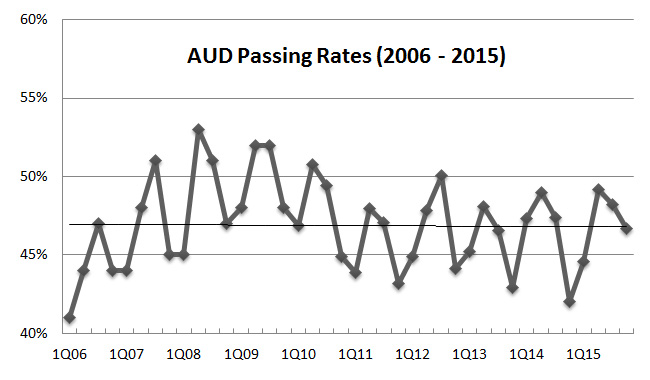 The CPA exam pass rate for the AUD section is similar to that of the rest: it hovers around 47% in recent years. It is encouraging to note that the CPA exam pass rate has been steadily increasing over the years. I attempt to explain the trend in my CPA exam pass rate page.
Should I Take the CPA AUD Exam First or Last?
My general advice is to take the most difficult exam. Everyone has a different opinion on the relative difficulty, but in general, people believe FAR is the toughest. I also recommend CPA candidates to tackle FAR first if possible.
FAR vs AUD…
If you are contemplating whether to take FAR or AUD first, please note that there are a lot of references of FAR in the AUD. Similar financial ratios are tested and you may see a financial accounting simulation questions in AUD.
Another reason to take FAR first in my opinion!
And I am going to tell you how to do it in the tips below.
But Isn't AUD The Toughest?
AUD is long, but I don' think it is the most difficult as long as:
You are relatively good with memorization
You work on enough practice questions to avoid the "tricks" commonly appear in AUD questions
You are willing to put in adequate time to prepare for the exam.
CPA AUD Exam Tips in 2017
AUD is a memorization-heavy exam. If you are an auditor, you are familiar with the procedure and have little problem; but if you are not, you just have to memorize all the steps and the procedure. Here are the tips.
1. Memorize the Audit Opinion
Some believe it is not necessary to memorize the whole thing, but everyone agrees that you have to remember the important points of the audit report, e.g. which specific sentence should appear in which audit opinion, and where in the paragraphs (yes, it gets THAT specific). For me, I find it much easier by simply memorizing the report — the unqualified opinion in particular.
Why? The audit opinion is like a "cheat sheet" for your entire AUD section. When you think about it, the conclusion of the whole audit process is summarized in the audit opinion. Every sentence in the audit opinion exist for a reason, and the CPA exam will ask you all these reasons in the rest of the AUD examination.
And yes, you are supposed to remember where a particular sentence appears in which audit report and which paragraph, you might as well memorize the whole thing and walk yourself through the page in your mind when the MC questions come up.
How to Memorize the Audit Opinion
What I did is to separate the audit report into several sections — and it is quite clear why the wordings have to be there if you put in the effort to understand the reasons behind the audit report.
Then, hand copy the entire thing a few times — read it loud as you copy will help — and you will remember it after a few times. Thankfully, it's not rocket science to memorize this sort of stuff. Practice makes perfect!
How about the Qualified Opinion?
Then, for the different versions of qualified opinions, I would just create different "stories", or scenarios in my mind on "what went wrong" — which helps me in remembering the wording of the qualified opinions.
2. Get Familiar with Internal Control
Ever since the sensational corporate failures, there has been a big emphasis on internal control everywhere, including the CPA exam. From exam taking perspective, internal control isn't that bad because at least it's something you can relate to everyday life, and you usually get it right by common sense.
You may notice that internal control represents only 12-16% of the AUD section. But similar concepts pop up (e.g. how weak internal control will affect the conclusion of your audit findings) throughout the exam so it is a very important concept to know it by heart.
My strategy is to do as many as practice tests on this topic so you are well covered in all scenarios within internal control. Most importantly, redo the wrong ones (twice at least) so the right concepts sink in, and for you to build up the "internal control" intuition.
3. How to Deal With the "Subjective" Answers
Another possible tricky part of CPA AUD exam is that, well, the answers can be subjective. It's not like a calculation where you can get a black-or-white answer. Instead, you may get 2-3 answers that look kind of correct.
You've got to choose the one that's the MOST correct, but how?
Beware of those who absolute negatives. For example, answers that use "all", "never" could be a clue that it can be wrong, because in many cases things often can't be "all wrong" in real life.
This is another reason why you should get memorize the audit opinions and so on, because remember one correct aspect of the process is not enough. We've got to identify all of them.
My Recommendations and Tips
Visualize what auditors do in real life. Some people think AUD is easy while others insist it's impossible. I think the difference is whether you can really understand what an auditor does.
My suggestion for you is to find an auditor (a friend, a college alum… or contact the Society of Your State's CPA for help) and ask them to walk you through what they do in terms of the audit process. It may be helpful if you can print out the audit process from this website and work from here. I can almost guarantee you that things start to click once you know what they do, how they do it, and why.
Remember: the core audit process — information gathering to form basis of conclusion — constitutes 32-38% of the CPA AUD exam. While it is all common sense you can't afford NOT understanding the specific procedures.
If you aren't good at memorization, you might find it helpful to write down the most important mnemonics on paper before you start the exam. Obviously you can't do this for more than a couple of minutes — but if you struggle to memorize the steps of the audit report you might find it helpful.
More Tips?
Strategies for other exam sections
Get the Best Prep for Your AUD Exam!

Lesson your load with these state-of-the-art learning tools: