We continue the analysis of candidate and pass rate trends by country. Today, we cover Egypt using the 2013 candidate data from NASBA. This page will be updated as soon as the 2015 data is available.
Profile of an Aspiring US CPA in Egypt
There were 298 candidates applied directly from Egypt, the country with the third most applications in the Middle East.
Among these candidates, 58% took the exam for the first time and they had an overall 45% pass rate, vs the retakers' pass rate at 37%. The overall pass rate was 41%.
Pass Rates by Exam Section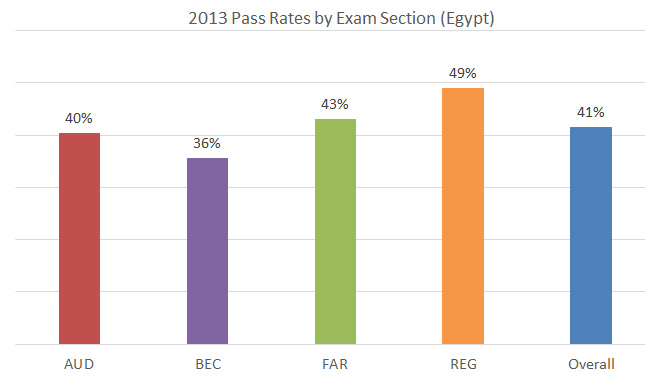 Egyptian candidates did the best in REG and the worst in BEC. I find this data quite surprising, because I would have thought the REG is the toughest subject for international candidates, given they have no prior knowledge in US taxation.
BEC's lackluster result is expected because written communication is usually a difficult part for those outside of the US, especially for Middle Eastern candidates.

When compared to the global average, REG scored even better. AUD and FAR were not bad at all. So candidates should focus on BEC. We have this covered at the end of this post.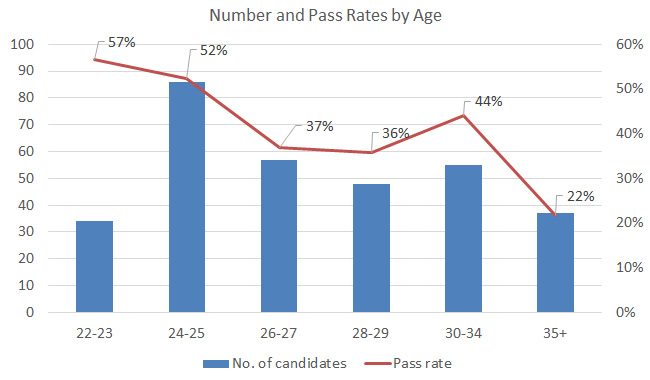 (x-axis: age in terms of number of years; y-axis: number of candidates)
This chart shows the pass rates by age. We can find candidates from a wide range of age groups, and pass rates decline as candidates' age increases. This is the same trend as most countries around the world, but the drop is more drastic.
There could be several reasons, for example, the fresh graduates are able to retain much of the theoretical accounting concepts, and they are more likely to perform well in stressful testing situations.
As they become older, there are more commitments in work and family, and their ability to retain and memorize new concepts decline with age.

(x-axis: number of months since first attempt;
left y-axis: number of candidates; right y-axis: number of attempted sections)
In Egypt, most candidates are either able to pass the 4th part (i.e. complete the exam) between the 12-18 month window, or after 24 months. The average number of attempts increases as the clock clicks.
Overall, Egyptian candidates took 6.2 attempts in order to pass the 4 parts of the exam, which is similar to the global average.
FAR Performance by Content Area
We don't have a "pass rate" by content area, but NASBA shows the data us the percentage of "comparable" or "stronger" in each category in the score reports. This is a pretty good indication of how well the candidates have done.

| | | |
| --- | --- | --- |
| Content Area |  Stands for: | Weighting |
|  Frm Std |  Framework and standards |  17-23% |
|  Fin Sta |  Financial statement accounts |  27-33% |
|  Spc Trn |  Specific transactions / events |  27-33% |
|  Govt |  Governmental accounting |  8-12% |
|  NFP |  Not-for-profit accounting |  8-12% |
Egyptian candidates scored pretty well in FAR multiple choice — in terms of content area, they outperformed global average in every category. So why lower pass rate?
The culprit is task-based simulations. 42% of Egyptian scored comparable or stronger, vs 50% of the global average. Since sims represents 40% of the total exam (and more in the upcoming new format in 2017), candidates should work extra hard on this.
AUD Performance

| | | |
| --- | --- | --- |
| Content Area |  Stands for: | Weighting |
|  Un Eng |  Understanding the engagement | 12-16% |
|  Un Ent |  Understanding the entity | 16-20% |
|  Pro Evi |  Procedure and evidence | 16-20% |
|  Evi Rpt |  Evaluation and reporting | 16-20% |
|  Acct Rev |  Accounting and review services | 12-16% |
|  Pro Res |  Professional responsibilities | 16-20% |
For AUD, Egyptian candidates slightly under-performed the global average in most areas. Exceptions include Accounting and Review Services (Egyptians did much better), and Professional Responsibilities (Egyptians did considerably worse).
Professional Responsibilities shouldn't be a difficult subject as long as candidates realize this is their generally weaker area.
Similar to FAR sims, AUD sims is also an important area for improvement.
REG Performance
| | | |
| --- | --- | --- |
| Content Area |  Stands for: | Weighting |
| Eth Leg |  Ethics and legal responsibilities | 15-19% |
| Bus Law |  Business law | 17-21% |
| Fed Tx |  Federal tax process | 11-15% |
| Tx Pro |  Taxation on property transactions |  12-16% |
| Tx Ind |  Taxation on individuals | 13-19% |
| Tx Ent |  Taxation on entities | 18-24% |
As mentioned above, REG results were surprisingly good. One possible reason is that the US taxation course is required for these candidates to fulfill the CPA exam requirements. They did well after proper studying.
The only area to work on, again, is task-based simulations.
BEC Performance
| | | |
| --- | --- | --- |
| Content Area |  Stands for: | Weighting |
| Crp Gov |  Corporate governance | 16-20% |
| Eco Con |  Economics concepts and analysis | 16-20% |
| Fin Mgt |  Financial management |  19-23% |
| Info Sys |  Information systems |  15-19% |
| Str Plan |  Strategic planning | 10-14% |
| Op Mgt |  Operations management | 12-16% |
Egyptian candidates scored relatively lower in Information System, and to a lesser extent, Corporate Governance.
For Information System, it covers a very broad topic with many obscure technical terms. The idea is not to memorize all those but to try imagine yourself in the IS staff's situation and how this person uses IT for audit and accounting purposes.
Not surprisingly, the written communication is the deadliest spot of the CPA exam (27% vs the global average of 70%). You can find my tips page right below.
For Your Further Reading
Data Source