Yaeger CPA Review has, in my opinion, the one of the best value for money among the CPA exam review courses.
 Get Up to $225 Off
With Our Coupon Codes!
Who's Yaeger Anyway?

Phil Yaeger launched his CPA review course in 1977 (probably earlier than many of you were born!) with 13 students in Washington DC, and later on established himself as the largest CPA review course provider in the DC metropolitan area. Since the CPA Exam turned computerized in 2004, Yaeger CPA Review has been able to provide its homestudy DVD course via the internet to candidates around the world.
Despite the ambitious expansion plan, Yaeger CPA Review remains a family business with its unique old-school style and excellent customer service, which is refreshing given the CPA review market is dominated by big, established institutions like Becker.
Why Yaeger CPA Deserves My Recommendation
I am going to give you 5 reasons why you should consider Yaeger as your CPA review of choice:
1. Old School Approach That Works
I know it doesn't sound terribly exciting on the term "old school", but in the case of CPA exam preparation, this style of teaching really works.
In my opinion, you really can't explain accounting with flashy powerpoint and have a voice reading back what's written on the slides. Instead, we want a teacher — a real person — who talks to us and actually uses a white board to write down the calculation and explain every step. This is the Yaeger's approach, and you may be surprised to know that this seemingly conventional, down-to-earth way of teaching has become almost extinct.
These days, a typical CPA review course (even live classes) tend to hand you a written explanation for the multiple choice questions and that's it. I guess this is the most cost-effective way to run a course for a big institution, but is it the best way to teach students?
In Yaeger CPA Review, Phil and his team of professional instructors go through hundreds of multiple choice questions one by one, and explain why they are tricky and how you can master them.
2. Concept + Tactics = 88% Pass Rate
Not only the Yaeger CPA instructors (Phil, Cindy, Gary) are good at explaining the concepts, they guide you how to put yourself in the shoe of the examiners so you'll know exactly what they want to test you (or trick you). My favorite is Cindy Simpson who has especially gifted in explaining tough areas e.g. cost accounting and the fact that she enjoys sharing all her "tricks" with us.
No wonder Yaeger CPA first-time students are able to achieve an overall 88% pass rate — when you think about it, this means almost 9 out of 10 of these students manage to pass the CPA exam on their first attempt. Isn't it amazing, considering the overall CPA exam pass rate is only 49%?
3. Biggest Problem Of e-Course… Solved
Live classes are not available in Yaeger CPA review, which means that you can only get a set of DVD for homestudy. I understand that a considerable number of candidates have reservations on these "e-courses" because there isn't a way for them to ask questions.
Rest assured that Yaeger has solved this problem by providing the best customer service among the industry — upon signing up, they will give you a "hotline" where you can ask question by phone, even after business hours.
If you don't believe me, please go to Yaeger CPA's website, get the phone number on the front page and give them a call. Chances are that it will be Dr. Yaeger who picks up the phone!
In a way, the fact that Dr. Yaeger and his team prerecorded the lectures allows him to solely put his energy in answering questions and uphold the amazing customer service that Yaeger is so proud of.
4. Simple And Generous Offer
Yaeger CPA is offering 100 hours on instruction with unlimited viewing. No more annoying restriction on access and viewing limits. That's another good thing about a well-run family business.
5. Unbeatable Price!
With all the wonderful things about Yaeger… would it cost a fortune? No way! Well, CPA review courses are never cheap, but the course is much more reasonable than its bigger competitors.
Believe it or not: Yeager CPA is a whopping 42% discount to the Becker course.
Latest YouTube From Yaeger CPA
This is extracted from the actual Yaeger CPA self-study course to be delivered in 2012.
Sample 1: FAR
FAR's instructor is Cindy Simpson. You can see how she goes through one of those dreaded simulations:
Sample 2: REG
Phil Yaeger himself teaches REG. Let's look at his teaching style:
I have done my part…
Now it's

Your Turn

to check out more demos at

Yaeger CPA Review!
OK. It Can't Be THAT Good. Tell Me What's Bad About Yaeger CPA
Every CPA review course has its strengths and weaknesses — it might not be related to the design of the course; it's just that the course may not fit your background and learning style.
1. Do You Like Old-Style Teaching At All?
Well, I suppose not everyone likes the old-school style of teaching in the first place no matter how effective it is. So this is one negative.
Along the line, the lectures aren't as entertaining as, say, Roger CPA Review (but Roger is really unique). There are times when we want to dose off even though the stuff is important — this happens especially in AUD for many candidates.
Also, on individual lecturers, Cindy Simpson gets 100% positive review from my readers, who is considered smart, clear, and has a good sense of humor. She is the principal lecturer in FAR.
Dr. Yaeger is probably the most "old-school" and is generally liked by students, but I have readers who find him "monotone", repetitive and have some pet phrases ("like") which he finds a bit annoying. But he passed the exam in one go, so no complains…
For Gary who teaches AUD, he sounds like a classic accounting professor at school. You know what I mean. A few readers also commented that he tends to skip over some sections and they need to get supplementary materials (Gleim test prep software in her case) to make up for it.
In short, please do check out the sample video above as well as those on Yaeger's CPA site and see if you are ok with the style.
2. Limitation Of A Family Business
I'll give you two examples:
On a webcast I watched about the CPA exam changes update, they misspelled the official CPA exam website (missing the dash in cpa-exam.org). They did notice the mistake, but the guy simply apologized in the video and noted the correction verbally. I can't image other CPA review course providers will let it go live without re-taping.
I remember watching a video with Dr. Yaeger teaching a course section and somewhere in the middle he was talking to his wife (or vice versa, forgot the details). I find it hilarious but I can see some candidates find it annoying.
Update (Sep 2013): I have to say their videos are getting better and better each year. I noticed their Youtube videos, now in HD, are much clearer and professionally made. I almost wanted to take out the points above but just to give readers a more comprehensive review I will leave the points for your reference for now.
3. Not That User Friendly
This is a comment from one of my readers:
I spent more time trying to figure out the handouts more than I should have. The modules are out of order. It would be nice to be able go straight through without going to different sections of the book for each module. They could have at least put it in order with page number. The inconsistent format on the "questions to do" page. Skipped modules on the table of contents and (missing 10,18,19, etc) don't know why it starts at 7 either.

I may get a reason for the above once I start watching the dvds but I must say, ive already sent to much time trying to figure out the handouts.
Again, I can accept this as long as Yaeger CPA saves me $1,500 from a typical Becker purchase, but this is something you may want to consider.
4. A Note On Customer Service…
While Yaeger is supposedly excel in customer service, I did get two comments from readers about the customer service lady being "bad tempered".
After further inquiry and testing on my part, it looks like the lady in question is the one you deal with before you sign up to their course.
But if we are talking about the "after-sales" customer service when you have a question for the lecturer for example, this remains to be pretty good — many praises and no negative comments so far from my readers.
But Can I Just Get Wiley? I Heard The Software CD Is Excellent
I agree Wiley software is great. In fact, Yaeger agrees as well and that 's why Yaeger CPA Review is using Wiley's books and software as their teaching material.
This is another area I like about Yaeger, that he doesn't try to profit from everything; instead, he is willing to pick the best material out there so he can focus on what he does best — to teach and to answer students' questions and help them pass the CPA exam.
Trust me — Wiley is good but is even better if you have Yaeger going through the book and practice questions with you. In short, no worries as you will be using Wiley, and the cost of the book and software is already included in the Homestudy DVD pack.
Should Retakers Get Yaeger?
If you are only 5-10 points away from the passing score, then you can consider getting only the CRAM course which Yaeger claims to be sufficient for you to pass the exam. Please note however that the CRAM course does not come with the "student hotline".
"I used the Yaeger AUD Cram and it helped add 13 points to my score !!! I had failed with a 70 when I used Becker. Then I purchased the Wiley book with the Yaeger Cram and got an 83 !! Thank you! I'll definitely buy the Cram for my last two sections."

~ Mona Mody
For Limited Time Only…
Coupon codes exclusively for IPassTheCPAexam.com readers/visitors!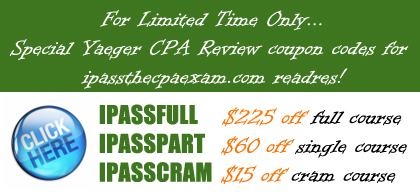 Any Other Concerns?
Drop me a note if you have other concerns, or questions about Yaeger CPA. In the meantime, take a look at their site and the demo here: