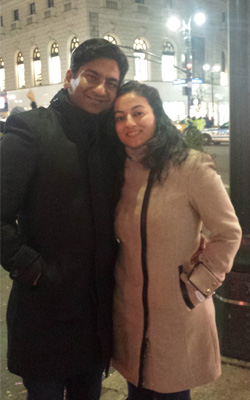 Neha is our blogger from Jersey City, New Jersey. She writes for us every Friday.
As promised in my last post, today I will discuss what, in my opinion, makes the CPA exam so difficult?
Personally, having cleared the Indian CA exams which is regarded as one of the toughest Indian exam ever, I thought to myself that clearing the CPA exam would be a cake walk. However, I soon realized that I underestimated the gravity of the CPA exam which requires detailed knowledge and consistency to sail thorough.
I have attempted subjective exams all my life and always thought that MCQs are the lesser of the two evil. I was under a major misconception that since the CPA exam is a multiple choice questions exam, it would be easier to figure out the correct answer.
However, while preparing for the exam, I realized that you either know the answer to a question or you don't. There is no midway to it unlike the CA exam where you are in a position to beat around the bush and still bag a few points just for attempting it. Of course, you can apply the elimination method while answering MCQs in the CPA exam.
Also, I think that the time limit of 18 months really put tremendous pressure on me. There were several occasions where I would find myself pondering about the useless what if's and getting panic attacks instead of studying. My suggestion is that don't fret over the window of 18 months and just study as usual. That window is going to stay regardless! So might as well invest your time in studying!
Needless to say but have you looked at its passing requirement? When I first got to know that the pass score in the CPA exam is 75, I was like 'Huh!! R u kidding me??  What makes it so difficult also is the volume of the course. Trust me it has nothing to do with your acumen or IQ. It just requires confining yourself to four walls, endless study hours and killing your social life altogether! And if you have a husband, tell him to go on all the road trips he ever wanted to go but couldn't coz you didn't let him! 🙂
Also, I think I was really scared of the Task Based Simulations, since it was a new concept for me and my review course did not guide much as to how to attempt these simulations. But I guess I managed to make do with whatever reading material that was available to me and pass the exams.
But the bottom line is that CPA is do-able and pass-able. It is tough but definitely do-able. All it asks you is to devote all your time and give it undivided attention. Sounds more like a girlfriend! Hahaha!
Hope you enjoyed reading!
Cheers,
Neha R
Note from Stephanie
Thanks for this lighthearted post on a serious topic! The under-estimation of multiple choice question is interesting as I went through the same thought process as well. Because of this I wrote a detailed analysis on multiple choice test taking tips here.
I also agree that this exam is more a test of stamina and dedication, rather than IQ. If you spend enough effort in covering all topics and giving some thoughts when answering the practice questions, you will pass.
To all who are working hard on the exam, you can do it!
The following two tabs change content below.
Neha R
Neha lives with her family in New Jersey. She passed the CPA exam in 2014 and is currently pursuing LLM in Taxation from New York Law School.