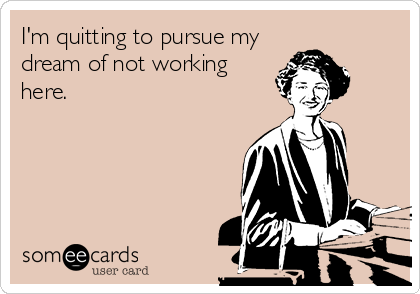 I have a few readers who are debating whether to quit their job to study for their exams. Here are my thoughts:
Short-term and Long-term Consideration
Quitting your job for more studying time is a quick and easy solution, but it may affect your track record and career.
1. Don't Go for a "Step Down"
People go to college, graduate and take a job. This is a step up process for your career. I consider quitting a job for any professional exam a step down. Because of this, as a principle, I don't recommend it.
2. It Doesn't Look Great on Resume
If there is a gap in between your experience and the reason given is that you quit a job for the CPA exam study, it's hard for some people to give you full respect, especially if they took and passed the exam with their full time jobs.
3. CPA Exam is Meant for Working Professionals
If you look at the CPA exam requirements, it is designed for those who've obtained at least 120 credit hours. This means that, by the time you take the test, you have graduated from college. For most graduates, they need to earn a living right away to pay back student loans and support themselves, and therefore, you can assume that the CPA exam is designed for those who work full time.
The fact that the candidates' median age is 29-30 shows that most people take the exam with a job (not to mention getting married and having young kids).
Is there a Way Out?
1. Not Enough Time to Study
If the reason is lack of studying time, there are ways to squeeze an extra hour or so in your daily 24 hours. If you want to see how other candidates pull it off, please check out the links at the bottom of the page.
2. Not Enough Motivation
If it is lack of motivation, then quitting the job won't help. You have to find a sustainable motivation. For me, the fact that I don't want to ever touch the review materials is sufficient for me to pass on my first try 🙂
3. Study Materials Too Overwhelming
You might want to stop and look at the big picture again.
First, do you have a study plan? If not, either create your own and sign up for review courses with online study planners (Becker, Gleim, Roger, Wiley CPAexcel).
Are you studying efficiently? Do the review materials fit your learning style? If not, check out these CPA review course providers.
There are Always Exceptions
The above is my general view for a typical candidate. If you experience hardship physically or emotionally, it is of course okay to focus on your CPA exam before moving on.
Also, if you hate your job anyway and want to quit, taking the CPA exam between jobs is a good use of your time.
Conclusion
If you have a decent job and the only reason why you quit is to spare more time for the CPA exam, I urge that you reconsider, based on the reasons above.
If there are other push factors, such as you dislike what you are doing, and desire a career change… in other words, you plan to quit regardless of the CPA exam anyway, then it could be the right thing to do.
If I can be helpful in your situation, drop a comment below and we can discuss.