From CPA application to the actual exam, the process is complicated and stressful. One of the many things you need to do is to schedule your CPA exam at the so-called "prometric center".
What is it, and how does it work?
Prometric CPA Overview
Here is a 5-minute video that summarizes what you need to know about the Prometric for the purpose of the CPA exam:

Below is the text version with some additional information.
1.What is a Prometric Center?
Prometric is a company that specializes in administrating computerized examinations in exam sites throughout the USA. The Uniform CPA Exam is just one of the many standardized tests administered by Prometric – so you can expect to see doctors, lawyers and all sorts of professional taking the test with you.
2. How Do I Pick a Prometric Center for My CPA Exam?
Did you know that you are not restricted to the exam site in your state? You can take it anywhere – Hawaii if you wanna get a nice sun tan afterwards! But seriously, there are circumstances that you may want to take in a different state, and it is great that Prometric and the CPA examiners give you this flexibility.
3. How Do I Schedule The Exam?
I believe you get the instruction together with the NTS (Notice To Schedule). Anyway, it is pretty simple:
Go to the Prometric site for CPA
Click the start button. You will be asked to pick a state
Enter the exam section ID and 4 letters of your last name.
Register away!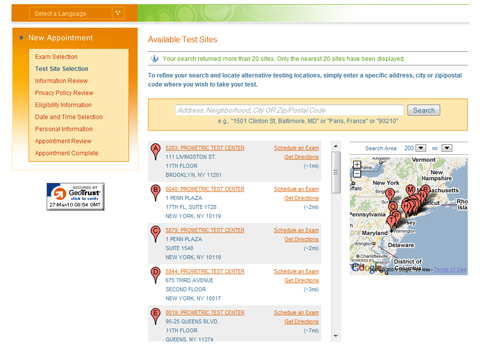 4. When Should I Schedule The Exam?
Anytime you feel comfortable to fix a date for the exam, but within 6 months of your NTS issuance. (Exception: if you register in Texas, you only have 3 months)
If you are lagging behind, or you don't want to pressure yourself to a fixed deadline to finish your study, you can schedule your exam later. Here are two important considerations:
If waited for too long, you run the risk of Prometric center being full.
Given each CPA exam section takes 3-4 hours, the center can't fit that many candidates in a given time slot. Therefore, I suggest that you schedule at least 3 weeks (preferably 4 weeks) prior to your preferred exam date.
5. Can I Reschedule the Exam?
Yes, up to 24 hours before the exam:
30 days or more in advance: no penalty
5-30 days in advance: penalty of $35
1-5 days in advance: penalty of a full charge by prometric
<24 hours: impossible to reschedule and you'll have to reapply.
6. Is There Anything I Should Do Before the Exam?
Double-check that the information on your primary photo ID exactly matches the name you are scheduling under
Confirm with prometric that your space is indeed reserved on that particular exam site in that particular time slot
Make sure you know exactly how to get to the prometric center and take into consideration the traffic condition around the time of your exam
Get familiar with how the computerized exam works by trying the computerized test tutorial  in the Uniform CPA exam website
If you plan to drive, make sure your car is functioning properly. Check the gas the day before.
Consider Taking a Test Drive
For $30, you can book 30 minutes for a real-life experience at the center. Nothing will be graded. You can also take the opportunity to find out the best way to travel to the site. Click here for details.
Live from Our Bloggers
One of our bloggers, Travis, wrote a detailed post on his experience at the prometric center.
Now, Have You Picked a CPA Review Course Yet?
Here is a list of top 10 course providers and their pros and cons.
You can also read my Frequently Asked Questions to learn about the CPA exam process, or sign up one of the free mini-courses below. Please pick the one most suitable for your needs: