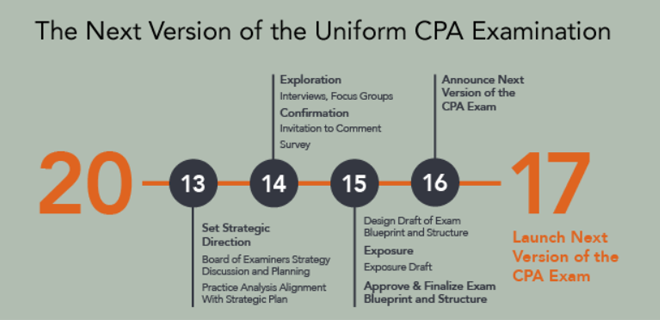 CPA Exam Change Timeline: 2011 | 2014 | 2015 | 2016 | 2017
You may have heard of the CBT-3, the latest development of the new CPA exam, to be launched on April 1, 2017. It is now finalized and officially announced by the AICPA.
Here is a video summarizing the upcoming changes, and why it's getting harder:
Why a New CPA Exam?
The examiners are not aiming to change the exam content, but more on testing a higher level of skills.
Specifically, they are looking for critical thinking, problem solving, analytical ability, and professional skepticism, as well as a strong sense of ethics and professionalism.
This means less on rote memorization and more on analysis, and even evaluation.
Now vs 2017 New CPA Exam
FAR
The FAR exam will remain to be a 4-hour exam, but the number of multiple choice questions will reduce from 90 to 66. The emphasis will be more on task based simulations, with questions increasing to 9. Please expect to see fewer straight-forward questions on definition and understanding of basic concepts.
There will be extra test on analysis through a new TBS called the Document Review Simulation (DRS). For these questions, we will need to reference phone conversation transcripts, legal letters, authoritative literature, and other written documents to discern what's important or not when solving the problem. You will also see DRS in other parts of the exam.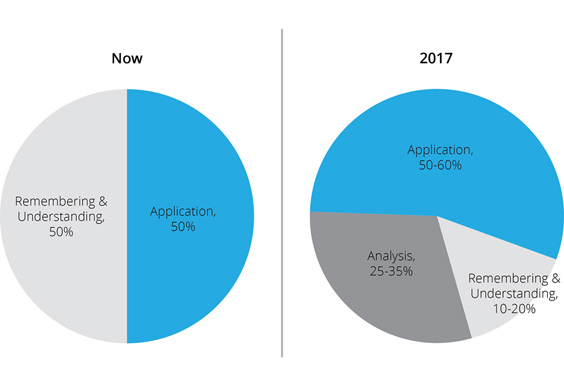 AUD
The duration of the AUD exam will stay at 4 hours, but similar to FAR, number of multiple choice questions will reduce from 90 to 72, and sims increasing to 9. Given the nature of audit, you will still see a fair amount of traditional questions. But do get prepared for the new TBS covering analysis and evaluation.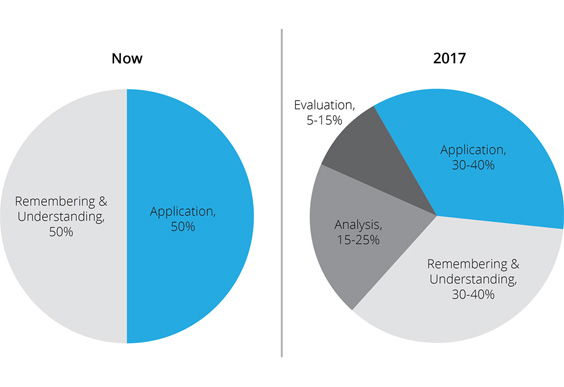 REG
Duration for the REG exam will be increased to 4 hours, covering 76 multiple choice and 9 simulation questions.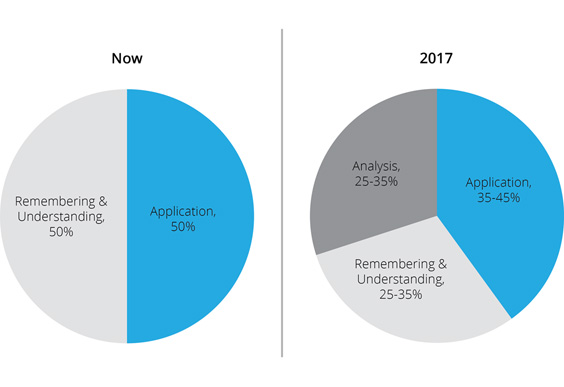 BEC
BEC will also change to a 4-hour exam. Multiple choice weighting will be slightly reduced from 72 questions to 62. The nature of the questions will be quite different, with less memorization and more analysis.
Simulations are added back this time with 5 questions. For written communications (to be called written responses), there will be 3 questions as before, and the nature remains the same.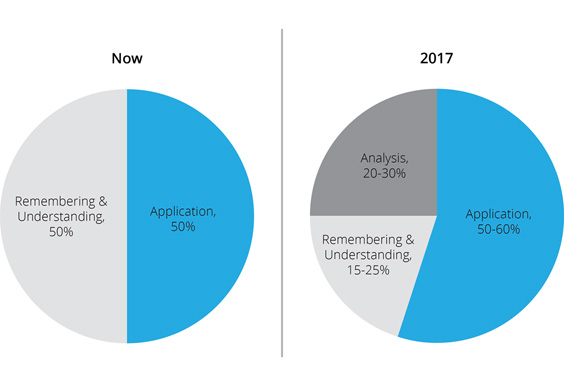 Multiple Choice / Sims Proportion
It will now be 50/50, as shown below:
| | | | |
| --- | --- | --- | --- |
| Exam Sections | MCQ | Sims | Written Response |
| FAR, AUD, REG | 50% | 50% | — |
| BEC | 50% | 35% | 15% |
Other Changes
Since it will be more tiring to take this "higher-order" test, there will be an optional 15-minute break outside of the 4-hour exam period. In other words, these breaks do not count against the exam time.
A new testing interface utilizing Excel to be launched in 2018.
Question from Reader
1) If I pass two parts in 2016, would they be counted in the new exam or do I need to retake all?
Yes, they will be counted. The combination of old (pre-April 2017) exam and new (April 2017) exam can be counted toward licensure, as long as they are completed within the 18-month window.
2) Will the exam fee increase with this change?
Exam fee will increase for REG and BEC because the exam duration will be increased from 3 to 4 hours. For FAR and AUD, you can expect the level to be similar.
Is the New CPA Exam getting Harder?
Yes! Candidates generally fear and perform not as well in task-based simulations. Now that the sims' proportion is getting bigger and the questions are becoming more complex, I suspect the CPA exam will be tougher for most of us.
AICPA mentions about a new media dimension, such as audio, video and image, to the exam in the near future. The faster you get done with the CPA exam, the better!
Your Next Step
One thing we know for sure — the new format isn't going to be easier. If you are serious about taking the CPA exam, I would take it sooner rather than later.
Reference Materials
Infographic and pie chart source: AICPA, Roger CPA Review