I am thrilled to share with you some great news — I have been invited to write a book for Wiley!
This book is going to be on how to pass the CPA exam in an international perspective.
It's never the intention, but my site has a very international readership. As the CPA exam takes steps to go outside the US, I am proud to be part of this development to help thousands of aspiring CPAs attain their dreams.

Latest Update: We've Picked The Book Cover Winner!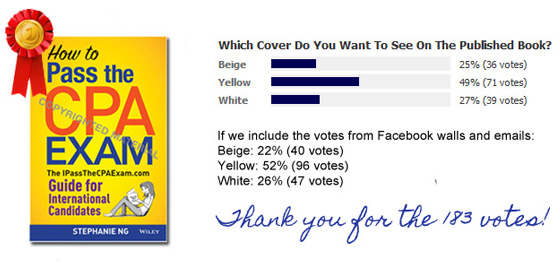 Here are some interesting comments:
Fans of White Cover:
I like #1. More subtle.
Voted for the beige, but love all three.
Fans of Yellow Cover:
2 it pops out of the 3.. When I go to the bookstore I browse and bright color books stand out.
I would say dump the 3rd one, it looks like a cheap $3 novel. Ignore the 1st since it looks old and dead. My eyes cought the 2nd one once I opend the voting page, it is much more vivid than the other two.
2: colors better; looks more vibrant and substantial. Stands out on crowded shelf/rack.
In my opinion if you want it to stand out it has to be the yellow one, but i suggest that u can do something smart, you can combine 2 & 3, so you'll get the attention from the 2nd design and the professionalism from the 3rd, being more specific you can make it yellow but with the font style and design of the 3rd without that little girl's drawing…, and wish you all the best.
Go with the yellow one – it really stands out
#2 looks good, will standout in a shelf full of books.
I like #2 because the color makes the font easier to read.
the yellow (golden colour) cover makes it stand out; and will not be buried in other books/reference materials;will always be there beckonng a candidate to "pick me up and study".
The yellow background makes the type and graphic stand out.
Fans of White Cover
3!!! It really stands out. It's catchy!
3 stephanie 3… Grace and simplicity as an accountant….
As international candidate I like number 3
# 3 for two reasons: the words PASS and CPA stand out and isn't that what it's all about? Most any color will do.
I vote for the white as the lady is comfortable to read since A is supporting her. On the second thought too much color and graphics look like for children books.
Background Information: Why Are You Writing This Book?
I am honored to have the opportunity to share my knowledge through one of the largest publishers in the world. I also want to do something that makes my kids and family proud.
At one point I hesitated because it was a daunting task with deadline and the anxiety of whether the book will sell well, but every day when I see how my readers work hard towards their goal — like Rania who studies every night from 2am to 6am (yes, am) so she can complete the exam in 5 months — all these stories aspire me to aim higher and work harder.
For a professional author, compensation is a big part of writing a book. Since I don't run this site and write this book for a living, I will donate all the royalties to the charity. More details below.
What Exactly Is Your Book About?
It will be a comprehensive guide on how to plan, study and pass the CPA exam as an international candidate. We will go through the very first step — on why this designation could be important for you, how to pick the state that is most favorable in your situation, the common obstacles faced by non-US (and non-English speaking) candidates as well as the solutions. I will also include lists on what you should bring on the exam day, last-minute cheat sheets and so on.
The above will represent about 1/4 of the content. The rest will be on specific study tactics, going through what candidates should focus on for each part of the exam. There will also be a substantial discussion on the written communication part which I believe is one of the tougher area for many non-English speaking candidates.
So What's The Difference Between This Book and Your Website?
They have a common goal: to help aspiring CPAs to get qualified for the exam, pass the test and get the license.
The website is great for those who look for specific information, such as comparison of CPA review courses, exam pass rates and summary of requirements for each state.
The book will instead be useful for those who need more guidance on the whole process. It will be written in a step-by-step approach with a lot of details and suggestions on each step.
Also, more than half of the book will be new content on actual study and exam tactics.
All in all, you can see the book as a big extension of what this site is offering.
When Will The Book Be Available? And Where?
I will hand in the manuscript to Wiley in a couple of months but the publisher will need a few more months of editing work. I guess the book will be available sometime in 3Q 2013 around summer 2013.
The book will be available on Amazon.com as well as bookstores in major cities worldwide. I don't exactly know where but I will let you know early next year.
How Much Are You Going To Get?
I don't think I can disclose the details but the royalty will be calculated as a percentage of net sales. Given the niche this won't make me a millionaire 🙂
I am planning to donate all my royalties to two worthy causes:
New Sight Eye Care: a UK-registered charity founded by a dear friend and her husband, Joyce and Henri Samoutou. They, together with their 3 young children, are in the rural north of the Republic of Congo establishing the first eye surgical center. 4 in 5 blind people are needlessly blind.  Their causes of blindness can be prevented or treated.  When sight is restored, lives are transformed for the patients, their families and communities.  Please follow their amazing work on their website.
For the other charity, I will let you all pick! When I am done writing the book, I will set up a simple platform where you can make suggestions on any worthy causes and we can then vote for our favorite.
Now, Do You Want To Be Part Of This?
Besides getting a copy and recommending the book to others, you can actually take part in the book's creation!
Update: Mar 2013
I have completed and submitted the manuscript, but there is still work for an author in terms of getting the word out and gathering feedback. I am lucky to have an online platform and existing readers' base so there are a lot of more interesting ideas that we can explore together.
Here are some of the big plans:
1. Vote On the Book Cover
Done on March 20. Thanks for participating!
2. Recommend and Pick a Charity To Be The Beneficiary Of My Royalty
I'll invite you all to suggest a charity or non-profit organization that is going to receive my book royalty3.
3. Suggest Journals/Magazines For The Book's Marketing Effort
Please suggest the accounting journals or magazines that you or your accounting friends/colleagues read regularly so Wiley and I can work with them for the promotion of the book. They can be online/offline publications, and can be in or outside the US. Please let me know the name(s) here >>
4. Suggest Accounting Associations, Clubs, Local CPA Firms
Please also suggest any accounting associations, clubs or CPA firms that may be interested in getting my book at a bulk discount. You can give us the name(s) here.
Thank you!