Gleim CPA Review is one of the most popular CPA exam review courses often recommended by college professors. However, competition is getting intense… is it still good for the new CPA exam format?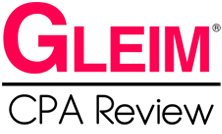 Get Instant 10% off 2017 Gleim CPA Review System
Discount automatically applied
Gleim has generously offered me a complimentary access of their Premium CPA Review System, so I can now run a thorough evaluation on behalf of readers.
Gleim CPA 2017 Video Walk-Through

My Thoughts on Gleim CPA Review's Pros and Cons
Pros
1. Gleim Has a Strong Team


Did you know that the Wiley CPA Exam Review book was originally written by Gleim? Dr. Irvin Gleim and his wife wrote their first CPA books in 1974, and Wiley took over the publishing in 1980. Dr. Gleim stayed as a co-author (with Delaney) for 10 years, until 1990.
(Try google "wiley cpa examination review 1989″ and look for the author)
2. Highly Recommended Test Prep
Gleim CPA review has a vast test bank with thousands of exam-emulating multiple-choice questions and is the largest bank available on the market.
As a CPA, CMA/CFM,  CIA and CFII with a PhD (and Professor Emeritus at University of Florida), Dr. Gleim has vast knowledge in every aspect of accounting. Gleim CPA Review is the one with quite a few "tricky" and "out-of-the-blue" questions to make sure you are well covered.
The new Gleim Premium CPA Review Systems include the instructor video lecture series, Gleim Instruct. These videos feature lectures given by experienced professional educators who are currently teaching at accredited universities across the United States. The Gleim Instruct professors cover the most important topics and lead candidates step-by-step through multiple-choice questions and comprehensive examples.
3. A Learning Tool that Teaches You How To Self-Study
I can see that Gleim has put in a lot of thought when they designed the Gleim Premium CPA Review System. I appreciate the detailed instruction and the specific guideline, such as the study tactics, recommended number of hours of study, down to each section of the sub-units.
Not only that this will help you achieve the goal of passing the CPA exam, it's also an invaluable skill useful for your career.
4. Very Affordable Price
Gleim's Premium CPA Review System is retailed at <US$1,300 (and a 10% discount offer on this site — see below). It is the most affordable integrated review material among the major CPA review providers.
5. Access Until You Pass and Money-Back Guarantee
The "Gleim Premium Guarantee" is a no-gimmick, generous offer in my opinion.  If you do not pass the CPA exam sections for which you have purchased the Gleim CPA Review System, you will receive Access Until You Pass or you may qualify to receive a full refund.
Cons
1. The Book Could be Overwhelming
While I appreciate the very detail discussion on every topic, I could see that some candidates find it hard to read, or too much to read. I personally prefer a more bullet-point format with more white space on each page.
Having said that, if you follow the study guide in your review system, you will see that students are not required to read the whole thing but just focus on the parts they are not familiar with. This makes the book much less tedious to read.
2. Designed for the Disciplined
Gleim tries hard to show you how to self-study. But then, no one is going to push you to do that. Whether you can stay disciplined throughout the few months of studying will make or break your success with Gleim CPA.
Summary of What Gleim CPA Offers
Strengths
Limitations

Dr Gleim and team highly qualified
Largest database of practice questions
Platform = actual testing environment
Tools to teach you self-study
Dedicated personal counselor for customer and technical support
Free trial + money-back guarantee

Textbook quite intense
Better for candidates with accounting background
My Conclusion: Great Choice for Self-Study with Good Discipline
Gleim CPA Review System is a unique and effective learning tool. I highly recommend it if:
You prefer to study on your own, without the need to watch a lecturer teaching in the videos and ask questions via chat rooms and online portal;
You are well trained to read condensed text if there is a need to dig deeper into a topic;
Applicable to the test prep software: You need a good resource as a supplementary practice test material, especially for those who understand the concepts, but need more practice to get that extra 5-10 points to pass the exam.