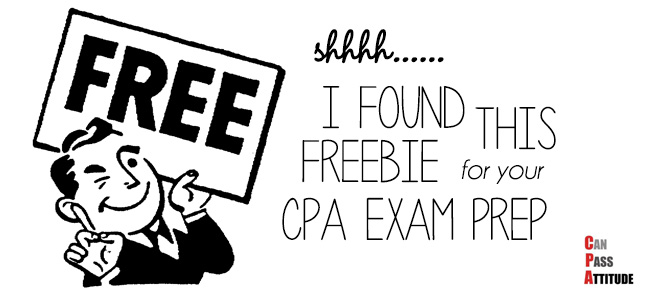 Are there really sample CPA Exam Questions out there for free?
It might be hard to believe, but there are CPA exam questions available for everyone to use on the Internet.
The following is a collection of free CPA questions I can find. Note that there are various limitations expected from any freebies.
Free CPA Questions for Your Consideration
1. AICPA Official Tutorial and Sample Tests
This is a must-try in my opinion. There are only a few free CPA questions in the sample test, and the purpose is for you to understand how the questions (especially the simulations) are formatted so you don't need to spend time to figure it out during the actual exam.
Pros: This is a must-try in my opinion, especially if you rely only on textbooks and have no access to the questions in computerized format.
Cons: This is only a sample test and definitely not enough to prepare you for the exam.
2. Gleim CPA Free Trial
Gleim CPA Review System also provides a free trial. To find out whether Gleim fits your learning style, click here for my evaluation on this course.

3. Roger CPA Free Trial
Roger has recently launched its 2-day free trial. You will be given full access during this period.
4. Wiley CPAexcel Free Trial
CPAexcel is another fully integrated course with a 14-day free trial.
5. Wiley CPA Test Bank Free Trial
Wiley Test bank is the self-study, practice-question-only version (this set of questions is different from that in Wiley CPAexcel). CPATestBank.com provides a free version of its CPA software for 24 hours.
IPassTheCPAExam.com is an authorized Wiley reseller of test bank and you can order it with a good discount here.
6. CPA Review for Free
It's not as good as the paid CPA review courses in my opinion, but worth a try if you have extra time. You can get my evaluation on CPA Review For Free here.
7. Questions Released by AICPA
The AICPA recently released questions are also a great tool. These questions are free, but it is only helpful if you get a set with answers and explanations provided. The major CPA review course providers have incorporated these questions in their practice question database.
Is There Free Lunch Afterall?
Yes and no. These resources are great, but free CPA questions are either on trial basis or insufficient to get you fully prepared for the exam.
Unless you are really tight in budget, I would go for the full CPA exam review course, because your time is very (if not more) valuable. If you haven't already, check out my review courses comparison which lists out the pros and cons of each review course below together with my recommendation.