Sumit is our CPA exam blogger from India. He writes for us every Monday.
Folks – Thank you for visiting my blog page.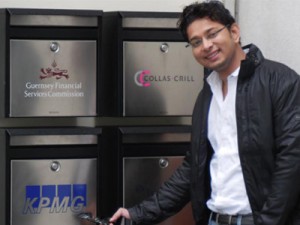 Today I will talk about distraction and interruption while studying for a professional exam such as CPA, and my few tips to overcome this issue.
Honestly studying with full concentration is really a tough task. I get carried away with distraction and interruption which is annoying. I wonder why such distraction has a huge impact in our day to day life which stops us in achieving the desired goal (in my case, studying for a CPA exam).
The effectiveness of your study time is only as good as your ability to focus and concentrate while studying. Few things which has helped me make my study time productive and effective –
Choosing a quality study environment
Decreasing any internal or external distractions
Limiting my multitasking
­Distractions and interruption
Distractions come in all shapes, sizes and sounds. External distractions include things like noise, people talking, TV, music, phone alerts, and anything else that diverts your attention from the task at hand. In my case phone alert is a biggest distraction. Internal distractions like hunger, fatigue, illness, stress, worries, other distracting thoughts (things you should be doing instead, things you'd rather be doing,  etc.) can interrupt your concentration as much as external distractions.
Multitasking
When it comes to studying, multitasking is ineffective.  I do multitasking at my work place, that is one of my strength however the same approach back fired for me when I applied it while studying. There may be other areas of our lives where multi-tasking is useful; however, studying and problem solving require deep concentration, and interruptions and distractions make it harder to focus and decrease your chances of recalling information later.
Tips
Evaluate your study locations.
Identify your distractions.
Make a list.
Schedule breaks.
Vary your study strategies.
Put away obvious distractions.
All the above mentioned distractions are part of my life which makes it more challenging for me to study with a focused approach. Having said that I have started keeping my phone on silent while studying and ensure that I close the door of my room to study in peace.
Watch out for the next Blog which will talk about "What is the best order to take the CPA exam in & number of subjects to be taken at a time"­
Note from Stephanie
Distraction is one of the most common issues we face as candidates. I have a few bloggers who talked about this in their blogs, for example, Gavin has a post specifically on this for his CMA exam.
As Sumit said, the solution pretty much boils down to (1) self-discipline (2) be organized (3) be realistic e.g. the need to schedule in breaks. For those who want to explore the inefficiency in multi-tasking and other scientific research on studying tips, check out my brain power series.
The following two tabs change content below.
Sumit G
Hello, I am Sumit, an Audit Senior at KPMG Global Services in India. We serve Channel Islands team (UK) in their Auditing tasks. I have an MBA in Finance and I plan to start my CPA Journey in January 2016.