Some of you have requested my FAR study notes. Although I would be more than happy to share with you for free, they are in the form of 3×5 cards and I can't find a way to efficiently convert the stack in electronic format.
You can instead refer to the following study notes by CPA CFA. Each document has thousands of views and 5 star rating. I understand that these notes are prepared based on Becker CPA Review.
Bear in mind that these FAR study notes were uploaded in May 2008 and are outdated with old, pre-2011 exam content. This should only be used as supplement for last minute study.
CPA FAR Study Notes
For other sections, please click the respective link: AUD | REG | BEC

Notes Chapter 1 FAR
Notes Chapter 2 FAR
Notes Chapter 3 FAR
Notes Chapter 4 FAR
Notes Chapter 5 FAR
Notes Chapter 6 FAR
Notes Chapter 7 FAR
Notes Chapter 8 FAR
Notes Chapter 9 FAR
Need More FAR notes, Study Tips and Exam Taking Strategies?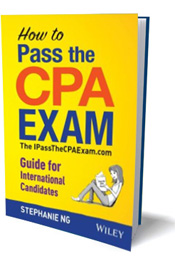 Check out my book, "How To Pass The CPA Exam" published by Wiley in 2013. The book is written with international candidates in mind, but the parts on study tips, strategies and guides are relevant to all.
Specifically, I have one full chapter dedicated specifically to FAR. Chapter 11 has a detailed overview of FAR exam content broken down in 14 modules. In each module, you will find the important test areas in summary format, together with practical tips from me and my most successful readers.
There are separate chapters going through the tips of mastering task-based simulations, written communications and test taking strategies for multiple-choice questions. I also share with you my way to optimize study time and how you can aim to pass on your first attempt.
To learn more about what you can get in this book and where you can get a copy, check out this page.