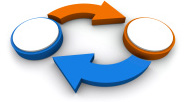 We discussed earlier how candidates can transfer their CPA exam credit before obtaining a license from any state.
In this post, we talk about how currently licensed CPAs can transfer their licenses from one state to another.
Substantial Equivalency and CPA Mobility Act
First of all, CPA license transfer is generally allowed. The process is not difficult as long as the person holds a license from a substantially equivalent state. Nowadays, all states that issue full license follow the 3E requirement recommendation and therefore are considered substantially equivalent.
CPA License Transfer General Rule
Under the CPA Mobility Act, most states allow a licensee to hold an out-of-state license to work under a general assumption that this out-of-state working arrangement is not permanent. For example, a person is licensed in California and works in Missouri. California remains his principal place of business and Missouri is only a temporary workplace. In this case the CPA Mobility Act applies.
The CPA Mobility Act is also valid as long as the person is not offering services to the public. For example, those working as employees in business, industry or government are allowed to hold out-of-state licenses.
Specifically, you are generally safe if you work for big and established companies. For those working in a small firm and have substantial role in the business, you may want to double check with the accounting board in the state you are working (i.e. Missouri in our example).
Use this NASBA online tool to double check whether CPA Mobility Act applies in your case.
When a CPA License Transfer is Required
Back to our example, if Missouri becomes the new principal place of business i.e. where one lives and works the majority of the year, there may be a need to obtain an Missouri license. I say "may" because MO may still allow one to hold the CA license as long as one does not "offer services to the public".
A classic example of offering services to the public is to open your own CPA firm. Your home state is the principal place of business, and therefore your license must be from your home state. The CPA Mobility Act does NOT apply in this case and you will likely need to transfer your license.
Reader's Question: Which State Board Should I Send My Ethics Exam Results to?
I registered in State A and will move to State B in the near future. When should I send the score after taking the CPA ethics exam?
Generally speaking, if State A is a substantially equivalent state (which most of them are), the process straightforward.
If your foresee the move to State B is permanent, then I suggest that  you transfer the exam credit, and then send the score to State B at the same time. Before you do that, please check out State B's CPA exam requirements.
For Your Further Reading