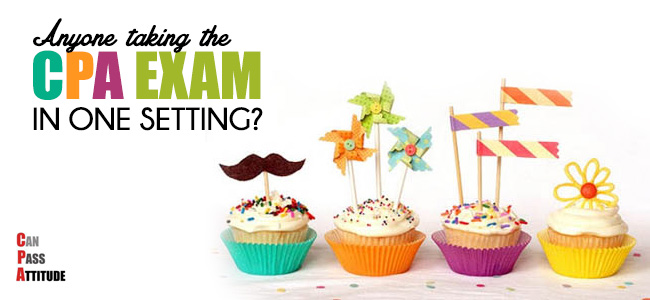 Just to give everyone the background, there are 4 parts of the Uniform CPA Exam, covering a huge amount of topics in accounting, business, law, audit, tax and regulations.
You can take them one at a time and in any sequence:
Auditing and Attestation (AUD)
Business Environment and Concepts (BEC)
Financial Accounting and Reporting (FAR)
Regulation (REG)
Total exam hours: 14 (increased to 16 effective April 2017)
Regarding the question on taking the 4 CPA Exams in one go or separately, it depends how much time you have as well as your commitment.
My Experience on How to Take the CPA Exam Parts
I did take the 4 parts in one single trip — 2 sections per day for 2 days. Here is my story and my sharing.
Why?

With my wedding coming up, I only gave myself 9 months to pass the exam. I was also living outside of the US at that time. Taking 4 parts together saved me a lot of money.
My Strategy
Fist, a solid plan was in place. I went for the best review course (wrong pick, but you should still choose "your" best one based on your own learning style) and roughly divided the preparation time for the 4 parts.
Then I spent every Saturday and Sunday studying and working on practice questions after each chapter. When I got bored with FAR, I switched to AUD, then to REG and so on. During the shuffling I made sure no part was significantly behind.
We are talking about quality studying hours here. Back then there was neither Facebook nor smart phone. I was able to fully utilize the 15 studying hours each weekend.
Time management was critical because if I ended up not finishing the studying, I would have failed all 4 parts. I never really ran out of time, but if I did, I would have skimmed through the book and put more time on the practice questions.
The Result
I passed all on my first try, scoring 87 to 92. It's a lot of work but I am glad to have done it in one go and get it over with.
My Thoughts
After 9 months of craziness, I realize this is doable, but certainly not for everyone. If you are considering taking all parts together, ask yourself:
Do you have the stamina?
Will you have quality studying time — are there distractions e.g. kids at home?
Do you absolutely need to get this done in one go? The motivation is an important factor.
If you aren't in a hurry, you may want to take it one by one (or two at the same time, for twice). In general, I would recommend taking and passing the CPA exam one at a time and within one year, which means one section per quarter.
The 4 CPA Exam Parts — Which One First?
Before the new CPA exam kicks in, I suggest taking the BEC first because BEC will undergo the most changes. I explain the reasons here:
After April 1, 2017, if you are to take one or two parts at a time, here is my suggestion:
I would pick FAR because FAR covers the widest topics but it's not that difficult (relatively speaking). So it isn't so hard that you'll fail the exam, and at the same time you know you've the "biggest" exam done with.
AUD is closely related to FAR so I recommend taking AUD together or right after FAR.
I personally think REG is the most difficult. Therefore, it will depend whether you want to get done with the difficult ones (then it would be the third one), or need to have an easier time with BEC first and put REG the last.
BEC is relatively easy, so you can schedule to take it in the busiest time of the year, or take it at the end so you don't need to be too scared of not passing and then go beyond the 18-month limitation.
For Your Further Reading
Join Our Aspiring CPA Community!
If you have any other questions regarding when and how to take the CPA exam, you can join the discussion on Facebook. You can also sign up to our free e-course to learn about the CPA exam in an organized manner.
I have two versions designed for candidates with different background: