CPA exam diagnostic report (also known as Candidate Performance Report) is sent to candidates who fail the exam. It is meant to help the candidates understand their examination performance.
CPA Exam Diagnostic Report: An Overview
The following is a snapshot of a real report shared by fellow reader Jon.  He took FAR and came close to passing with a score of 70.
1. By Content Area
The report shows the performance relative to passing candidates who scored between 75-80. The calculation is based on multiple-choice only.
In the sample below, Jon did well enough in the core financial accounting sections of the exam, but came short in governmental and not-for-profit accounting. There wasn't a section strong enough to offset the weakness in these two areas.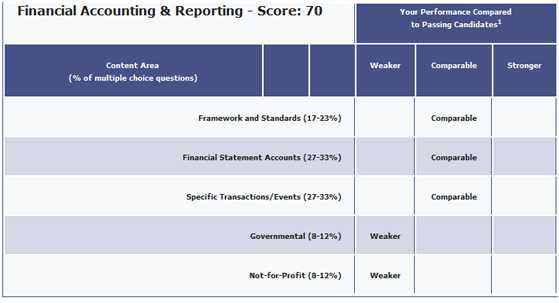 2. By Type
When analyzed by question type, Jon did well enough to pass in the multiple choice questions, but overall performance was dragged down by the sims: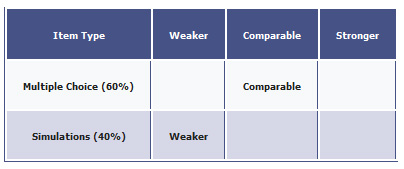 How is the Relative Performance Scale (Weaker, Comparable and Stronger) determined?
The scale is determined by comparing to those candidates who "just made it" in the exam (i.e. scoring 75-80).
Technically speaking, the scale is derived from the range between one-half of one standard deviation above and below the average score of candidates who earned scores between 75 and 80. Performance within the range is considered "comparable," below the range "weaker," and above the range "stronger."
How Can We Use this Report to Improve Performance?
It is quite clear that Jon needs to work on the governmental accounting and not-for-profit accounting in FAR. These topics are not as heavily-tested (representing 8-12% each), but substantial enough to drag down the overall score.
Also, Jon needs to work on simulations, possibly by more practices and by learning how to apply concepts in real business situations.
For Your Further Reading